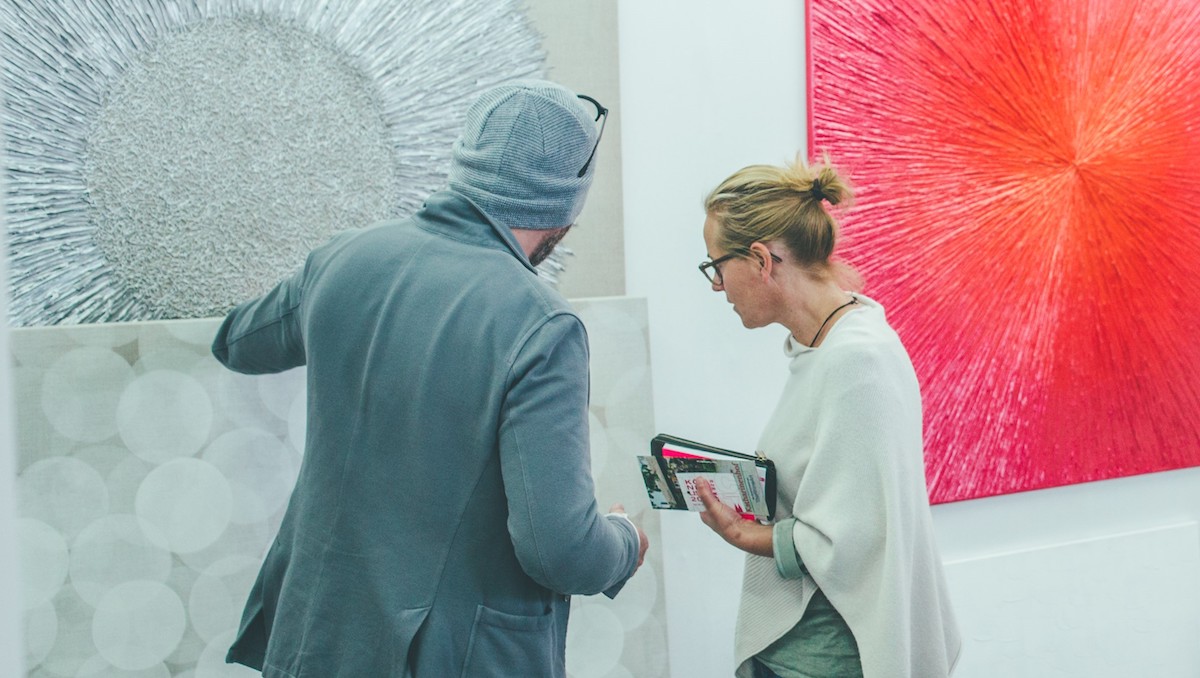 Throughout history, artists, inventors, and creators of all kinds have always been connected with those who had the means to invest in their creative work and support them. Not much has changed. Even though artists enjoy much more creative freedom, they always flock around events, venues, and people with money hoping to sell their art. Not knowing how to sell art can become a real problem for a young creative mind, especially if they are too focused on making art and too little on surviving in the real world.
Today, being an artist is very similar to being a solo-entrepreneur: after ideation, invention, and creation, distribution has to come. Aware that this may pose a problem for a lot of artists, the Discovery Art Fair team has put their heads together to come up with the Best Guide on How to Sell Art specially designed for creative minds.
We've made a compilation of the most effective and most common ways to market, spread, and sell your art keeping in mind that budgets are always an issue. You are invited to think out of the box, by all means, but first – let's see what the box looks like.
How to Sell Your Art
We are lucky to live in a time when selling art implies a multitude of options. Art can be exhibited and sold traditionally, in galleries and showrooms, but it can also be marketed online, on social media, and by using different marketing techniques. Trends in art selling change all the time and sometimes they are affected by "a higher power", such as the current COVID-19 pandemic. In such a fast-changing environment, it's crucial to stay informed and follow the pathways of interest: if you believe your art is best presented at a traditional gallery, follow galleries and see how they do, but if you think your work can just as well be presented online, then find ways to do so. Whatever you decide, make sure that your selling strategy befits your art.
How Do I Start Selling My Art?
As the hardest first step, you need to produce some art. It would be best to create a coherent cycle, series, or group of works that speak for you and your expression. If you have more volumes behind you, all the better because if you want to sell something, it's essential to have enough goods. But since you are the creator behind the business, always keep in mind that production needs to happen regularly – either every day or in regular dedicated periods of time, whichever way is best for your practice.
Now that you have some art, you need to define your style and your target audience. If you're creating abstract art – there are collectors for that, and if street art is your thing – you will attract a different crowd. Do you create drawings, sculptures or digital art? What is the scale of your works? When you know what style or styles can be used to describe your art, you will find your potential customers easier.
The next step would be to figure out the best way of selling for you – either through more or less traditional ways, direct approach, or pop-up exhibitions in real life or online. Knowing this will help you define the path you need to walk and tell you what kind of promotional materials to prepare.
In this guide, we'll discuss all the most common ways to sell your art so keep reading.
Is My Art Good Enough To Sell?
This is the million-dollar question, isn't it? It's hard for an artist to put a monetary value on their artistic work because it comes from such a visceral place. Because of this, it often happens that artists put either too low or too high prices for their original pieces. This can stop the sales before it begins because very low prices can seem suspicious and nobody wants to pay a fortune for a emerging art.
The key is to know where you stand in terms of quality and the respective market.
This is something where an art advisor, art historian, or critic, a gallerist, or an experienced artist can help you. Once you start mingling with the right crowd, don't be afraid to ask for opinions and take them as learning material. You can find out a lot by just showing your art to people from the art world and knowing their opinions, but beware – it can be stressful to get criticism and you should be prepared.
When you feel that you got enough opinions, you may have had a small exhibition or two and you are confident that your work is solid, you'll know that your art is good enough to sell. This may be hard for perfectionists, but try to be as rational as possible. In the end, selling art is a rational business in essence.
How To Sell Art Offline: Galleries, Art Fairs, and Auctions
There are many ways to sell your art offline, most of them quite traditional, but proven and secure. If you feel this is the best way for you, there are still several different options to think about:
Joining an art gallery
Selling at art fairs
Entering auctions
Organizing pop-up exhibitions
Selling directly from your studio.
Any of these sales funnels can be successful, depending on the type of art and the character of the artist. However, it helps to know that the most successful artists usually have gallerists that represent them.
Find a Gallery
This is probably the most common aspiration of many artists worldwide and, at the same time, the hardest one to achieve. It's not easy finding the right match among many gallerists and it's common knowledge that they can be reluctant to accept new and not-yet established names. On the other hand, there are galleries that cannot wait for artists' pitches and that's where you need to beware: if you have more followers on social media than the gallery, you may want to skip it.
The best way to approach a gallery would be through a curator close to one. Make sure to exhibit your work whenever you can and to invite critics and curators to see it. There are many curators who venture into the unknown and love discovering new names. Research the curatorial scene close to you and invite the relevant people. It may bring you more chances and perhaps even a gallery representation.
The other way is cold pitching. Galleries are different and while some accept submissions and welcome artist emails, others are entirely closed to them. Find the ones that are open to new names and draft a smart pitch together with a great portfolio. This is generally considered a longshot, but sometimes it does work, especially if the gallery's artist portfolio matches your work in style and aesthetics.
There are many artists who believe that finding a gallery is just too much work and opt to represent themselves. They still have a lot of options to showcase and sell their art, but they will have to work a lot harder to gather the right audience. Finding a gallery should, therefore, be a job parallel to the entrepreneurial work an artist does to self-brand and self-promote.
A great example of the artist-oriented gallery is Ateliers im Delta, a producers' gallery that participated in Discovery Art Fair Frankfurt 2018 and 2019 as well as in Cologne 2018. They are particularly keen to offer art academy students and graduates a presentation and sales platform.
Berlin-based Galerie Z22 is a frequent exhibitor at Discovery Art Fair. It successfully presents and markets exciting artistic positions.
Exhibit at an Art Fair
Easier said than done, for sure, particularly because many art fairs don't allow artists to show their work unrepresented. Luckily, there are organizations, such as Discovery Art Fair, that have dedicated entire sections to creators. Make sure to do your research and find the right art fairs to apply for. Once accepted, you can start planning your booth.
Selling art at an art fair can be great for your art business. Although art fairs are places of trade, they are exhibitions as well, places where your art can be spotted by a popular curator or a successful gallerist. But most importantly, art fairs are visited by art collectors, people you can come into direct contact with by just presenting your art. This way you can learn more about your audience and art lovers willing to pay for your art.
Exhibiting at an art fair as an independent artist may not be your long-term strategy, but it's definitely something you should try because the feedback you'll get you cannot get anywhere else.
*** The special portraits by Sebastian Herzau, presented by the dieHO gallery, and paintings by Lukas Frese, presented by Galerie Augarde, were among the bestsellers of the past years at Discovery Art Fair.
Join an Auction
To be frank – it's very difficult for an emerging artist to sell a piece through a famous auction house. However, there are auction houses and then there are auctions.
If you'd like to see how your work would do in such an environment, perhaps try to join a charity or a local auction, if only as a part of your marketing strategy.
You may find out that your work is popular and continue selling this way, but what will happen – your work will reach a number of collectors interested in purchasing art. This could bring you more buyers or followers, perhaps even fans in the long-run.
Finally, it's nice to take part in a charity auction so you will not waste your work or your time. And if the auction is commercial, you have nothing to lose.
Put on a Pop-up Show
One of the popular ways to gain more audience, show your work and sell some of it is to organize a pop-up exhibition. To do this, you will need a venue, a way to present your work, promotional material, and something to serve to your guests.
What's good about pop-up shows is that you may sell some work to your old and new fans and you will probably have a good time.
What's tricky is that you can't put high prices because you don't know who'll show up, you don't know you'll show up, and you don't really know if it will work at all.
You may be inspired by artists you love that do pop-ups all the time, but think about it – they are often organized by a gallery, meaning they could be selling older works at better prices this way; these artists already have established careers or the pop-up concept fits their artistic approach.
It's something to try, especially for the younger artists, but not a way of selling that should become a practice.
Open Your Studio
This is probably one of the best ways to start selling art and one that you don't have to discontinue ever unless you get an exclusive gallery contract in which case – you won't care.
Most of the artists worldwide sell art from their open studio. For collectors, this means no gallery fees, no shipping fees for the buyers coming in personally, getting to know the artist, and finding precious art at the place of creation.
Still, you should be aware that you can't sell everything directly, for example, the art you consigned or the art you really don't want to sell. It can be hard to argue with a fan in your personal space, but most of the collectors are reasonable people.
What you'll need to sell art from your studio is, of course, a studio, a well-done portfolio and a website, your works brought in order physically (drawings in folders, paintings neatly put in place etc.), a printed brochure, and a lot of marketing, especially on social media.
Even if you don't make a sale, studio visits tend to make an impression on visitors, so allowing people into your studio space is also a great way to garner more audience and reach new collectors.
Independent and successful, Kaja el Attar a Berlin-based artist who takes part in art fairs and sells her art in self-organized exhibitions.
Peer Kriesel is another artist who uses different sales channels and who has dedicated a lot of time to creating a great website portfolio.
How to Sell Art Online: The Easy Way to Start
Selling art online is probably the easiest and the best way to start your art marketing journey. Today, there are many ways to build an online presence and you can start by building your website, but you can also dedicate time to curating a thoughtful social media profile on Instagram. Whichever way you choose, the channel you create will be your portfolio as well as your catalog.
Collectors aren't afraid of buying art online anymore, and they are increasingly relying on social media to find new names and pieces, so you can simply utilize this situation to put yourself out there and reach your crowd.
Where is the Best Place to Sell Art Online?
Depending on the type of art you are trying to sell, you can choose from a lot of new and established websites that deal, present, curate, and sell art for you. The single best place is hard to find because different places work differently and attract different buyers.
You can create profiles on global selling platforms such as Amazon or eBay, because, believe it or not – people do look for art there. But if you want something more specialized, there are many websites where you can create your profile and upload your work.
Some of these places, such as Artfinder or Saatchi Art, have great interfaces, marketing and they are well-known in the art world as reliable. If you're creating digital work and design, perhaps you'll want to try Behance.
There are many art-selling platforms to choose from and make sure to do your research before you find the best one for you. Fluctuations online are fast and frequent, so what is popular today may be yesterday's news tomorrow.
How to Use Social Media to Sell Art
Let's return to social media for a moment. For many artists, social media, especially Instagram and Facebook, but other channels as well, are the best way to stay connected to their audience while being open to taking commissions or even selling existing pieces.
There are artists who jump-started their international careers via Instagram!
However, the main trick is to stay dedicated to your account and to curate it very carefully. Just posting art on your page may not work, as your feed might get monotonous. It's better to lively up your page with some studio shots, materials, perhaps friends hanging out at your studio or stories amidst the art. Don't forget to tag relevant profiles too! When you gather the following, buyers will come.
There are a few things to avoid while using social media as an artist. Don't approach galleries via social – it's not very professional and it's better to send an email. Try not to tag random galleries you're not in contact with, especially not all in one post – they will feel spammed and will ignore you. Just think about staying professional, but interesting.
There is another line of thought to follow once you decide to sell your own art – sales guided by your medium.
*** One of the artists who sell art online quite successfully is Eliot the Super. Check out his website here. He presents his Urban Art at the Discovery Art Fair regularly.
*** Another Discovery Art Fair exhibitor is a tech-startup smart-collectors, selling art successfully online. They were among the "10 Exhibitor Highlights from the Rhine-Main Region" at our Discovery Art Fair Frankfurt 2019.
Different Mediums – Different Funnels
Art is such a broad term and we know it can include everything – from drawing to performance. Assuming that performance artists don't really look into direct sales due to the nature of their medium, others should be aware of the opportunities and limitations imposed by their creations. For example, prints are easy to ship, but sculptures – not so much. It's technical things like these that define a lot of the approach in art selling.
Let's look at the important things to consider in selling your art according to the medium.
How to Sell Art Prints
Art prints are probably the most versatile art product when it comes to sales. You can sell them any way you want – through a representative gallery, from the studio or online. They are fairly easy to ship and many shipping companies worldwide are used to sending prints to distant places safely.
If you're an emerging printmaker, consider starting with online sales while searching for the right gallerist. You can reach success sooner than you think.
How to Sell Art Drawings
As paper-based works, drawings are similar to prints in terms of sales technicalities. Easy to ship and present online, they are convenient to create and distribute. However, drawings are original works and you may need to consider better insurance at shipping because a lost drawing is hardly the same as a lost edition print.
If you're a draughtsman looking for sales funnels, consider the safety issue better. Otherwise, you have a pretty big window of opportunities to present and distribute your art.
How to Sell Sculptures
Now, sculptures are something else. Made out of solid materials, some are heavy, some delicate, some complicated. Made in different scales and installed in different ways, sculptures are very complicated to ship. This is why the best way to sell sculptures would probably be through a representative – a gallery, an art consultant, or similar – who has the help and the experience in technical matters regarding the sculpture market. It's not impossible for an independent sculptor to deal with these matters, but knowing everything about legal, safety, and shipping matters requires a full-time job.
If you're a young sculptor, look at the market that's near you and try to exhibit there. Look at artist collectives and local galleries, as well as the exhibiting, grand or residency opportunities. And curate your social media well.
How to Sell Paintings
Paintings can be either easy or complicated to sell. Presuming they can be presented in all the ways as prints and drawings, texture, painting materials and canvas do play a role in a buyer's decision. This is why it's best to sell paintings in direct contact with the buyer, which may be either individually or through a representative.
As for the technical issues, they depend on how complicated the painting is. The majority of paintings can be dismounted from the frame and shipped safely, but this is really individual and each artist should consider their own situation.
If you're an emerging painter, focus on exhibitions. Get in real-life contact with the art crowd as much as you can, but always mind that there are online platforms that do distribute paintings worldwide. It really depends on how you use your medium and what your intentions while selling are.
How to Sell Objects or Installations
Objects and installations can be complicated, depending on the material scale and purpose. Many installations are site-specific and that is where an individual artist cannot do much – they need professional help in sales. But smaller, solid, and not-easily-broken objects can be sold online without much hassle.
If you're exploring different media and hope to sell your own art, do consider the complications it may bring. Think about your materials, physical durability, and shipping safety and you will know where to look for the right sales funnel.
How to Sell Digital Art
Immaterial and fresh, with digital art shipping is a non-issue. However, presentation and validation are just as important.
There are many digital artists selling their work online, individually, and somewhat successfully. But if you want to enter the 'real' art world by creating digitally, you will need someone to support you – a gallerist or a respected art advisor. Image is important here, and your art needs to be excellent. The time of cute posters has passed and the time for complex, beautiful, immersive videos and visual imagery has come.
Think of new technologies, viewer engagement, contextual layering, and research. And don't shy to apply for grants and competitions.
*** Edvardas Racevicius, a Discovery Art Fair favorite, exhibits at our art fair individually and sells his sculptures from his studio and through several galleries. He doesn't limit himself in terms of sales paths, but rather takes what's there and applies it to his work.
A Few Art Marketing Tips for Artists
As you see, there are many ways to sell your art, offline, and online, and they all depend on your style, approach, aesthetic, and medium. Once you manage to define your expression, you'll know what the best way for you is. But whatever you decide, there is one thing you'll need to take care of – and that is YOU.
Self-branding is crucial for artists. You need to become known in the art circles and here are a few art marketing tips on how to achieve that, elegantly.
Communicate
This is the key. Communication with art professionals can get you the network you need, so don't hesitate to talk with fellow artists, curators, gallerists, journalists, collectors, art lovers… To talk to people, you need to get out there and frequent openings, pop-ups, performances, exhibitions, and other art events. Enter the art world and do it without hesitation. It may seem intimidating, but it's really just another market.
Make an Immaculate Portfolio
In case you meet an interested someone – a buyer or a curator – you need to have a portfolio ready. It doesn't have to be physically present with you, but if you have it online and in hard copy, that will work for you.
However, a portfolio is not just a compilation of your work. It's a carefully curated, chronological, well-photographed, and smartly written presentation of who you are as an artist and what your art is about. It needs to be flawless to show your dedication and how serious you are about your work.
Your art does speak for itself. But your portfolio speaks for your art.
Talk to Your Crowd
When you start getting the idea who your collectors and followers are, start the conversation. Use your social media to do this, but don't be shy to do it in person. Ask for ideas, ask for opinions, ask for feedback and advice.
Down-to-Earth people are always favorite, so be one.
Use Marketing to Your Advantage
This one may seem foreign and stupid, but it's not. Classic digital marketing techniques such as email outreach, targeted social media posts and campaigns may spread the word about your art further.
If you're not sure how to do this by yourself, get help from a professional or read up about it online. With the world at your feet online, it's a shame not to take advantage of such simple, yet effective techniques.
Let's Summarize!
Starting an artist's journey is hard and selling your art can be even harder. However, it's very possible and even easier than ever with the ways we covered in this guide. We do not presume these are the only approaches in art selling, but they are the best known and proven to work for thousands of artists.
You can dedicate your time to finding a gallery or find ways to sell directly at an art fair or a pop-up show.
You can find an art-selling platform online, create a great website, or use your social media profiles to reach a new audience.
You can start browsing the art world first to get the feel of it and then decide according to your own art. The world is, pretty much, your oyster, but selling your art will require a lot of work and a lot of patience.
So, if you're still struggling with how to begin, come to the fair, talk to us or our artists and get some inspiration in person. And know that if nobody is buying your art now, they may do so in a few months. What's important is not to give up!
Until then, don't forget to create! That IS the most important, after all.
Discovery Art Fair team and participants are always open and happy to help newcomers to the scene, so check out the upcoming fair edition and come! We'll help you find the best selling option for your art with our inspiring program.
Featured image: Exhibitor Atelier Joerg Minarth Discovery Art Fair Cologne