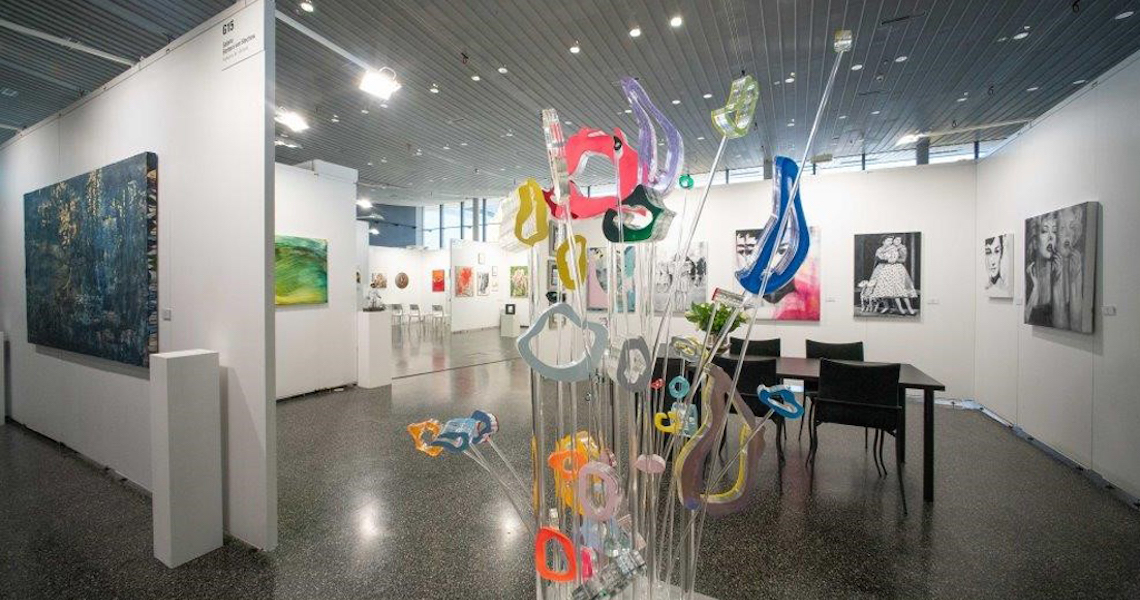 A significant success factor for the Discovery Art Fair Frankfurt is its local and regional anchoring. Around 20 percent of participants at the second edition come from the Rhine-Main region, and five of the presented galleries are members of the syndicate of Frankfurt galleries [Interessengemeinschaft der Frankfurter Galerien].
Among this year's exhibitors are prominent names with many years exhibiting experience that are rightly counted among the region's figureheads, as well as very young, recently-established, trend-setting projects.
The Discovery Art Fair Frankfurt unites this wide-ranging artistic variety and quality from the region under one roof, thereby offering local galleries and artists an attractive sales platform and supporting dialogue within the industry in a relaxed way. Networking is one of the key themes of the art fair. It builds cultural and personal bridges – between exhibitors and the public, between the art market location of Frankfurt am Main and those fair participants coming in from all over the world, and not least between established and young players in this very dynamic and constantly changing arts capital.
In the run-up to the fair, we'd like to present ten high-grade gallery programs you should absolutely pay a visit to at their stands at the Discovery Art Fair Frankfurt but also at their nearby facilities. Let's look forward to…
Galerie Barbara von Stechow (Booth G15)
Support for contemporary young art, especially from graduates of the Frankfurt Städelschule, and an intense engagement with the work of well-known American artists constitute the focal points of the program at the Galerie Barbara von Stechow, located for more than 20 years in Frankfurt's Westend.
As part of this year's fair program, the renowned gallery will be presenting paintings by Städel graduates Cveta Markova and Angel Peychinov, along with the distinctive work of Hamburg-based painter Simon Nelke, who is currently one of the popular newcomers to the German art scene. The paintings enter into a lively dialogue with the ornate wooden sculptures by Frankfurt-native and Frankfurter Volksbank cultural award-recipient Christof Paul. He carves his human figures from different varieties of wood with precision and in great detail, invariably producing a unique liveliness.
"Der Mixer Frankfurt" Gallery (Booth G03)
The gallery "Der Mixer Frankfurt" returns to present its exciting program at the Discovery Art Fair. The gallery's agenda is in its name, since the seven international artists who have teamed up here display very different approaches to their work. Their similarity is based primarily on wanting to produce unobstructed contact to their audience, born from the conviction that artistic autonomy, in the original sense of the world, also includes communicating and conveying one's own work.
As part of the fair program, works by North Italian artist Andreas Zingerle, a former student at the Academy of Fine Arts Munich, will be presented. In his work, the artist strips mutated human forms of all individuality and deforms them into abstract shapes. South Tyrolean painter Andrea Veresco, on the other hand, experiments with pastose, procedural painting. This approach gets at the perception of color as well as its sensory and material presence, through which the painting process itself becomes an object.
RED ZONE ARTS (Booth G28)
Works from Asia or artists inspired by Asia are the focal point of the gallery RED ZONE ARTS, which opened just last year in Frankfurt's Westend. Their gallery program provides select insight into the creativity, dynamism, and diversity of contemporary Asian art and is highly committed to overcoming stereotypes and cultural barriers.
The oil paintings by Chinese artist LIFANG capture familiar situations, highlighted sensory impressions, and the modern zeitgeist. The artist employs blurring and fragmenting techniques to set objects and people in motion, and gives her figures volume and density through large brush strokes. Another artist being presented, YE Hongxing, was recognized as one of the 20 best emerging artists in China with the 2006 Dragonair Emerging Chinese Artist Award. She skillfully fuses the western medium of oil paint with traditional Chinese porcelain décor in her alluring circular self-portraits.
Galerie Am Dom (Booth G41)
Among the most famous names in the Rhine-Main gallery scene is the Galerie am Dom, located in Wetzlar, which last year celebrated its 25th anniversary. Covering two floors with more than 200m2, the gallery offers a varied selection of paintings, sculptures, and graphic art by renowned and innovative artists.
As part of its fair program, the gallery will be showing unique and powerful portraits by Spanish artist Salustiano. Working in the manner of the old masters, he paints his models over monochromatic backgrounds that compel one's attention to his photorealistic figures. Standing alone, they face the viewer with an inquisitive look and call for quiet dialogue. Taunus-born artist Elvira Bach, whose colorful work will also be presented at the fair, is numbered among the most significant women in 20th century art – and not just in Germany. The victory march of her work has continued unabated for the last 20 years.
Galerie Kerstner (Booth G01)
Creating a space for dialogue between artist and viewer, between the work and its environment, between perception and sensation is the objective of Kronberg-based gallery, Galerie Kerstner. Their exhibitions – usually conceived as a triad of painting, sculpture and photography – pursue the goal of providing insight into the exciting variety of the various disciplines: the work of painters, sculptors and photographers. Particular attention is paid, however, to the field of concrete art.
In a solo show, visitors can experience paper works by Ralph Kerstner. The artist regularly combines an embossing technique he developed himself with cuttings and the added-on seams of individual segments. Beyond the embossing, the resultant work distances itself even more from the two-dimensionality of the original paper material. This also strengthens the important non-material elements – reflection and casting shadow, which significantly contribute to the depth and dynamics of these singular works.
Galerie Rother Winter (Booth G13)
Galerie Rother Winter is housed in the large rooms of a neoclassical townhouse in Weisbaden. The gallery represents both established and younger professional artists known for their creative and sustainable art, and thus guarantees their work value preservation as well as future value appreciation.
At their booth visitors can experience, among other things, detailed drawings with paint by the artist Andreas Amrhein, contemporary marble sculptures by artist couple Kubrach & Kropp, as well as poetic, tender light objects by Ulli Böhmelmann. Transparency, fragility, and interstitial spaces are significant themes in this artist's works, which she makes out of various materials like paper, porcelain, silicon or non-woven fabric in her ongoing search for systems and structures in her sculptural way of thinking.
smart-collectors (Booth G14)
Proof that the Discovery Art Fair unites much more than just classic galleries under one roof comes with the participation of smart-collectors. The Wiesbaden-based art tech-startup has made it their goal to make access to art as simple as possible. Anyone can buy or else rent their favorite pieces from their extensive curated collection of contemporary art.
In their fair program you will find sculptures by metal sculptor Jürgen Heinz, whose "Moving Sculptures" transcend the seemingly insurmountable gulf between archaic, heavy steel and gentle movement, as well as paintings and Plexiglas works by Mainz-based artist Petra Ehrnsperger, whose work is distinguished by layering various levels of the picture.
SIGHT Galerie und Kunstberatung (Booth G07)
SIGHT refers to both seeing and a sight that is worth seeing. What is worth seeing is thus the name of the program, since it's the aim of Offenbach-based SIGHT Galerie und Kunstberatung to convey to people a joy and enthusiasm about art and its far-reaching significance in our daily lives.
Among other things, the gallery will be presenting the cream-colored paper sculptures by Jena-based artist Philine Görnandt, whose soft, flowing forms, relief-like surfaces and sensual structures are reminiscent of enlarged anemones, corals, and bizarre flower shapes. Also included in the program: experimental portraits made with fire on wood by Vietnamese artist Ngo van Sac; as well as the word paintings of writer and painter SAXA.
Galerie Thomas Hühsam (Booth G33)
For nearly 30 years the Offenbach-based Galerie Thomas Hühsam has been representing artists with exceptional positions in contemporary painting and new media. There have been more than 100 individual and group presentations in the gallery space to date, which has also served as a starting point for numerous regional projects, like the Netzwerk Offenbach.
Visitors to their fair booth can expect to see the large-format pictorial worlds by artist Dominik Schmitt, appearing at once mysterious and fascinating with their symbiosis of reality and dream world, as well as the perplexing and at times enigmatic, masterfully executed paintings by Benjamin Burkard. An additional highlight is surely the images created by Beuys-master student and two-time Documenta participant Christof Kohlhofer in his adoptive home of Los Angeles. He sees his work as a mix of "seeming" pop art, conceptual art and surrealism. They are unusual, complex visual worlds that flit back and forth between representationalism and abstraction.
Red Corridor Gallery (Booth G31)
Located in an ultramodern wood building in Künzell, the Red Corridor Gallery presents paintings, sculptures and installations by the internationally successful Red Corridor artists across more than 200 square meters of exhibition space.
At this year's fair the gallery will be presenting a solo show by Polish artist Leszek Skurski, a recipient of the art prize awarded by the Polish Ministry of Arts and Culture. In the center of the oil paintings – typical of his style – anonymous figures stand, appearing lost inside a giant white space. Using a very limited color palette and greatly reduced resources, he produces pictures with an impressive depth effect, which allow ample space for the viewer's fantasy.
Cover image: Galerie Barbara von Stechow -DISCOVERY ART FAIR Frankfurt, 2018 – Foto Stefan Maria Rother. All the images courtesy of listed galleries.