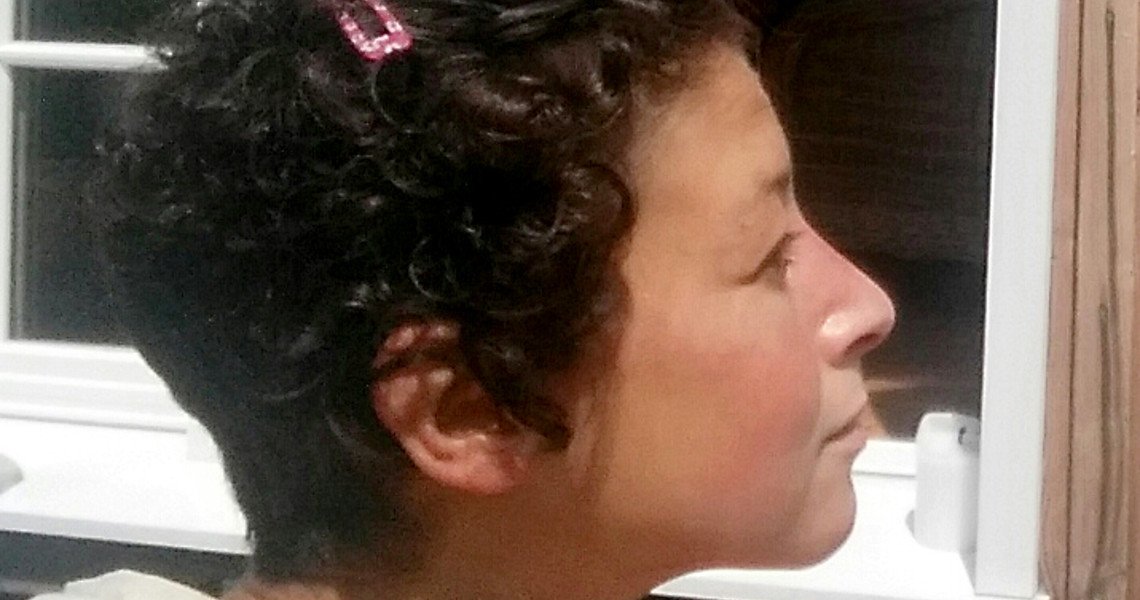 Kaja el Attar was born in Kassel and studied at the Academy of Media Arts in Cologne, where she graduated 2006 in Media and Fine Arts. Early on, the artist has been passionate about art and design. Her small-scale pieces represent abstract imaginative worlds that are open to associations. Kaja's artistic practice is marked by immediate intuitive lines where she passes the artistic control to the pen while being in a meditative state of mind. With respect to the claim of critics that drawing is dead in contemporary art, her pieces are exciting new discoveries in this genre. In the conversation with the artist, she told us that her works are fantasy worlds in which the viewer is invited to find himself and his own stories. Furthermore, we talked with Kaja el Attar about her artistic development, her fair participations and her eagerness to experiment with new materials.
Your pieces are small-scale and show a variety of forms. What topics inspire your work?
Kaja el Attar: My pieces are between DINA5 and DINA2 in size and depict tender, sensitive and sometimes flourishing fantasy world, I call them Kajaworlds. Fantasy immerses into a world full of poetry. My hand becomes the place where my instinct sits and takes over the artistic control. The intuitive lines are an invitation to dive deep into the layers of the abstract drawing. My works are difficult to describe: the viewer immerses into the pieces and the longer he contemplates about the pieces, the likelier it is that he will discover himself and his stories within the layers. Therefore, the pieces tell the story of the internal, which comes through the language of my drawings to life.
It seems that drawing is central in your artistic practice, even though everyone claims that in contemporary art drawing is dead. Do you agree with this impression?
KEA: That is absolutely right. But luckily there is still a small, precious niche for the soft nuances of drawings. Collectors are able to find me among eye-catching and bigger art pieces and are usually very thankful, due to its rarity, to see that the genre is still alive and willing to develop. Over the time I always thought that it is an advantage for me that just few artists work on paper. It's just a real pity that there are so few solely fairs for drawing.
Can you describe the development that led you to become an artist?
KEA: My parents are both textile designers, I grew up with lots of colors and forms around the weaving loom. I was fascinated how strokes are able to create intense expressions and feelings without the need of being obvious. Art makes me feel, enables me to recognize myself, she is my teacher and motivation. I am able to immerse fully into her. My art-savvy friends from Cologne saw my works and told me that I should exhibit them. They organized my first exhibition with me and there we go: My works were seen and understood! In the meanwhile, I have been already in Hong Kong, Singapore and Taiwan on fairs. It seems that viewers do understand my original use of forms and are fascinated by it.
You participated at the Berliner Liste in the past. What makes the fair so appealing to you and how did you benefit from your participation?
KEA: The success of the Berliner Liste 2015 overran me! I tried the experience without too many expectations. At the end of the five days at the fair I almost didn't have any frames left at the walls. It has been one of my most successful fairs. Collectors came from Dusseldorf just to see my works and to buy them. There were also collectors from Berlin who met me there and bought a piece, and who became later on good friends of mine. I am really looking forward to see my collector's base in Berlin again and to show them my development. We will see about the rest!
You will participate this year again at the fair. What kind of pieces will you take with you?
KEA: Oh, there are a lot of new things! I am currently working with new intermediate formats that I recently discovered. They are made out of passe-partout cardboards in landscape format or squares and seem more valuable than simple paper through their hovering impression. The new pieces are braver through their free sweep and inspired by warm sunlight which resonates in lots of energy and the exciting color scheme.
How do you prepare for your participation at the fair?
KEA: I have lots of experience now as it is already one of many fairs in which I participated over the last five years. Berliner Liste takes care of a very good lightning and provides good walls. This is a very important base for the presentation. In my fair planning I have to know how many square meters I booked and try to curate the space as good as I can and decide on what I really want to show. In order to achieve the best result I arrange the frames at home all over my floor to see how a proper hanging could look like. Then I produce the frames – that's it! I like to keep the walls as minimal as possible and to show just selected pieces. Less is more! I am lucky because my works are small-scale so that I can store a lot at the booth and be able to show more pieces upon request.
What projects are you planning for the rest of the year?
KEA: As my collectors live all around Germany, I travel a lot. These collectors do recommend me to others and so on, this means that I am able to work with more freedom. My next exhibition will take place at the Gallery Merkle in Stuttgart. In the same city the Art Alarm, organized by several galleries in Stuttgart, will be inaugurated around September 26/27. I really like to spend the cold winter time at the South where I can find my sources of inspiration: countries, people, nature, scents and colors! I still have one wish: I would like to paint a sponsored small car as an ArtCar and drive all around town in it. In one year I would return it and the company would be able to put it up for auction. Let's see…
Are there any areas where you would like to expand your artistic work? Any materials you would like to work with or projects you would like to realize?
KEA: It seems that materials keep coming to me, it is really more that they find me or that I stumble across them. I am using things like electric amperage, diodes and capacitors in my drawings. In addition, Stickers in the colors of the pantone system have been a huge revelation for me. I cut them into lines and regroup them meticulously with lots of patience into new compositions. We will see what happens next!