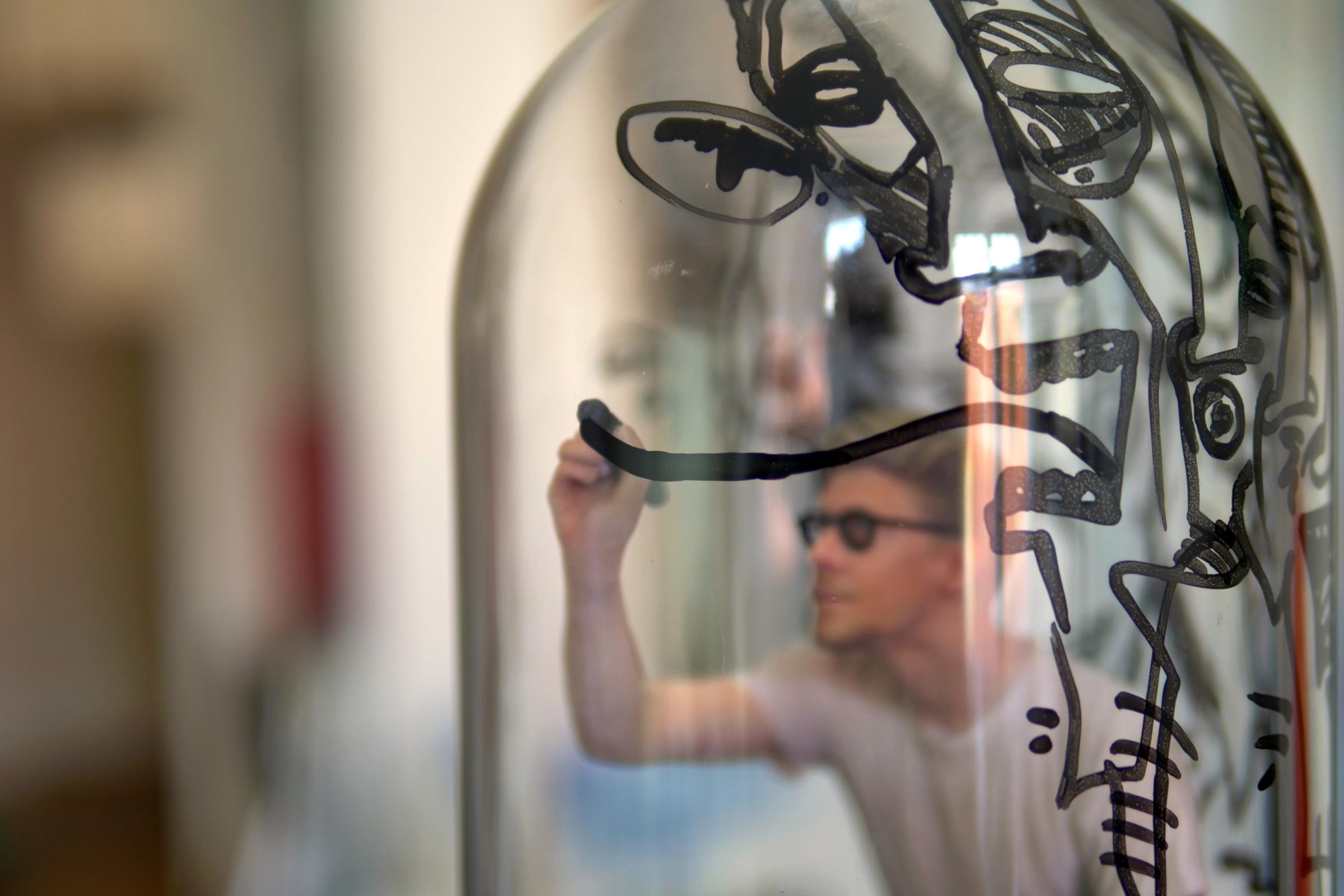 What you can look forward to on a visit to the Discovery Art Fair Frankfurt:
Highlights from our Artist Section
As the first and thus far only large international art fair, the Discovery Art Fair Frankfurt unites presentations from galleries, project spaces, and individual artists on equal footing under one roof. As part of our carefully curated Artist Section, thirty up-and-coming international artists will present current items from all areas of contemporary art. You will have the unique opportunity to personally meet the artists and talk with them about their work directly at their booths.
At this point we would like to present to you in advance ten highlights from this year's Artist Section in more detail.
Anne Vonnemann (booth A20), who studied under Franz Erhard Walter in Hamburg, unites the classic style of the Dutch Golden Age with ideas from conceptual art in her large wall tableaus. The artist, who works primarily in oil on canvas, makes reference to the art historical tradition of imitation while simultaneously breaking with it by experimenting with variations and details of singular motifs.
Inspired by the complex problems of the present day, the artist Peer Kriesel (booth A01) has produced a diverse oeuvre. The grimaces and hidden object pictures he creates on canvas, paper, or by painting over thrown-out paper objects like train and entrance tickets are consciously crowded, an explosion of colors and characters that make reference to the superabundance of information, violence, and absurdities. In his installations and exhibitions, the artist extends this approach calligraphically into graphic formations reminiscent of graffiti tags.
Boštjan Jurečič Alluvio (booth A19) from Ljubljana, Slovenia has developed a unique artistic thumbprint influenced by the technique of washing away. He produces his images in layers and with a specific atmosphere – much like that of a distant memory – which appear and disappear before the eyes of the viewer.
Disposable corrugated cardboard serves as the basic material Bronislava von Podewils (booth A04) uses in her artworks to create three-dimensionality out of flat surfaces. The artist, who studied in Karlsruhe under Stefan Balkenhol, makes sculptures from materials that allude to impermanence, and which simultaneously captivate with their playful simplicity and liveliness.
French-born artist Jean-Pierre Kunkel (booth A08), who for years has been one of Germany's most sought-after illustrators, will be showing photorealistic paintings of the highest standard. At the fair, the artist will be presenting swimming pool scenes rendered from the underwater perspective in which he portrays every minute detail – from the reflection of light, to the play of shadow or swirling of water.
The internationally-active metal sculptor Mark Huebner (booth A18) was born in Frankfurt and, following many creative years in Costa Rica where he made a name for himself internationally with his bamboo installations, returned to Germany. Huebner's work plays with the discrepancy between steel and bamboo, between civilization and nature. The combination of both worlds creates artworks in which the force of primordial nature can be seen in its beauty and melancholy.
As he impressively demonstrated with his walk-in light installations at the Luminale 2018, Munich-based artist Fabian Gatermann (booth A14) uses the most modern technology to develop light sculptures that unite art, light, and design in poetic entities. The principles of sequence and order give shape to his objects, which the artist then breaks with using (algo-)rhythms, color, and disruption.
The work from Berlin-based artist Ingo Schrader (booth A07) revolves around the theme of space and its perception, revealing a reference to architecture. The threshold between two and three dimensions is sounded out in order to uncover the secret of space. Spatial illusions, reflections, or color effects involve the viewer as both actor and recipient, usually first revealing themselves in movement or changes in the surrounding light, and thereby making the complexity and subtlety of one's own sensory impressions conscious.
Peintre X (booth A14) is the pseudonym for the publicity-shy street artist whose memorable portraits are at once shrouded and exaggerated. Socio-critical tones can be found in his works as well as quotes, newspaper clippings, or encrypted typographies.
For Stuttgart-based photographer and poet Rechenmacher (booth A16), photography is a poetic form of expression, hence why his subtle black-and-white photographs have been rightly referred to as "lyrical photography." At the fair, the artist will be showing, among other things, his still-life series "Black Flowers."
Further information on these and all other exhibitors that aren't to be missed can be found in our online gallery.
If you enjoyed this selection, let us suggest our Highlights from the Rhine-Main-Region and the Gallery Section of the 2018 Discovery Art Fair at the Frankfurt Messe fairground.
The next edition of Discovery Art Fair in Frankfurt takes place in November 2019.