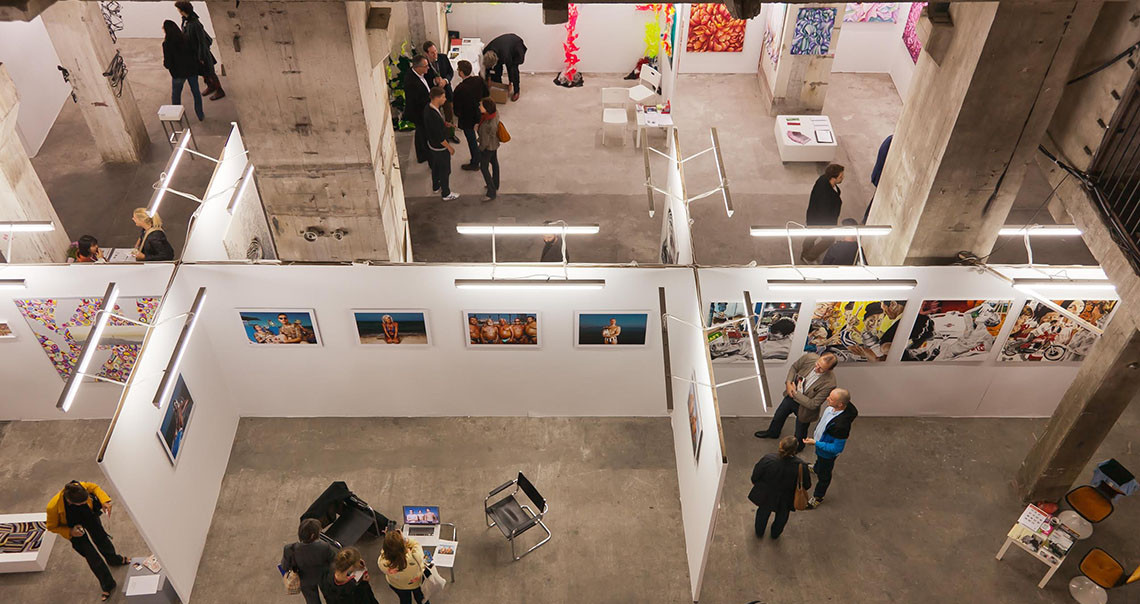 Berliner Liste 2016, also known as the 13th edition of the largest Berlin Art Fair, is just about to open and welcome its visitors and participating artists and galleries. The fair will take place from September 15th to 18th and it will be located in the impressive industrial venue called Kraftwerk. This spacious venue is located in the Mitte neighborhood of Berlin and it is capable of hosting most versatile parties, events and fairs inside of its large vaults which once belonged to a heating power station. Before the fair officially opens to the public on September 15th, a welcoming party will be held on September 14th, in the iconic Tresor club, one of oldest havens for techno music enthusiasts. When it comes to Berliner Liste 2016 press conference, it will take place on Wednesday, September 14th at 1 pm.
This year, the Berliner Liste partners with Absolut Vodka. A beautifully designed Absolut Art Bar, the creation of Clemens Behr, will be available to the fair visitors looking for a cozy refreshment corner.
Uniting International Art Enthusiasts
The main goal of Berlin's longest established art fair is showcasing affordable, innovative and contemporary artworks. Berliner Liste 2016 will unite galleries and individual artists under one roof, so they can share their visions and initiate exciting artistic collaboration. The fair is an important international event and this year it will host 112 exhibitors from 25 countries, including the far-flung places such as Australia, South Africa, Japan and Taiwan. Our participating artists and galleries will also have the opportunity to meet various collectors, which is a tremendously important step for every artist who wants to make it in the competitive art market. One of the core ideas of the Berliner Liste is to make art affordable and exciting, which means that we aim at attracting not only established collectors, but also visitors who want to take home their favorite artworks. Berliner Liste 2016 will give its visitors a chance to explore most versatile artworks, such as paintings, drawings, photographs, installations and urban art, created by innovative artistic minds. Over the years, the Berliner Liste has evolved significantly, but its main idea remained the same – to exhibit the latest editions of non-commercial contemporary art and make connections between different layers of the art world. This wouldn't be possible without the experienced and talented team of Berliner Liste 2016 curators – Dr. Peter Funken, Stefan Maria Rother and Guillaume Trotin, along with Jörgen Golz, the fair's director since 2012. Selection process is like a treasure hunt. We aim at finding a good balance between quality, vibrancy, and innovativeness, says Mr. Golz about the selection process for the Berliner Liste.
Berliner Liste art fair is divided into four main sections – Gallery, Artist, Photography and Urban Art section. The Urban Art section is the newest addition to the fair and it plays an important role in promotion of an open-minded philosophy, free of elitism. In addition to these sections, there is also a separate space designated for Japanese Young Artist Group also known as JYAG. They will proudly present more than 150 artworks.
Making Long-Lasting Connections with Art Collectors · Artist and Gallery Section
Berliner Liste has built a powerful repertoire of nowadays well-known artists whose careers were launched with this fair. Thanks to this convenient and versatile art event, many aspiring artists made long-lasting connections with collectors and buyers and they also discovered the perfect gallery to collaborate with. This year, all participating artists will have a great opportunity to enjoy a free seminar about overcoming psychological challenges related to selling artworks. The seminar will be held by psychologist Alina Gause and the Berliner Liste 2016 curator Dr. Peter Funken. Young artists should know and control consciously what they tell about their art and how they talk about themselves and their work, claims Dr. Funken. This year, some of the most prominent local galleries to participate in the event will be Artfein, Urban Spree Gallery, Die Schröder-Galerie, German Pop Art Galerie, Pine Wood Fine Art and Mario Bermel & 24 Beaubourg, along with individuals artists such as Henriette Simon, Hendrik Czakainski, Kaja el Attar, and Petula Girndt. Almost half of all the exhibitors at Berliner Liste 2016 will be international artists and galleries, for instance Kalashnikovv from South Africa, South Korea's Art&Space 312, Artem-Reich from Switzerland, Jordan Seiler from the United States, Martin George from Australia and master sculptor Kang Mu-Xiang from Taiwan.
Redefining The Traditional Art of Taking Pictures · Photography Section
The Photography Section was introduced to the Berliner Liste in 2013, which was the 10th edition of the fair. In 2016, after 3 years of intense development, this section is curated by the author and photographer Stefan Maria Rother and it will feature only the freshest and most engaging contemporary photographic works. The city of Berlin itself is known for its outstanding street, fashion, and experimental photography and it is the home of many renowned photo galleries and individual artists. There will be 15 photographers exhibiting their works at the Photo Section of Berliner Liste 2016 – 12 of them are Germany-based artists, while the remaining three are from the Netherlands, Russia and the United Kingdom.
The Language of Street Codes · Urban Art Section
Street and urban art were brought to life in the underground and perfected in the subways, but eventually they made their way up to the gallery and museum walls. The value of street art has been the subject of many heated debates, but nowadays its reputation became more positive and respectable, due to the fact that it resonates well with the public. The Berliner Liste fair wants to be as supportive as possible when it comes to both established and emerging artists in the field of street art, whether they are already graffiti masters or art students. Our visitors and art collectors will have the opportunity to take home refreshing stencils, collages and silkscreen prints and learn about different urban art techniques, graffiti styles, street codes, tagging, and lines. The curator of Urban Art section, Guillaume Trotin, has selected 10 participants from Germany and abroad to showcase their outstanding urban pieces at Berliner Liste 2016.
Spreading the Vision of Beauty far beyond Japan · Young Japanese Artist Group
In addition to the main sections of the fair, Berliner Liste 2016 will feature another exhibiting space on the upper levels of Kraftwerk dedicated specifically for Japanese Young Artist Group also known as JYAG, who will present more than 150 artworks. JYAG consists of 113 contemporary Japanese artists who come from different regions of Japan. Even though these are aspiring artists, their magnificent pieces are expected to reach a worldwide appraisal in near future. JYAG artists aim at spreading their surprisingly unconventional vision of beauty far beyond the borders of Japan, which is one of the main reasons they decided to participate in Berliner Liste 2016. JYAG Section will be curated by Rin Terada, who is an artist himself and the owner of Terada Museum of Art in Deidesheim. Mr. Terada will announce the winning Japanese exhibitor on Friday, September 16 at 6:00pm.
Room for Trials and Extraordinary Experiments · Berliner Liste 2016
The Berliner Liste offers room for trials and for extraordinary experiments… they might go wrong sometimes, but in the fair it encourages in general positions, sometimes also wondrous ones, that do not have a voice elsewhere, claims Dr. Peter Funken, one of the curators at Berliner Liste 2016. The main purpose of the Berliner Liste is giving a voice to those who still haven't had a chance to build an elaborate network of galleries or collectors to collaborate with. It offers a creative playground for artists and galleries, but it is also an engaging artspace for the art-interested public who wants to discover alternative contemporary art, unavailable at traditional galleries and museums.
The director of Berliner Liste 2016, Jörgen Golz, hopes the fair will meet and even exceed everyone's expectations. The upcoming Berliner Liste will be a truly unforgettable show for both visitors and participants!, he announced in a recent interview.
Featured image: Artist Section of the Berliner Liste
All images courtesy of the Berliner Liste and participating artists and galleries.