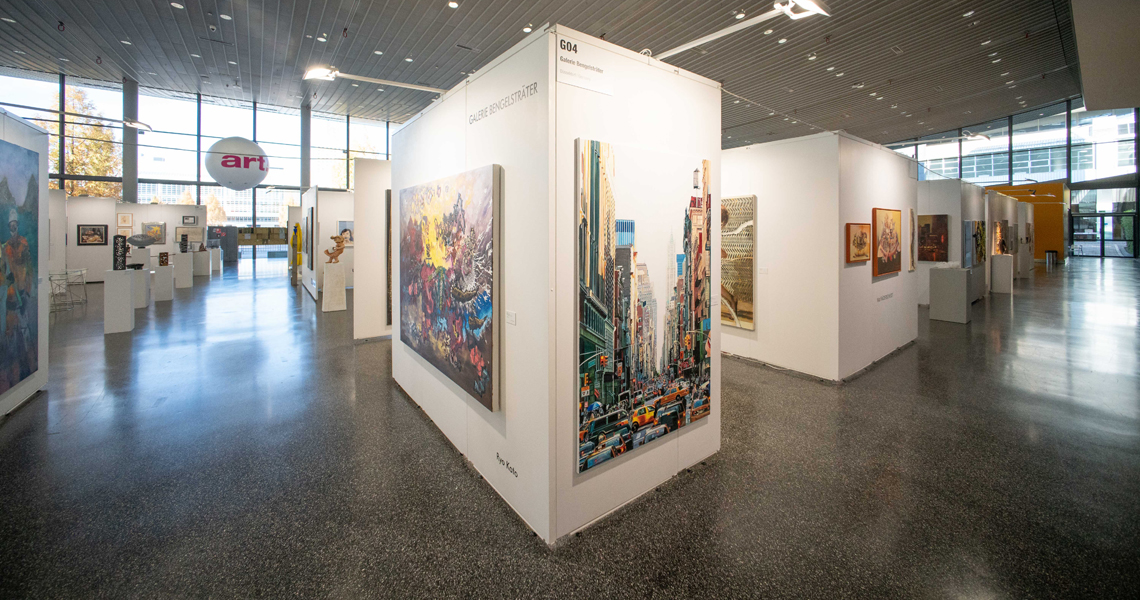 For the third edition of the Discovery Art Fair Frankfurt, we look forward to the exciting, diverse, and high-quality gallery program awaiting you in our Gallery Section. We would like to present to you as a sample ten of this year's participants in greater detail:
art42 from Karlsruhe will be presenting unusual portraits. In his unmistakable style, Austrian artist Georg Pummer creates works with distortions and pixelizations that unite traditional portraiture with digital aesthetics. Düsseldorf-based painter Sabine Liebchen paints figures realistically and with great precision always from the rear or side-view. And the well-known urban artist El Bocho is able to impressively transfer to canvas his street-art style with his colorful portraits of women and girls.
The art2you gallery from Hochheim am Main will be presenting exciting mixed media pieces. Ulrich Naumann will be showing a combination of digital images and abstract painting. Movement and fascination with water are the central themes for renowned artist Corinna Rosteck, who has already carried out numerous percent-for-art projects for companies like Airbus and accenture. She creates relationships between photography and painting which she extends through spatial and contextual installations. She has also developed a special printing technique for materials and surfaces inspired by novel lighting technologies.
The Galaria C4ter from the Dolomites will be presenting artists who are masterful in their craft and artistic expression. In Walter Pancheri's work, the interplay between expert woodworking and modern printing techniques leads to always fascinating and surprisingly harmonizing pictorial objects, which cater to lovers of Alpine landscapes in particular. Pieces with titles like "Close and yet so far away" or "We're staying home" by artist Gerald Moroder touch upon the current zeitgeist – and not only in light of the Corona pandemic. His figures express fears of closeness and loss within the context of our society's changing relationship and attachment structures.
The Hamburger Online Galerie is presenting a one-artist show by artist Nicole Leidenfrost. The student of Prof. Markus Lüpertz received much media attention when one of her colorful artworks was given to Queen Elizabeth II by then German President Joachim Gauck as a diplomatic gift. The non-naturalistic representation of one of the Queen's family photos made for an amusing dialogue. The artist's work can be found in well-known museum art collections like the Royal Collection Trust and Museum Würth.
Michael Pickl's gentle wood sculptures of women will be presented by the Gallery Gräfe art.concept. The artist gives his sculptures a wonderous lightness and gracility along the way. The interaction between rough and delicate workmanship gives way to poetic and, at the same time, expressive figures. Beautiful, graceful and confident women – partly in everyday clothes, partly as nudes – confront the viewer.
Paul Mathey, for the Frankfurt-based gallery Galerie Barbara von Stechow's program at the fair, produces moments of pause and of calm in his work. Everyday objects, like a vase or a glass, are studied and put on center stage. We can let our gaze rest on ostensible irrelevancies, on things we encounter everyday but rarely take note of. No overloading, simply the pleasure and beauty of the moment.
The focus of this year's program from the Düsseldorf-based gallery Galerie Shia Bender is the work of German-Japanese artist Kanjo Také, a master of digital art – the art of the 21st century. By using new media, projections, photography, installation, and painting, he is not only able to combine a diverse array of artistic techniques but also eastern and western thought in a completely new way. We experience art that challenges our usual ways of seeing and enables complex interpretations.
The Moscow-based InGallery is celebrating the debut of artist Karen Shahverdyan at the Discovery Art Fair with a one-artist show. Photographically precise surrealism? Environmental grievance? Civilization critique? Object assemblages like "Smart Water," in which wrapping paper and packaging waste crowd around a trash can, transport complex statements. It's as though our throwaway society were celebrating itself again; but now the party is over. The graduate of the Tbilisi State Academy of Arts, currently based in Darmstadt, creates masterful artwork – provoking, unconventional, and certainly worth a second look.
"Every one of us is a work of art. It will never be loved by everyone… but for those who grasp the sense of it, it will be of inestimable value": a statement by Italian artist Stefan Perathoner, whose memorable sculptures await visitors at the stand of the Vijion Art Gallery. Being human is depicted as individually, as contemporarily poetical and expressive as can only be done by this extraordinary artist.
The program from the Mannheim-based gallery Ateliers im Delta moves between art, technology, and science. They will be presenting at this year's fair outstanding, award-winning photography talents like Hannah Moser or Paul Pape, whose self-invented camera obscura can capture the movement sequences of dancers and thereby combine happening, dance, and photography in an experimental way, likewise to be exhibited at the fair.
Cover: Discovery Art Fair Frankfurt – Stand Galerie Bengelstraeter – Foto Stefan Maria Rother