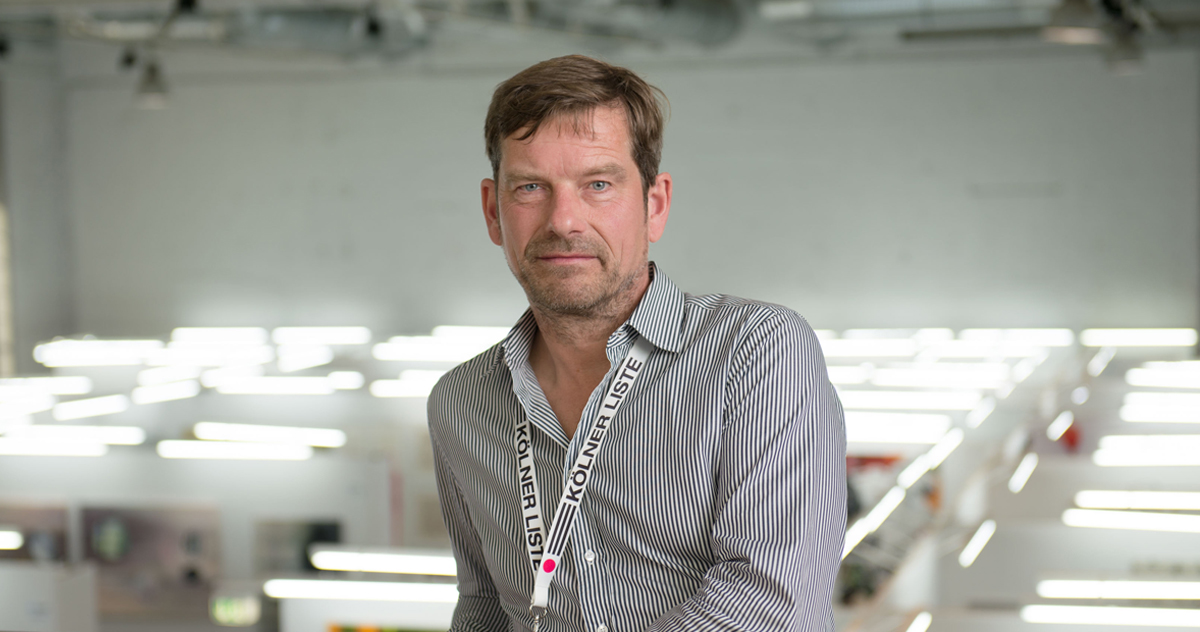 No art fair is equal. What differentiates the KÖLNER LISTE from other fairs?
Aside from providing a temporary market place for artwork and bringing together many diverse perspectives without one having to travel, our go beyond fulfilling just the classic purposes of an art fair by hosting live exhibitions and many other activities. The fairs act as networking events and communication junctions. The exchange of experiences and opinions is really important – not only between visitors but also between visitors and the artists. For visitors, the fair should be a holistic experience they look forward to returning to, year after year. Of course, selling artwork is at the fore. But it is the small, personal experiences which make the fair visit a really special day.
One particular characteristic defines us. Here, galleries, project groups and artists are equals under the exhibition roof. This creates a genuinely communicative atmosphere, generating high networking potential and ultimately leading to many co-operations, collaborations and new projects.
Additionally, the fair is an active member of the art market. We certainly do not lay claim to interpretational sovereignty about the art, yet we do recognise our influence on the art market with, for example, the acceptance or rejection of exhibitors, and the highlighting of particular trends. The concept of the fair, too, is an influence on the market because we offer our young protagonists access to a professional art scene, which would otherwise be closed to them.
The KÖLNER LISTE also offers a platform to project rooms and young galleries, where the owner has to have a second job in order to finance the start-up period, or to artists looking for a direct access to the art market without the intervention of an agent or distributor, or to all those who rather want to sell exceptional art works than market-oriented goods. We are convinced that there are dedicated, committed art lovers with fantastic high-quality programs also beyond the conventional gallery business. For the art buyer this concept means an untamed variety and a significant price advantage.
The KÖLNER LISTE describes itself as a "fair of discovery". Which exploratory trip do art lovers and critics experience at the fair?
We showcase art from all areas of contemporary art: editions, photography, installations, painting, new media, sculpture, videos, drawings, etc. The most common production year for the work will be 2017.
This profile underlines the exploratory character of our fair, which also shows presentations of artists. This is "unplugged" art presentation with no academic museum filter. The fair will not stagnate and bore with comfortable familiarity, but will continue on an adventurous wild water rafting journey. Taking with it all the risks, but all the opportunity too. We should and can be delighted by this!
Be welcome, art collectors – whether young or old, poor or wealthy – whether art-loving teenagers, doctors, attorneys or architects who want to enhance their premises with art, but also institutional curators and art scouts. There will be something for everyone's taste and budget. Take a look and find your new favourite art work, be it a kinetic object, a morbid installation or classical painting.
What were the decisive factors in the move to the new location, the XPOST Cologne? Which specific features does this location offer for exhibitors and visitors?
Three years ago we launched the KÖLNER LISTE. Each year, the fair has grown. We were looking for a new, larger and more central location and found the XPOST. This place is a wonderful fusion of old and new. The historic charm of the former post railway station meets modern halls without distracting pillars, with impressively high ceilings and all flooded with light. This is the ideal place to showcase art. A true spacious experience, to which we invite all art fans.
Next year will be the fourth edition of the KÖLNER LISTE. How has the fair changed over the years?
The fair started showcasing galleries only, and now artists and project groups are here too. Each year we have grown, with numbers of both exhibitors and visitors increasing. We hope to welcome at least 10,000 visitors through the doors this year. Three years ago, we couldn't imagine such a number.
Reflecting the current developments on the art market, we launched the Photography Section two years ago and started the Urban Art Section in 2016. What has remained the same throughout is our dedication to presenting a wide range of extraordinary contemporary art to the public at affordable prices.
With Art.Fair moving to Düsseldorf, the KÖLNER LISTE is the only alternative fair to Art Cologne. Why do you see this extension as important?
Art Cologne presents established work. Curated down to the very last picture, market-ready work in the upper price segment is sold there. Experiments and new discoveries are kept at the edges. This is understandable: the financial risk of exhibiting at Art Cologne is significantly higher than with us. Of course, we also exhibit more established artists but our focus is on younger, fresher, affordable art, for young collectors without deep pockets. Experimental work and diversity at the KÖLNER LISTE is significantly higher. Artists showcase their work directly alongside galleries and project groups. The affordable prices and vibrant exchanges between exhibitors and visitors characterise the fair. Art should not dwindle in speculation. So, both in its price segment and the communicative atmosphere, the KÖLNER LISTE is a meaningful extension to the Art Cologne. As one art magazine put it, "if the KÖLNER LISTE didn't exist, someone would have to invent it."
How do you rate the support from the city?
The reception among the Cologne public has really delighted us. From teachers who bring classes to teach at the fair, to impressed visitors who bring their friends for a second visit and those who loyally return every year. And another thing: the people like to buy. Unfortunately, we haven't yet received any support from the official side. This really saddens us, as our aim of putting (young) art back at the centre of society should be supported by politics and city officials.
How do you currently help less experienced exhibitors to establish themselves on the art market?
We offer all types of support and advise our inexperienced exhibitors on how the art market works. This starts with how best to hang work, includes contractual documents, support with customs formalities, a seminar on self-marketing and a coaching on how to sell successfully and survive hectic fair days. We maintain close contact to the exhibitors from the free application process to the brochure printing and dismantling of the booth. And we are there to help with any issues.
How do you describe the public at the KÖLNER LISTE? Which target groups do you aim to address?
Alongside the classic Art Cologne public, who we shuttle here with a bus service, we tap into new target groups for contemporary art. This involves the active involvement of organisations, cultural multipliers and direct contact with relevant media. Marketing is the biggest part of our budget. In order to bring collectors' passions to new semesters, we contact high schools and universities too. Incidentally, we offer free entry to all school pupils and students on the Friday. We have a lively mix of all ages and welcome hipsters from the Belgian quarter alongside local lawyers hunting for a new office picture; just as we do established collectors whose curiosity has brought them to the XPOST.
How can contemporary art be made more accessible to the wider public? How can they overcome their inhibitions before the first buy?
In all its diversity, art is fascinating. We have the task of bringing this diversity to a wider audience. Elite art vocabulary is celebrated in many established art institutions. Museums find it difficult to present their collections according to modern pedagogic perspectives and to appropriately present them to current reception and media norms.
We have no inhibitions at the fair. We and the exhibitors are bound equally by the joy of art and love to share this with all visitors. We are present in a moderate price segment. Even those with a smaller budget can find unique pieces here. We encourage people to trust their own instincts and buy something they like. The daily enjoyment of the piece is return on investment enough.
What can art accomplish in difficult times of socio-political crises?
As it is scrawled on the walls of a Kreuzberg house: borders don't run between people, but between above and below. How true. Indeed, in these times of growing hegemonial endeavours and grave social upheavals, intercultural exchanges are possible counterpoints. People who engage with art and remain curious about other cultures will not be unnerved by agitated currents and possess a high tolerance to ambiguity in these rapidly changing times. In times where neither religion, politics nor philosophy can offer the right answers, maybe art can.
We are currently experiencing a globalisation and democratisation of the art market. How does the fair reflect this?
Yes, those are megatrends indeed. Firstly, we see this in the internationality of our exhibitors. At the last BERLINER LISTE, every second exhibitor was from outside Germany. But structures are changing. Alongside classic galleries, project groups and artists are now present. The growing marketing know-how of individual artists and the digital advertising possibilities mean that galleries are no longer the only gatekeepers to the art market. Nevertheless, we should not underestimate their function. Art marketing is a sensitive and complex challenge. Art production is just the first step, selling is the second part of the pathway for the artwork on its way from from studio to the collector's home.
Do we still need art fairs in these times of digitalisation? Or: could a digital platform replace a fair visit?
The KÖLNER and BERLINER LISTE are fairs with an exploratory character and a real, existing public. Virtual spaces can therefore only partly fulfil this. The smell of oil paints, or the surface feel of a sculpture cannot be digitally translated. Online galleries and the worldwide online presence are, of course, a good extension to the fair. The personal meetings are digitally flanked by the online media and play a part in the fair's success. The digital preparation and protocolling of the fair experiences are an integral part of the live experience.
And finally: with which three terms would you describe the character of the fair?
Fresh, contemporary… and honest.