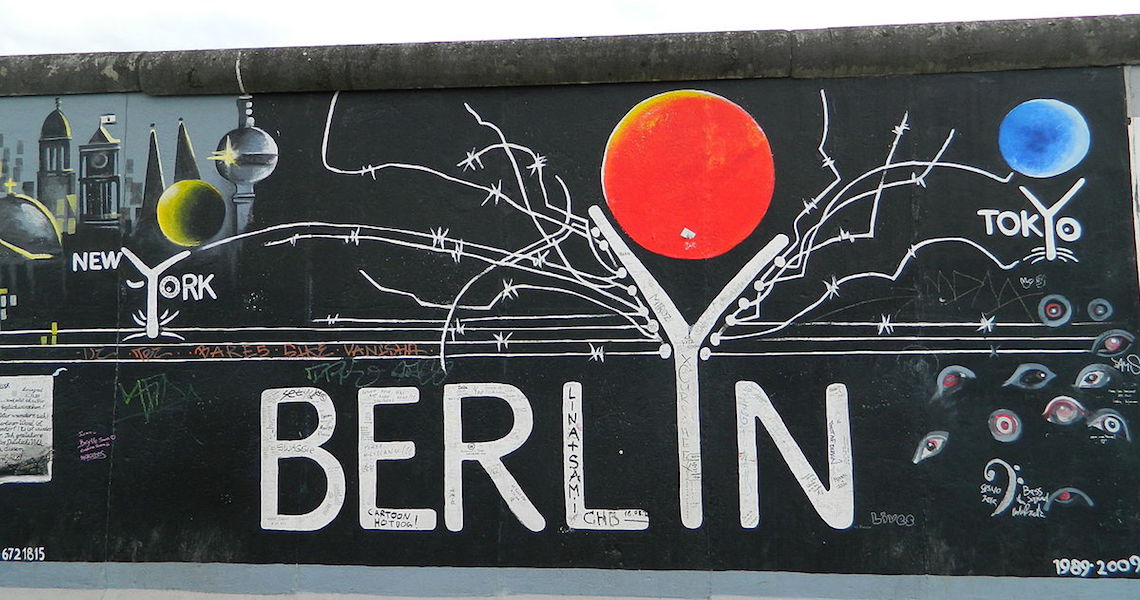 With Berlin Art Week, the town's interest in contemporary art is always peaking. But once all the temporary venues are seen and examined, the latest trends spotted, new names discovered and fresh art purchased, what else is there an earnest art lover can do in Berlin? The answer seems a little too obvious – whatever they like because the coolest city in the world has a phenomenal cultural offer all year round. However, when it comes to contemporary art sports, some places are more interesting than others. Walking you through the Berlin art scene, we give you an overview of the art venues to mark on your map.
Wandering Around Berlin
As one of the capitals of Street Art in Europe, Berlin is the perfect destination for public art. Its rich and tumultuous history adorned the metropolis with a number of monuments, but when we talk of something more contemporary – we can look to the Wall and around it. The now famous East Side Gallery holds an important spot in every guide and we have to agree – it's a must see. The 1360 meter long remnant of the infamous barrier has served as a canvas for hundreds of artists over the past three decades. It's a mix of expressions and styles, all propagating one ultimate goal – freedom. Today, the most famous outdoor mural display holds pieces by over 100 artists from around the globe, while some of the portions were damaged, destroyed, moved or restored over the years. An East Side Gallery walk can also be the perfect way to end your day at the our fair, since the Postbahnhof location is literally 2 minutes away, walking distance.
As the popularity of Berlin grew among the young and creative population of Europe and the city was filled with new imaginative dwellers, a number of expressions flourished, Urban Art especially. Walking around Friedrichshain-Kreuzberg or Mitte, we find murals, stencils, and installation by some of the world-famous and most daring artists today. A topic in itself, street art in Berlin is a whole planet to explore.
Clean and Contemporary – Art Centers and Museums
Seeking the most exciting contemporary art Berlin has to offer, one can easily get distracted by such a spectacular abundance of public pieces. However, there are many art centers and museums that nurture just as progressive approach, but present their exhibitions in a cleaner manner. The shows organized by these institutions are professionally curated, contextualized and offer an explained and thorough insight into the specific setting.
The Hamburger Bahnhof – Museum für Gegenwart is one of the most famous places to get acquainted with contemporary art. Set in the only remaining 19th-century train station in the city, the Hamburger Bahnhof has a dynamic exhibition program in addition to a great collection.
KW Institute for Contemporary Art was founded in the 1990s in Berlin Mitte and has grown into one of the most important contemporary art centers in the city today. Klaus Biesenbach, founding director of KW Institute, launched the Berlin Biennale in 1996 as well, a forward and increasingly important happening in the international art scene. KW Institute's team curates and presents thematic and group exhibitions by selected contemporary artists from Germany and abroad.
Founded in 1870, the Berlinische Galerie is the modern art museum with the longest tradition in Berlin. It has a fantastic collection of Dada Berlin, the Neue Sachlichkeit (New Objectivity) and the Eastern European avant-garde, which makes it a special venue of interest for all of the contemporary art lovers with an interest in art history.
We have to mention two more recently established art centers that focus on different issues of contemporary art and society. Kunstraum Kreuzberg/Bethanien is an exhibition space with a special focus on current social and cultural issues. A multi-layered cultural center, it also has a collection of 450 contemporary art works.
And finally, KINDL – Centre for Contemporary Art is the latest addition to the city's cultural panorama. Grown from a 2011 idea as a non-profit institution, it has been presenting contemporary art exhibitions since 2014.
What Do Collectors Do?
In the past several years, there are several Berlin-based collectors who have opened their treasured spaces and collections to the public. Reflecting the taste and interests of their owners, all of these collections are individually interesting, and all of them provide a better insight into the art of collecting. For an aspiring collector, they can serve as a guiding inspiration, for art lovers as a chance to view rare, privately owned masterpieces and for young dealers as a channel to recognize trends and desires of established art collectors.
Depending on the personal interest of the visitor, one can visit Sammlung Boros, me Collectors Room, Feuerle Collection or Daimler Art Collection. Those who find their stimulus from viewing private collections can find a good database of Berlin's private collections open to the public on this link.
From the Multitude of Art Galleries – Here's Where to Go
Finally, we must turn our heads towards the lively and growing gallery scene in contemporary art Berlin. Even though Berlin might not be the city at the top of the global art market, it's still seen as an environment where some of the freshest new names meet the public eye for the first time. Knowing where to go largely depends on knowing what you're looking for. Expectedly, younger collectors might venture to galleries focused on emerging talent, while those with defined collecting strategies and more disposable income might opt for bigger names. Either way, the gallery checkpoints on both sides of the wall provide a lot of options.
Among the reputable contemporary art galleries established in the 1990s, there are Carlier Gebauer and Esther Schipper. As international art ventures, Sprüth Magers and Galerie Buchholz have spaces in Berlin as well. CFA Contemporary Fine Arts Berlin presents a great international program of renowned names, while Peres Projects is home to the more progressive expressions. Established in the 2000s, KOW Gallery (presenting works by Hito Steyerl), KÖNIG Galerie, and Capitain Petzel represent and showcase a legion of contemporary artists with different expressions.
As a special treat of the Berlinian scene, urban art galleries have created a scene of its own, with the most representative among them being OPEN WALLS and Urban Spree, both focusing on art in the public space, but with very distinctive concepts.
With dozens of venues worth the visit, time reserved for the Berlin Art Week might not be enough and we recommend extending your stay and exploring the city further.
With each of its editions, the DISCOVERY ART FAIR presents a selection of international art galleries, a number of which originate from Berlin.
Featured image: Berlin East Side Gallery, Commons Wikimedia, CC BY-SA 3.0