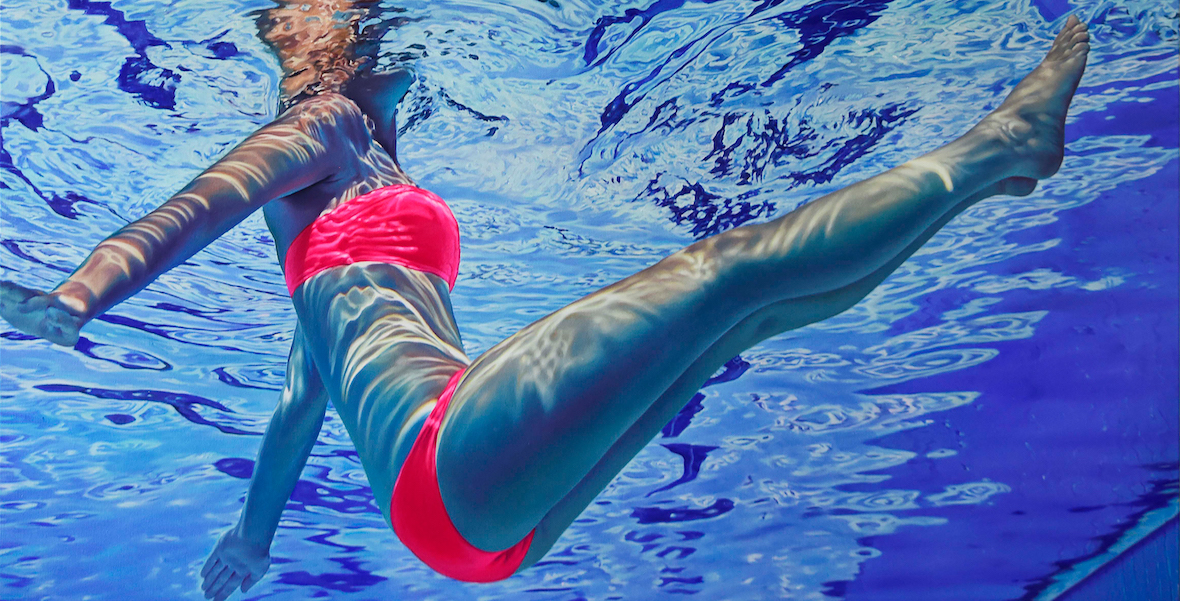 Seemingly effortless, photorealistic imagery created by Jean-Pierre Kunkel is never made without a concept. His complex creation process starts with an idea and a sketch, it involves equipment, location and models, guided photoshoots and careful composition that is, finally, transferred onto canvas. Only then, the painting can start. But when we see his bright imagery, his vibrant characters and shining colors, we cannot help but admire the very essence of his craft – his keen eye in composing the picture.
Photorealism as a Style of Choice
Born in France in 1950, Jean-Pierre Kunkel spent his youth in southern Germany. He studied painting in Munich and Hamburg and adopted photorealism as his style of choice. Mastering a wide range of techniques, he perfected his painting method that brought him work as advertising illustrator for Der Spiegel and Stern, among other publications. His travels, studies and work confirmed photographs as the base of his work to this day.
Pop Art at the Core of Kunkel's Work
Subject to a special aesthetic standard, Jean-Pierre Kunkel's works are divided into four thematic wholes he works on alternately. His main focus goes to the composition, which he creates through a meticulous process of element selection and positioning, a method particularly visible in his pop art series ICONS.
Choosing from an abundance of existing photographs of extraordinary characters from the film, fashion and entertainment industries, Kunkel created a combination of photo elements, reassembled to reflect his personal ideal of internationally known icons. This approach is particularly visible in his depiction of Marilyn Monroe. Digitally painted, the work is printed on canvas, stretched and manually finished with acrylic paint – a technique Kunkel uses to give his works a unique character, even if they are created as a part of a series.
Advertising Pop-Art
Currently, Jean-Pierre Kunkel is working on a series that uses the motifs he created and collected while working as an advertising illustrator. These commercial images, created over the 40 years of his career, are put in a new context and create new, surreal pictures, while sending a fresh message. In his overtly pop-artistic expression, there is a strong influence of Neo Pop of the 80s and 90s, where the oversized imagery is treated as artistic and symbolic imperative.
"For me, it's not about competing with the precision of a camera lens and transferring a snapshot 1:1 onto the screen. Rather, I am interested in the possibilities of giving the reality of the photo a completely different effect," says the artist and confirms that his visual constructions are in fact – new realities. The act of painting makes his vision more intense and organic, even though it is, and always will be, an idealistic representation of his artistic idea.
Jean-Pierre Kunkel will showcase his latest works at the upcoming Discovery Art Fair in Frankfurt, from 4 to 7 November, 2021.
All images are courtesy of the artist. Featured image: Jean-Pierre Kunkel – Pool no. 22, detail