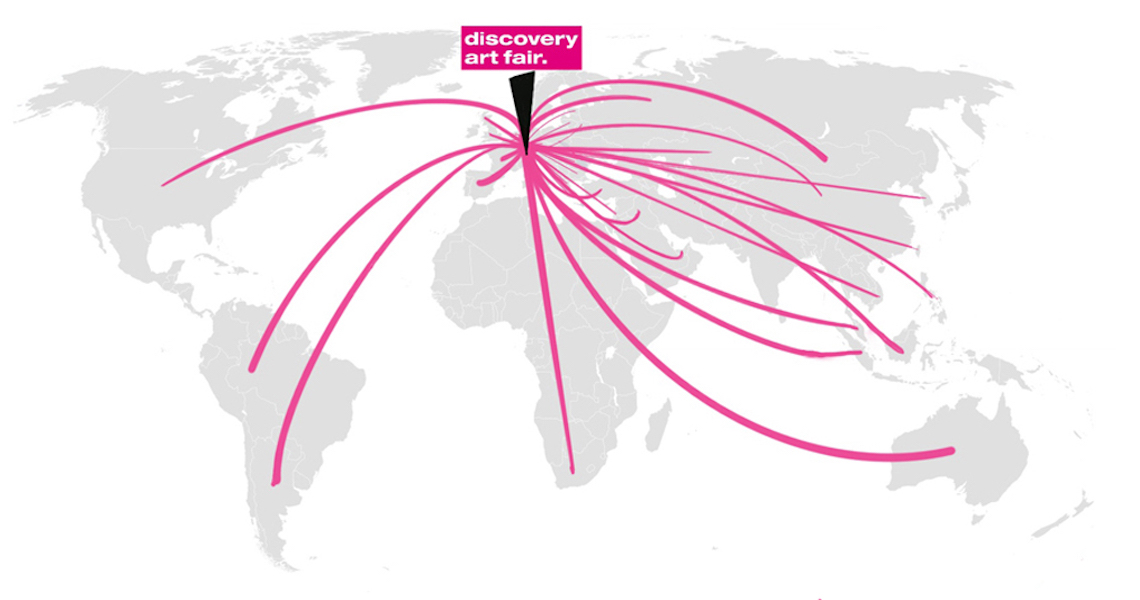 The Discovery Art Fair will unite artistic positions from 36 countries in the Forum of the Messe Frankfurt. The diversity of cultural backgrounds is reflected by the plurality of artistic perspectives that will be entering into dialogue at the discovery fair. For four days, the players in the international art market will meet in Frankfurt to provide experts, collectors, and art-lovers insight into all kinds of current art scenes. Join us in looking forward to…
Carolyn Angus (Booth A15)
Poetic drawings and paper installations await visitors at the stand of Rome-based Scottish artist Carolyn Angus. She studied sculpture at the Glasgow School of Art in Great Britain and subsequently completed her artistic education with a Master of Fine Art at the Tyler School of Art, Temple University, Philadelphia, USA. Nature is a great source of inspiration to her, and so it doesn't surprise that an intense closeness to nature is also present in her delicate papier works.
Folly & Muse (Booth G27)
In order to capture the artistic zeitgeist, London gallery Folly & Muse work with emerging talent from around the world. Even if the artists have different cultural backgrounds and come from Malaysia, Australia, Romania, the Czech Republic and Germany, one thing unites them: they are working with their finger on the pulse of the time. Full of boundless energy and joie de vivre, the works produced by artist Kirsten Jackson in the impasto style are considered a fixture of the Australian art scene. Malaysian artist Hock Tee Tan transcends the boundaries of contemporary figurative painting in his work. Using very few, well-placed brushstrokes, he creates portraits that not only capture shapes but also express vivid emotionality.
Galerie Stephanie (Booth G02)
Located in the Philippine capital, Manilla, Galerie Stephanie, has since its founding in 2007 become one of leading addresses in the country when it comes to innovative, contemporary art, due especially to its international orientation. The works of Indonesian artist Roby Dwi Antono are reminiscent of traditional, hand-painted children's books, which he pairs with the sarcasm and surrealism of the early 20th century. The contemporary ceramic and synthetic resin works by Brazilian artist Ciane Xavier address globalized pop culture and explore the boundaries of our modern society.
Hyunjoung LEE (Booth A16)
South Korean-born and Paris-based artist Hyunjoung LEE creates a poetic universe in her images on rice paper, in which she invites viewers on a walk and inner journey at once. With her ink drawings she takes us on an imaginary excursion through paradise and earth, between clouds and valleys.
Alma Contemporary Art Gallery (Booth G36)
The Alma Contemporary Art Gallery, originally from Trikala, opened its second location in the center of Athens in 2015. The successful gallery aims to make innovative and groundbreaking artistic positions known outside the borders of Greece and introduce a new generation of talented Greek artists to the public. Alongside abstract work from Greek artist Katerina Mertzani, the gallery will also be presenting work by Alexia Marouli in Frankfurt. These are the result of the artist's daily day dreams, full of life force and desire. She strives to make the immaterial tangible, to transform and share it.
Nordcom Gallery (Booth G26)
The Nordcom Gallery is arriving from the Estonian capital, Tallinn, with work by Andrey Karpov and Eugenia Infelicina. The specific artistic thumbprint of Moscow-based artist Eugenia Infelcina combines realistic painting with symbolic primitive elements. The surreal scenes and fairy-tale motifs reflect her personal perspective and lead us into the artist's dream world.
Unique Contemporary (Booth G25)
The Italian gallery Unique Contemporary from Turin will be presenting unique, multi-layered paintings created by Bulgarian artist Dimitar Hinkov with silk threads and silver pigments, as well as the female portraits rendered with painted and graphic distancing effects by Polish artist Beata Obst.
La Galeria (Booth G22)
La Galeria, coming from the Spanish city of Guadalajara, will be showing alongside the three-dimensional urban structures of representational objects by Javier Orozco, pieces by Spanish sculptor and graphic artist Iñaki Ormaechea. His sculptural work is based on the meticulous examination of geometric shapes and spaces. The theme "less is more" dominates the works he creates out of steel and aluminum, usually with a bent surface.
justBEE Gallery (Booth G39)
The young gallery JustBEE located in Alsace, France, presents German and Swiss artists in regular exhibitions in France. It's not what's pleasing but rather what's distinct and expressive that forms the cornerstones of the program at this internationally active gallery. Alongside work by light sculptor Franz Betz and the vividly colored screen-prints by Genevan artist Nicolas Noverraz, visitors can also expect the abstract, expressionistic works by Prague-born artist Peter Beránek, who lives and works in France and Switzerland.
ART AVENUE Gallery (Booth G37)
The gallery project ART AVENUE presents protagonists from the world of street and urban art. Besides work by Riccardo Sala, better known as Rikyboy, born in Milan in 1996, the gallery will also be showing poetic works painted as negative images by Argentinian artist Francisco Bosoletti. This exceptional artist, celebrated for his large-format murals, is considered the rising star of the international street art scene. His painting asks the viewer to leave their usual visual habits behind and engage with totally new, innovative perspectives and modes of perception.
Cover image – Discovery Art Fair Infografik. All images courtesy of galleries listed.