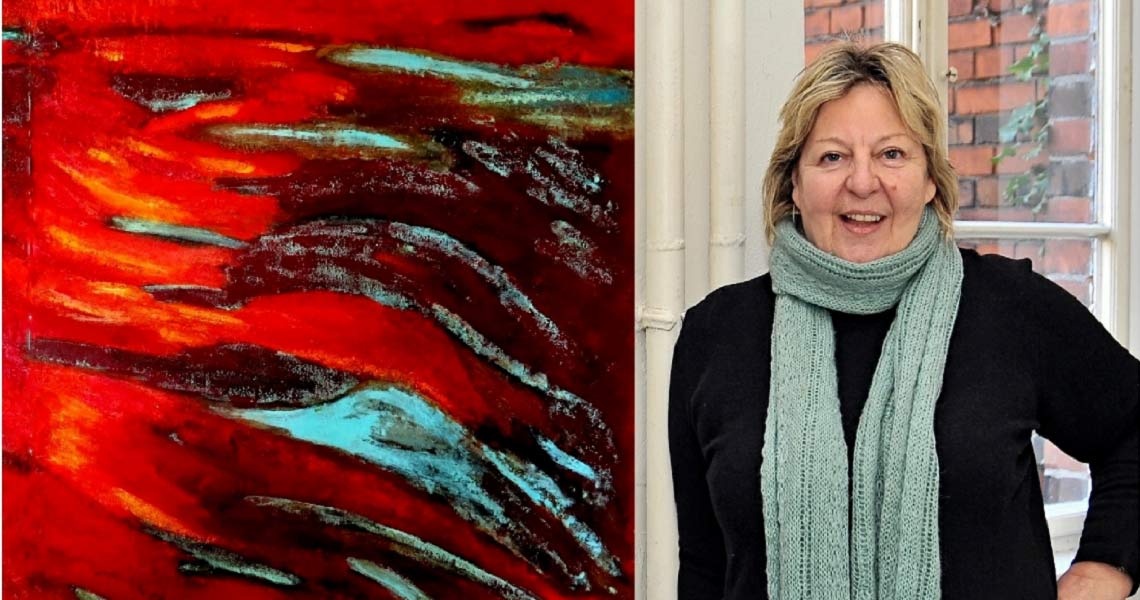 Henriette Simon is a Berlin-born artist who deals with mythological and political topics. She is an established painter who lived and worked in many international environments, such as Japan, Italy, and the United States. In our interview with Henriette, we talked about her latest work called Walking on Earth as well as her plans and expectations when it comes to 2016 Berliner Liste.
Henriette, for starters, tell us something about your art. What are the main topics you cover and where do you find your inspiration?
Henriette Simon: The source of my inspiration are mainly myths and legends, fantasy and science fiction, the roots of sense and nonsense. When it comes to my topics, I find them in nature, for example cracks of the birch bark. The idea of how long some tree has existed and what it has experienced stimulates my imagination immensely. The same goes for the structure of mountains…. Their changing faces have been shaped by erosion over many millennia. My topics and motifs are both rough and brittle, with all corners and edges, just as we are, and our world. For instance, my latest work called Walking on Earth addresses the current political situation through wars, exploitation, natural disasters, refugee flows. Our planet is the Burning Earth! On the positive side, my inspiration can also be the sunset or the sea. When it comes to the materials I use in my art, the roughness of the materials corresponds to the roughness of the human existence. I use the acrylic binder, sand mixed with pigments, rotting iron paired with bright copper. It is important for me to stimulate the viewer's imagination. Therefore, I give abstract names to my pictures and let viewers decide for themselves about the meaning behind my works.
Who has influenced your work the most, when it comes to famous artists and their masterpieces?
HS:It wasn't just one artist, but a few of them. Of course, Pollock and De Kooning, but also Baziotes and Schumacher.
Your career is rich in international references – you have lived and worked between Japan, Italy and New York. If you compare the art scene in Asia, America, and Europe, what are the main similarities and differences?

HS: Common principle for all of them is that stagnation in politics and economy also causes stagnation in art and culture and vice versa. Imagine, for example, the period of fascism. This period of destruction wasn't just an inspiration for European Art, but for American Art as well. Now, Asia is reshaping through political, economic and cultural involvement with Europe and America. It's strategically planned and constructed by the government. For example, the Gillman Barack in Singapore will be the new center for contemporary art in Asia. In order to achieve this, artists got rid of the political which would have otherwise led local journalists and dissidents to the "guillotine" . This new possibility is the breeding ground for new ideas.
This year, you will participate for the third time at the Berliner Liste. What were your past experiences at the Berliner Liste? What prompted you to come back?
HS: A fair is a form of advertisement. Us artists need to find new business partners and contacts and refresh and deepen the already existing ones. During the previous fairs in Berlin, I met a couple of great colleagues, made some new friendships and elicited international exhibition opportunities.
What are your goals and expectations regarding the forthcoming fair? Will you exhibit only your newest work?
HS: Unfortunately, I broke my elbow recently, so I had to make different arrangements. For 2016 Berliner Liste, I will present the combination of my new and older works.
Many aspiring artists will take part in 2016 Berliner List. As an internationally recognized painter, what would be your advice to young, aspiring artists?

HS: Nothing overly complicated – to have lots of fun and to be open to all things to come!
Featured image: Henriette Simon's Portrait – Courtesy of the Artist