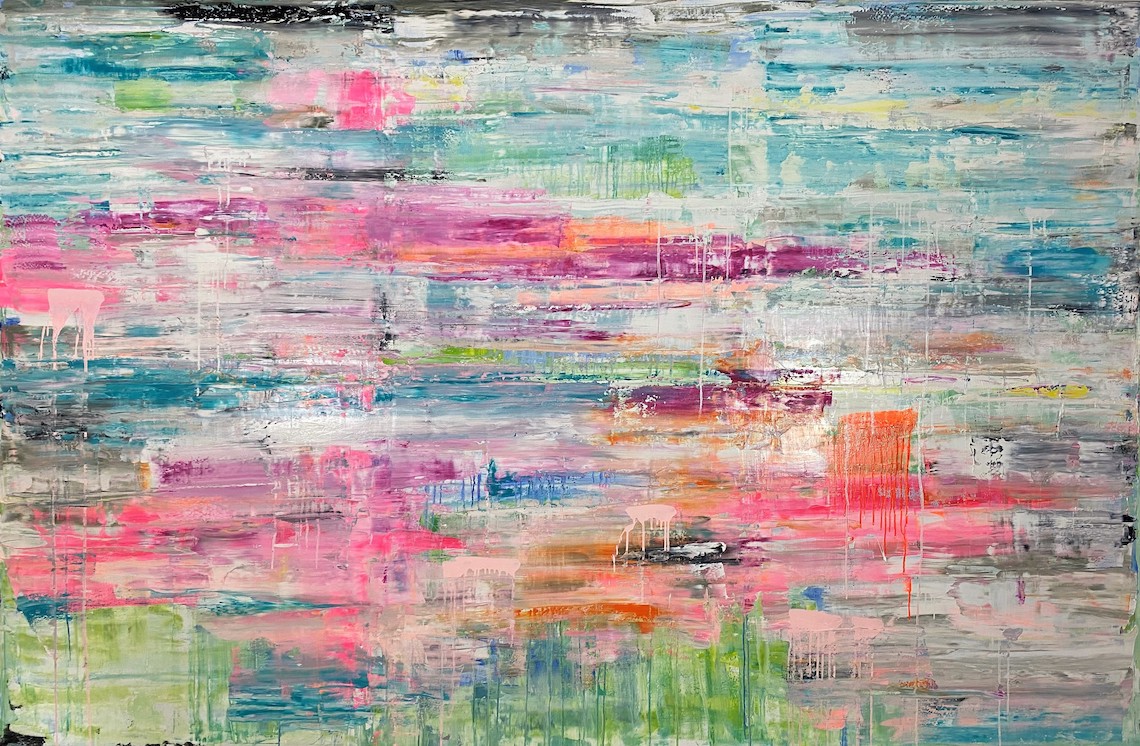 It's a joy to look at Yo Franklin's canvases! Let your eyes flutter between color vignettes conjured effortlessly, or try to find a more profound dimension between the hues and the optical effects – whichever you choose, one thing is certain – you'll find a new appreciation for painting. One that is filled with happiness, curiosity and simple admiration for art.
A World of Optimism
Taking everyday situations as inspiration, Yo Franklin takes pieces of them and weaves them into her pictorial world, filled with humorous and experiential hints. Color is her main expressive device, while the chief message in her work is ultimately philanthropic. Believing in light after dark is behind her every image, as is the constant search for enlightenment. Looking at her dynamic, colorful paintings, one cannot but be moved, inspired to stop and smell those roses, or just to feel good for the day. Filled with optimism, Yo Franklin's paintings can be an exceptional addition to a home hung collection.
An Ocean of Color
Focusing on color as her main means, Yo Franklin mixes her own palette. She uses oil, high quality pigments, fluorescent additions, flaxseed oil, poppy oil and more to chive the ideal result for her expression.
Her creative process involves coats and coats of paint applied to the canvas with black grounding, as if she's trying to get out of the dark matter and enter the light of the world. During her animated painting method, she mixes techniques and transfers her energy into the work, looking for a balance between peace and chaos. Her pieces are therefore filled with life, imagination and vigor.
Looking through her series, the meaning is hinted in both a name and the palette. "Good Vibes", "Sunny Vibes" or "Inspired by the Streets" all show a pertinent color choice, where urban neons mix with light and dark nuances to conjure contrasting or harmonious feelings of the title perfectly.
Yo Franklin on Discovery Art Fair
On the upcoming Discovery Art Fair in Frankfurt, Yo Franklin will be showing her latest works from the series "Inspired by the Streets", as well as a selection of large-format oil paintings from the series "Good Vibes".
The focus of her exposition will be "Inspired by the Streets" series, inspired by an urban mixture of street culture, graffiti, comics and daily events. Painted on canvas, different packagings, cardboard or beverage cartons, the images are conveyed with pigments mixed with oil, color spray, chalk, graphite or acrylic paint. Pieces framed on purpose are meant to enhance the contrast with the trash materials, noting that they've left the street and come into the realm of art.
All interested in the works of Yo Franklin and her exuberant style are invited to visit the upcoming Discovery Art Fair Frankfurt, from 4 – 7 November 2021.
All images courtesy of the artist. Featured image: Yo Franklin – Big Love – 2021 – Pigmente in Leinöl und Mohnöl auf Leinwand, 160 x 240 cm, unique