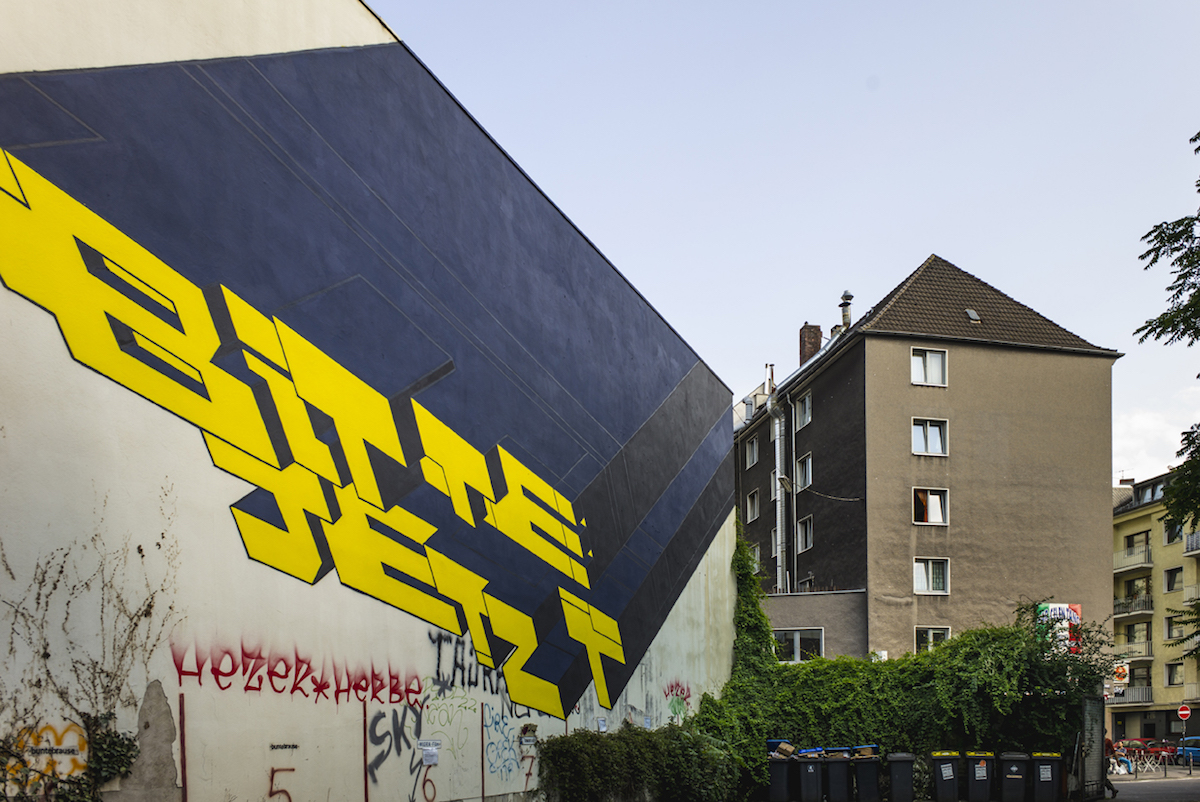 Cultural history of Cologne is nothing short of impressive. The city has been an artistic center through centuries and it survived profoundly turbulent periods in the past hundred years. Still, when people think of Cologne, they usually refer to its rich heritage and institutions, while few are aware of the significance this western German city has in the sphere of Public and Urban Art.
After recovering from the World War II devastation, Cologne grew to become one of the key trade centers for contemporary art in Europe as the birthplace of Art Cologne and its satellites. Simultaneously, its subversive art scene developed, but it was not until the last decade that Street Art made a widely significant impact on the city's art scene. With the appearance of CityLeaks, the leading Urban Art Festival in the city, new creativity awakened and the scene started to grow rapidly. Today, Cologne is proud to feature several neighborhoods filled with Street Art, while the number of galleries specializing in this artistic expression continues to grow.
Even though it does not (yet) have the reputation of Berlin, Cologne is increasingly recognized as a Public and Urban Art destination. We engaged in conversation with three Cologne's own experts on the matter – Anne Scherer, a renowned curator, author and gallerist a.k.a. Die Kunstagentin, Iren Tonoian, one of the Founders of the CityLeaks Festival, and Saskia Rode, an art historian from 30works – and learned a lot about the local new contemporary art world.
From a Graffiti Province to the Urban Art Metropolis
One of the first questions about the Urban Art in Cologne is the matter of its origin. How did it appear and from where? Observing the current situation, it's apparent that it had some sort of a forerunner, but it appears that no major movement was present around the city until recently.
Saskia Rode from 30works, provides a more historical overview: "Like in other capital cities around the globe, Urban Art expanded in Cologne as well in the past decades. It became more than common amongst underground subcultures. Nowadays, it is a stepping stone for young unknown artists who try to make an entry in the art market. Becoming mainstream, Urban Art lost its political explosiveness to a degree and it shows its artistry more through different artistic expressions. Urban interventions, urban knitting, adbusting, paste-ups – they all enrich the environment and are beautiful additions to spray paint, graffiti and stencils."
Anne Scherer, one of the leading Street and Urban Art gallerists supports the claim that the most important things in the sphere happened rather recently: "Despite of the Graffiti- and Trainwriter-Scene, Cologne's role in the Urban Art Scene was unremarkable. But since the first edition of the CityLeaks Festival in September 2011, the city developed to one of the most exciting Urban Art metropolises in Germany, which receives great international attention."
Cologne and Its Current Public Art Scene
The still evolving world of Public Art in Cologne is not growing without difficulty. Berlin's dominance in the field is maintained by economic reasons and it may be difficult to keep producing street art in the city with a higher cost of living. New Contemporary art seekers might have to venture off the beaten path to look for something fresh, but the jaunt ought to be fruitful, because: "There are so many ugly spaces in Cologne, so city is very welcome to make art in the public spaces, I think," shared the CityLeaks Founder Iren Tonoian, laughing.
That the unattractive and therefore, affordable spaces have always been a haven for artists is also the opinion of Anne Scherer: "Traditionally, Cologne as city is very cosmopolitan and tolerant. In the post-war period till the nineties, many artists took up their residence in Cologne. It was like the place to be in the art scene. Unfortunately, that changed when it became more difficult for artists to find affordable studio spaces. In the last two decades, many artists drifted to other cities, especially to Berlin, because the circumstances in Berlin after the [German] Reunification provided better terms and more options for artists."
Saskia Rode brought up an issue of the economic situation affecting the quality of public art, since in many cases compromises need to be made: "Despite its visibility to the citizens, Public Art always concerns property owners as well. Commissioned walls and artworks are one possibility to spread big sized art even further. But an involvement of more people's minds means often concessions – sometimes to the disadvantage of the artistic matter. This commercialization should be kept in view, although it could contain growth and support of an individual artist."
These are only some of the problems Cologne's Public Art professionals face today, endeavoring to achieve sustainability by providing opportunities and freedom of expression to the artists.
Ehrenfeld, Belgian Quarter and Mülheim – Main Street Art Hubs
Off the beaten path, we said, but where is this lively, growing, exciting Street Art scene in Cologne? "I think the concentration is actually in Ehrenfeld, and in the main part of the city, in the Belgian Quarter," Iren Tonoian says, and adds: "But you can find Street Art everywhere in the city, in each neighborhood!" Anne Scherer agrees with the choice, saying that "eclectic Urban Art" can be discovered in these boroughs. "Since CityLeaks 2015 there are also some great walls in Cologne – Mühlheim," she also says.
Saskia Rode's view is in complete agreement with these, added that the "best places to spot Urban Art are Heliosstraße and the area around Ehrenfeld Bahnhof."
From the Banana Sprayer to Contemporary Creatives – Cologne's Own Artists
Looking back to the beginnings of Public, and in this specific instance Street Art, in Cologne, one figure stands out as the most prominent. "Probably Cologne's most famous Street Artist is the "Bananensprayer" – Thomas Baumgärtel. Since 1986 he's been marking art spaces like museums or galleries with a banana stencil all around the world. Every museum and most galleries in Cologne are labeled with his Banana," Anne Scherer tells, adding that "the artist collective "Captain Borderline" is represented with the most murals in Cologne, especially in Ehrenfeld."
While all agree on the importance of Thomas Baumgärtel for the local Street Art scene, we learn about an abundance of historical and contemporary figures from our interviewees.
A small art-historical overview comes from Saskia Rode, as she recounts that "Cologne's urban artists are many and from all generations. Another politically inspired artist [next to Banana Sprayer] from the 80s is Klaus Paier, who painted walls in Cologne and Aachen. Xxxhibition for example started to spray paint in the 80s and 90s and now creates artworks for indoor exhibitions as well. Or seiLeise, who started his career with rare Reverse Graffiti and is now acclaimed as a stencil artist. Especially in the last decade, street artists from all over the world left their marks in the streets of Cologne. Their core artistic message works in both environments – in- and outdoors." She also mentions Joiny, Straßenmaid, Planet Selfie and Heroart as noteworthy, adding that Cologne is "plastered" with these "gems of urban artistry".
"Oh, there are so many artists," reminisces Iren Tonoian, providing a deeper insight into the broader Public Art scene. "There are many who came from the performance art, like Stefanie Klingemann, katze und krieg or Angy Hiesl Produktion – a one very famous group here from Cologne. Also, the PAERsche group usually works in the public space. There are numerous new artists from the Cologne Academy of the Media Arts also involved in the public domain. I think that now, in our time, it is very popular to work in the public space, especially if you are performance or a conceptual artist, because you meet the audience unexpectedly" she added, proving once again that the public sphere is not reserved for the subversive and latest movements alone. What an art lover in Cologne is advised to do is keep their eyes peeled for new creations, but also follow key institutions and events, for a good dose of a different type of ephemeral public art.
Where is Cologne's Urban Art Scene Going?
Since some of the artists fled to more affordable places, and the Public Art field is accepting of various types of expression, we asked our interviewees about their vision of the local scene in the upcoming period. Speaking from the angle of public painting, Anne Scherer pointed out that the value of the art created today is excellent. "Especially in the last five years, many well-known artists visited Cologne for realizing murals. Because of that, the quality is high already. Since the beginning of the CityLeaks Festival also many "illegal" signs became significant better," she said and added "I hope that Cologne will gain some more great walls in within the next few years."
"The Urban Art scene gets global by the minute," Saskia Rode noted correctly. "Urban Art festivals and galleries invite artists from all around the world, while local artists travel and spread their art worldwide. Street Art in Cologne comments on not just European politics, but overseas politics as well, and you can find walls in New Zealand, for example, criticizing politics elsewhere." And this is true – the universal nature of Urban Art is affecting all its hubs, whereas artists communicate and exchange ideas more than ever. "That will drive this scene towards an increasingly merging expression, a versatility which fans out to our Zeitgeist," Saskia concluded insightfully.
Supporting the Cologne Public Art
One of the major Public Art events is definitely the aforementioned CityLeaks Festival. Iren Tonoian gave us a brief announcement of the event: "We are a biennial event, our concentration is set on conceptual art in public spaces. We invite many hacking artists and some painters who create murals. We invite installation and performance artists as well."
A former curator of the CityLeaks, Anne Scherer added that "As a biennial, the CityLeaks Festival already invited numerous famous urban artists from all over the world to Cologne and enabled them to paint large scale murals under legal conditions. Many high-quality murals arose by reason of the curation and the ideal conditions provided by the CityLeaks Festival," marking this special biennale as one of the must-see happenings in Cologne.
Our Urban Art Section extends our support to the Public Art realm in Cologne. We hope to attract the attention of younger collectors and those looking for forward art with our most progressive segment and we encourage all our visitors to enjoy the copious world of public and Urban art while in the city.
KÖLNER LISTE runs from April 20 – 22, 2018 at XPOST, Cologne.
Featured image: Boris Tellegen – Bitte Jetzt at CityLeaks 2015, Photo: Robert Winter. All images Courtesy of CityLeaks Festival.