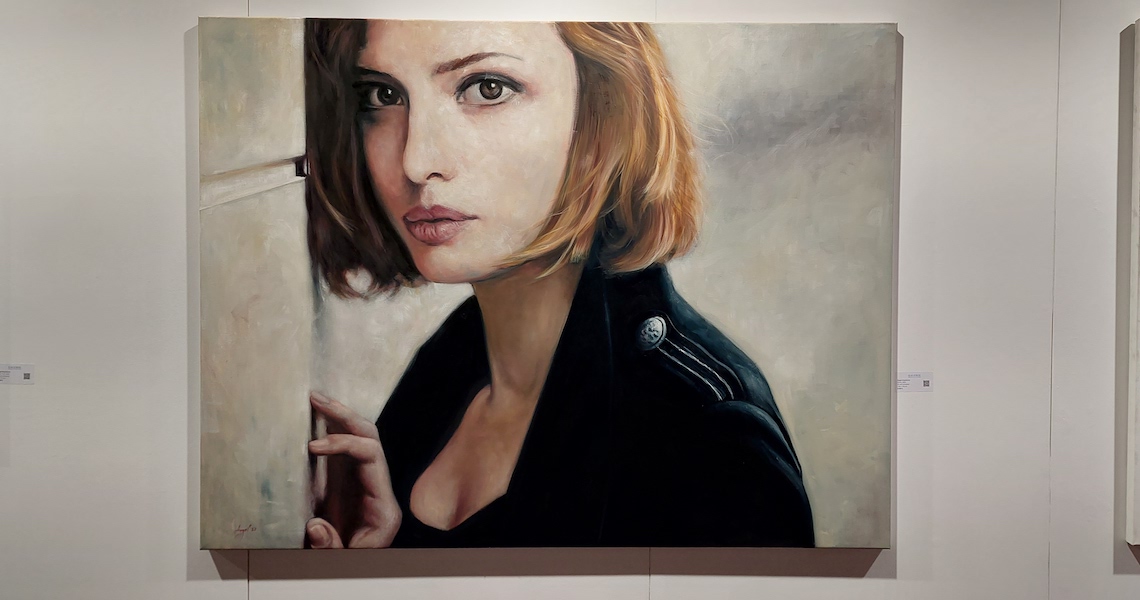 The opening day of the Discovery Art Fair in Frankfurt 2022 brought a surprisingly inspirational selection of works, with some of the most striking pieces coming in large formats.
One of the common beliefs in the art world is that an art piece always looks better on a big canvas. This proves to be true, because when presented with a spacious picture, a viewer can select how to view it – either from a distance, as a complete unit, or from close proximity, studying every stroke and learning about the process. The presence of a big picture in a space can be impressive, and if carefully selected it can elevate the room from average to stunning. Layers of large-size art offers are infinite, and the only problem a collector encounters could be the placement.
To properly hang a big-sized art piece, you need a proper space, meaning – a big wall. While some people opt to cover their main wall spaces with a cluster of smaller artworks and photographs arranged in what we know as a "gallery wall", it's often a better idea to save up for a grand piece and replace the swarm of small images with one captivating vision. There are many such visions to select from at this year's edition of the Discovery Art Fair, and we endeavored to present you with some of our favorites.
Human Figure in Focus
Browsing the fair for the most impactful large-scale art, we found that those featuring human figures in the form of portraits or group compositions seem to prevail. Since they stylistically vary, it's best for the prospective collector to decide what suits their space best, but we found each of them inspirational in their own right, whether they recreate historical paintings, or mock the state of contemporary society.
Contemporary Surrealism to Inspire Your Space
A smaller group of authors expressing themselves through surreal compositions presented an exciting selection of large canvases this year. Creating in the tradition of a particularly imaginative historic style such as surrealism today leaves a lot for the viewer to complete, drafting conclusions, open endings, and possibilities in their mind. These compositions may be best for those who appreciate the color and find inspiration in their space every day.
Abstraction to Enliven a Wall
The second largest group of big-canvas paintings belongs to abstract compositions. Created by authors of different generations, with different approaches and processes, they should each be viewed with due attention. Our advice would be to focus on the mood they inspire and the way in which they would complement the space.
Rendering the Nature
There are several pieces representing scenes inspired by the nature but delivered in a rather unique manner. These works are guided by color, open spaces, and natural phenomena, representing the natural micro- and macrocosm, respectively.
Paintings for a Peaceful Space
Finally, some of the most inspirational, and perhaps thematically, most traditional pieces at the fair are the big still-life compositions. As a recurring theme in art, a still-life is a multilayered motif inhabited with notions of time and transcience. In two very different approaches, we've found much to contemplate, as they render the idea of time, space, and silence in very different, but equally remarkable ways. One evoking the traditional vanitas, and another appreciating momentary experience.
Featured image Angel Peychinov – Xheni, 2022, Barbara von Strachow Gallery