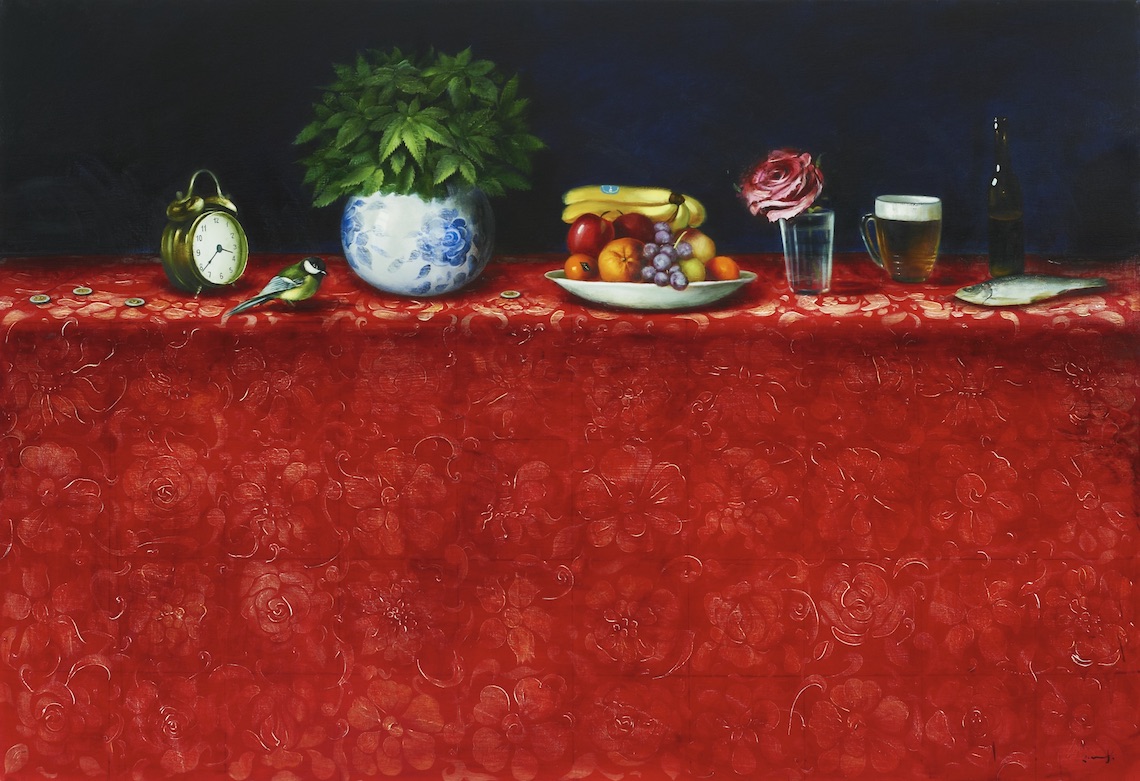 Browsing through the pages of an art history book, we'll find plenty examples of still life. This unpretentious, yet most symbolic theme has left a tremendous mark on the European painting tradition, stretching from its humble beginnings in baroque, across its days of glory in the Netherlands, over to the early modernity when it served as an exercise or a refined excuse to paint. Condensed into one, all of these references can be found in the work of Konstantin Totibadze, a Georgian-born master painter whose rendering of the still life brings the genre to a different level and introduces it to the 21st century.
Coming from SSSR
There are different angles from which Konstantin Totibadze approaches still life painting. Admittedly, an important portion of his work is dedicated to depictions of landscapes, perhaps inspired by the same symbolic, but some of the most striking images he created belong to his still lives. He may depict a table populated with meaningful items – bread, condensed milk, a bottle of vodka and a can of red caviar – all of which refer to his Soviet past and the culture he grew up in. Or he may turn his canvas as a carrier of a single, monumental vessel, often a vase of rather classical shape, whose very presence extends beyond the canvas.
The New Tradition of a Still-Life Table
When we look at his tables, it's hard not to remember the late Dutch still-life masters. However, there is a bravery here that goes above the mere memento mori, inherently present in such a painting. Konstantin Totibadze dares to infuse his works with cultural references from both Russia and Georgia, embedded in the selection of the elements and the ornaments of the cloth, in the way the table is set and even in the scarcity of the setting. They all refer to a different time of his life, particular values he was surrounded with, and ooze nostalgy. Hardly just a commentary, these tables are odes to his Soviet upbringing, education and people that surrounded him.
Vases or Abstract Objects?
Turning towards the single-vessel paintings, it becomes clear that Konstantin Totibadze does not shy away from big formats. Also, these seemingly simple paintings demonstrate the full range of his painterly virtuosity. Containing references to surrealism, they flaunt a subtle palette, allowing the light to roll right off the color. These huge vases are sometimes over two meters tall, oversized and come from the artist's imagination. Resembling gigantic urns and lightly adopting humanoid curves, they are demonstrations of skill, but also complex reminders of transcience of life.
These are only two examples of Konstantin Totibadze's choice of subject. His body of work contains different renderings of still life, but all speak in favor of his nature as a painter: honoring the classical and the best practices in rendering objects, this schooled master makes an important contribution to the relationship between non-representational and figuration. He allows us to peek through the window of his thoughts into the garden of his soul, while letting us think, over and over, about the hidden meaning of his meticulously depicted objects.
Konstantin Totibadze at Discovery Art Fair
Discovery Art Fair Frankfurt is happy to host Konstantin Totibadze at our upcoming fair from 4 – 7 November 2021. He will show a selection of large-scale still lives from his vast body of work, and we promise a delightful viewing experience to all true lovers of painting.
All images courtesy of the artist. Featured image: Konstantin Totibadze – Still life table with fruit and clock