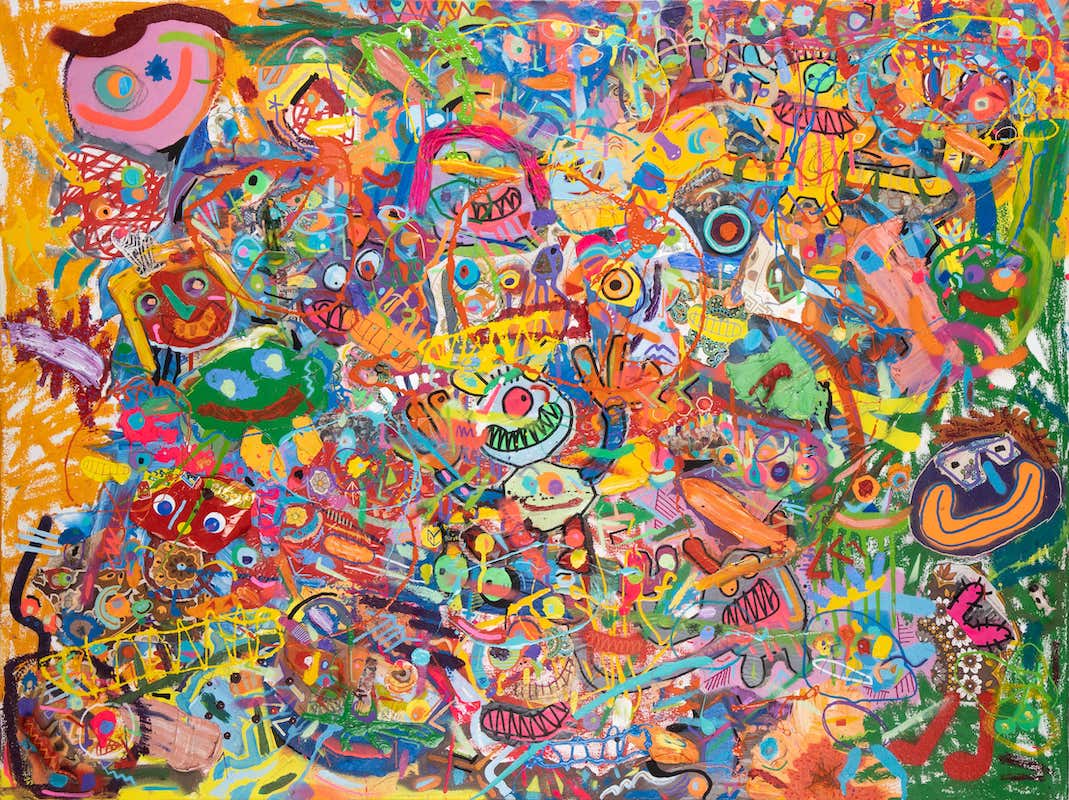 Founded as a vintage shop of sorts in 2014 in Maastricht, KALKMAN Vinyl Records & Art got its present shape in 2018, when the focus was put on contemporary art and valuable records. Two distinct, but close disciplines helped the gallery/shop thrive and open another branch in Antwerp. The KALKMAN Gallery is dedicated to exhibiting a wide range of contemporary styles through its mixed offer of local and international artists.
KALKMAN Gallery at the Discovery Art Fair
For the Discovery Art Fair Cologne 2022, KALKMAN Gallery will present a program curated by Charlotte and Hubert Kalkman, a sibling duo running the operation. Curating a group of artists from their roster, the duo curated selected pieces by Blek Le Rat, Beejoir, Plastic Jesus, Jase Powell, and Hoodkitsch. Furthermore, KALKMAN will introduce the Scottish artist James Howden, who will showcase his whimsical bronze banana and donut sculptures, and an intriguing collection of the London-based artist Hayden Kays, who is currently exhibiting at their Antwerp space. Lastly, the gallery will also bring a collection of Nina Mae Fowler's pieces, enriching its booth with the cleverly ironic, feminine nostalgia; and introduce Fredrik Erichsen, a sculptor and a former stage builder at Cologne Opera. Whether they come from a street art background, or their practice is studio-based, all of the curated artists share one common ground – cultural commentary.
Social Activism in Shape and Color
Subtle and open commentary and critique on the current societal or geopolitical happenings in the world can be read throughout the selection. Starting from the print series by the legendary French stencil master, "The Street Artist's Paraphernalia" created in 2016 and featuring his signature rat figure, there will be an anti-hyperproduction statement piece by Beejoir, a comment on Damien Hirst's dots (who got his revenge by reselling a scan of it as his own). Both of these artists' practices go back to the street, in style and execution. A typographic irony by Jase Powell will accompany this collection, executed in archival ink on faux-ostrich skin, to gain a three-dimensional texture. And as the most erupting piece of the group we're disclosing, the gallery will display Bortusk Leer's "Havin' It Large", a colorful frenzy of ironically cheerful faces in an indistinguishable conundrum.
Visit KALKMAN Gallery at the Discovery Art Fair Cologne 2022
To spectate and experience the rest of the artworks KALKMAN will present, join us at Discovery Art Fair Cologne this April. You will be allowed to meditate and enjoy, but also encouraged to converse with the gallerists and the artists and the gallerists hope your imagination will lead you to your favorite piece. And maybe inspire to listen to music and purchase a vinyl as well from one of their spaces.
Featured image: Bortusk Leer – Havin' It Large – 2019, Mixed Media on canvas. All images courtesy of Kalkman Gallery