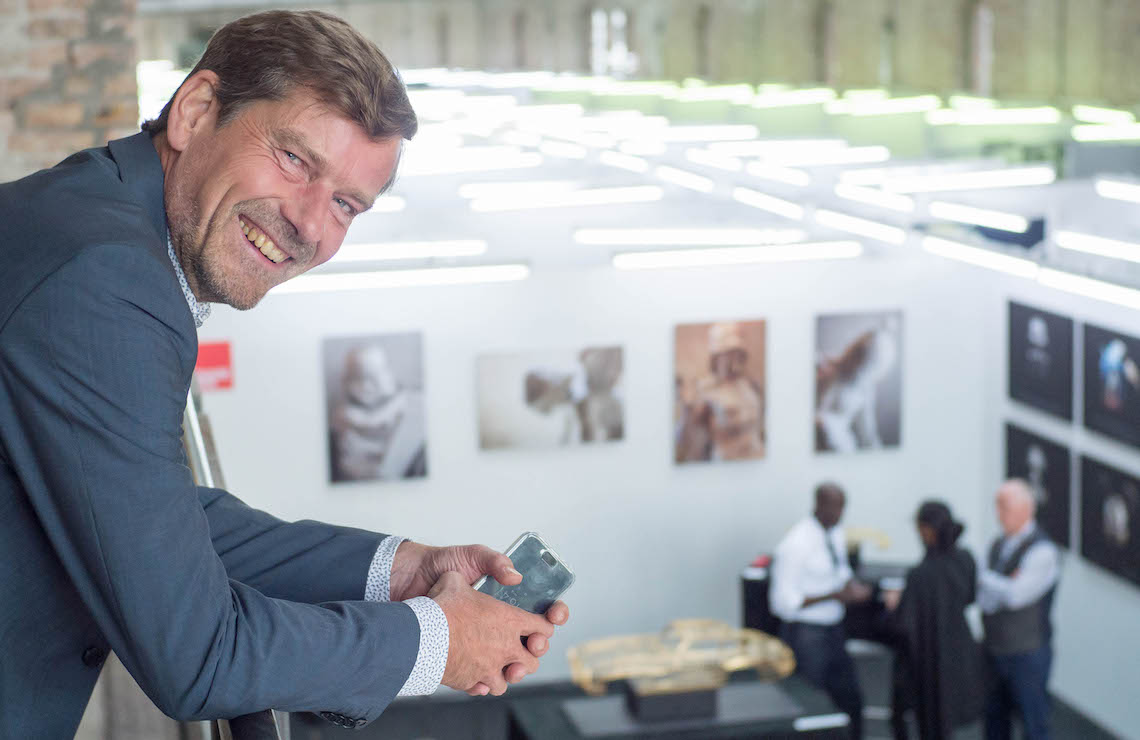 It has already become a fond tradition – just months before the upcoming fair in Cologne we meet with fair director Jörgen Golz for an interview about successes, challenges and, of course, the KÖLNER LISTE 2018.
The KÖLNER LISTE (April 20-22nd 2018) celebrates its 5th birthday this year. Popular with exhibitors and visitors alike, the discovery art fair, taking place parallel to Art Cologne, has been able to successfully establish itself. Cologne's head mayor Henriette Reker seemed impressed by her tour of last year's fair and even the Süddeutsche Zeitung hailed: "The KÖLNER LISTE is one of the most successful new exhibitions in the art city on the Rhine. More fair than exhibition, with sales like mad. Young public, many gallerists, self-confident artists."
It seems you've done a few things right. Can you remember the moment you decided: We want to make an art fair in Cologne?
The decision to start an art fair in Cologne wasn't a spontaneous resolution, but rather a logical consequence. It was clear from the beginning that we wanted to bring our fair concept to several locations in Germany. And what could be more obvious than going first to the city that hosts a quite successful art fair, one that describes itself as the world's oldest art fair. Art collecting is tradition in Cologne, where there is not only the interest, but also the purchasing power to do so – there is also a proportionately large commuter area, which comprises several cities and stretches into the Benelux states. Just as it was with Cologne, it is a logical development that we're starting an annual art fair in Frankfurt am Main this November.
What were the greatest challenges you had to overcome in the first years?
I can think of two things immediately: For the first version of the KÖLNER LISTE we had to do a lot of persuading of potential exhibitors. I don't know how many times I heard the sentence, "I'll take a look at your first release and then decide if I'll join next year." Luckily there were 38 exhibitors brave enough to attend our premiere, many of whom are back this year. Finding a suitable location was the second biggest challenge: It had to be centrally located, stylish, it had to be big enough to present enough variety to the visitors, but not so expensive as to crush us with the financial burden. The first one took place in Dock One, which by the following year was already too small for us.
Many visitors leave the fair with a picture under their arm. What's the secret to the success of the KÖLNER LISTE's sales platform?
Easy: We have great exhibitors with great work. And that the price is right, I should add! We invest a lot of money in marketing and, since we have very active media partners, we can mobilize a lot of visitors. We make a promise to the visitors and we stick to this promise: Here, they will find high-quality, current work for fair prices – and in a lively, communicative atmosphere without elitist barriers to entry.
After the first years in changing locations, the KÖLNER LISTE 2018 will take place like last year at the centrally-located XPOST Köln. What role does the appropriate event location play for you?
The location is not to be underestimated in factoring a fair's success. The location determines the aesthetic frame of the fair. The XPOST offers architecturally just the right mix of old and new and contains the necessary infrastructure to ensure the comfort of our visitors and exhibitors. It is also located centrally, can be reached easily by personal and public transportation, has the right size for our concept, and is known to throughout Cologne for being a presentation site for art – and what plays a big role for us: It's great working with the team at XPOST.
Unlike many other events of this kind, both exhibitors and visitors of the KÖLNER LISTE report a very open and personal atmosphere. "It is the KÖLNER LISTE when the art family gets together," wrote an art blogger last year. How important is the comfort factor for a successful fair?
Very, very important! Our visitors should feel comfortable with us, and I mean that in a purely biological sense and atmospherically. Those who don't feel comfortable don't buy. The more comfortable the people feel, the longer they'll stay and the greater their interest is in buying. This is why we create a pleasant atmosphere: Nice, communicative exhibitors, a large selection of fascinating artwork presented in a clear structure, convincing prices, a great location, and engaged caterers are the guarantees for a high comfort factor and lots of sales.
Personal artistic taste varies as much as people do, and so does the variety of forms of artistic expression to be presented at the KÖLNER LISTE. How were you and your curators able to depict the current developments in contemporary art without forcing an artistic taste – the one currently preferred by the art market – upon visitors?
By curating the fair on two tracks and making the application free. We don't want to put up a monetary filter already in the application. The call for applications is communicated nearly world-wide via our numerous partners. That's how we receive a large enough selection of submissions, so we can fill part of the fair with new discoveries and explicitly target exhibitors with the other, in order to offer visitors a balanced variety. Three independent curators and a team with good connections in the art world play their part in making sure we can present a large selection without art-market filters from which our visitors can pick out their new favorite work for themselves.
The discovery art fair with a focus on fresh art always presents a number of young galleries and up-and-coming artists starting out in their artistic careers. An aim of the fair is to offer them support and the possibility of presenting their work to a wider audience, to communicate with trade visitors and other exhibitors, and make important connections. Why is this connection between the art market and art funding so important?
If we disregard for a moment the meaning of art for the societal discourse – from which support is politically derived – then, within the mercantile atmosphere of an art fair, funding appears necessary for the following reason: People are curious about what's new, but the new must first be worked for by a community of customers and find its place on the art market. New protagonists in the art market need to have practical sales experience to become successful art dealers. So that these steps don't end in personal catastrophe, art funding is indispensable to Discovery Art. The funding supports the first steps and afterwards makes sure that the artists' independence from mercantile pressure brings forth new forms of expression.
In contrast to many of the other satellite fairs, the KÖLNER LISTE is not only local but also established nationwide and internationally. Not just exhibitors from within the EU use the fair to present themselves. Even galleries from Estonia, Ukraine, Korea, and the Philippines will come to this year's fair to introduce to the Rhineland these often little-known art scenes. Is it especially important to you in these times of Brexit, Trump, and European right-wing populism to show how international the art world is?
The international exchange of the art world is always important, regardless of which political storm is currently raging. The artist's concept of character, with his internationality, mobility, innovative force, adaptability, and the capacity to deal with existential insecurity, provides the blueprint for the next generation. The times of single-state supremacy should be thought of as anachronistic. If you still don't understand that we all inhabit one and the same spaceship, then you can't be helped. It's not fear of the foreign, but rather curiosity about the new, the different, that will advance society. The worldwide exchange of the artist community serves as model and incidentally raises the global customer potential.
Alongside trade professionals and experienced collectors, you also run into visitors at the KÖLNER LISTE who have never before been to an art fair or purchased artwork. How are you also able to reach a target audience that receives little consideration by many of the fairs?
The key is very compartmentalized marketing that is also transmitted over channels that are rather unusual for the classic art world. In order bring contemporary art closer to new audiences, we are pursuing new (communication) channels. Social media, blogs, SEO, multi-channel marketing are as familiar to us as classic poster campaigns, ad placement, or distributing flyers. We have a wide, heterogeneous audience – each cluster of this target audience prefers a different channel, and we reach them through this channel. A love of art alone is not enough to welcome over 20,000 people to our fairs each year.
One final question about your work day. What do you think is the hardest and the best part of being an art fair director?
Being permanently alert, always having to check the beaten path, is a real challenge. Only when the selection at the fair has been put together right and we can bring in the right customer base with the right expectations, do our exhibitors have successful sales. This success is indispensable for the continuation of the fair. This also is where psychic abilities are of use – a real challenge. Permanent success is only possible when we remain adaptable to change. You can't relax, even when your goal has been reached. The best part of the job: to interact with so many unique, interesting people from all corners of the world. That is a real gift!
***
KÖLNER LISTE 2018 is coming this spring, open from 20th to 22nd April, 2018.