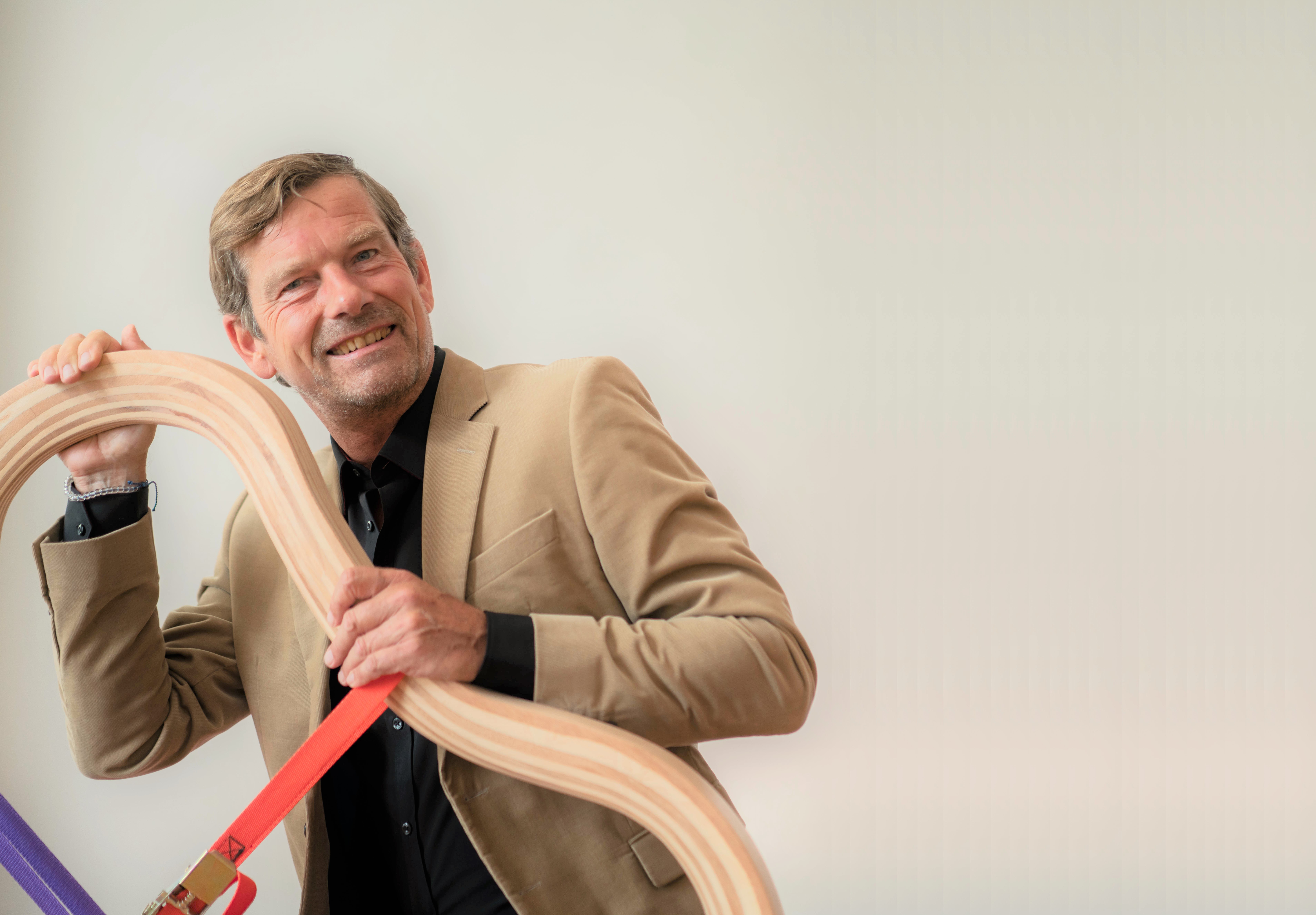 The art market is constantly changing and there are a few things going on right now in the world of international art fairs. We spoke with art fair director Jörgen Golz about the challenges of transformation, how the Discovery Art Fair is reacting to current developments, and what we can look forward to at this year's art fair in Cologne.
Mr. Golz, let's talk about the changes in the art market and the continuing art market boom. Your discovery fair began 15 years ago, meaning you've been close to the action for some time now. How does today's market work? Do you see general trends?
The trend towards individualization persists and with it high demand for contemporary art. What better way to emphasize one's personal uniqueness than with a one-of-a-kind work of art?
I also continue to see an emancipation of the buyer. Of course there are those groups of buyers who want established items, but young buyers especially trust their own judgment and are buying works independent of market trends which they like and can interact with on a daily basis.
Painting and sculpture remain the most sought-after forms of art, which is also reflected in the offerings at our fair. But even the sale of photography and editions, of works that are well-suited to art newcomers because of their mostly moderate pricing, is going well. Street art and urban art have finally established themselves as an art form and aren't just in demand with a young audience. Experimental forms like video art, installations, or kinetic objects still have difficulty in the wider market, even though you can also discover a number of exciting works here.
Generally, I see a current growth trend: in our crazy world, art can provide a little bit of comfort and direction. In terms of existential questions concerning our very existence and the great "why," I don't see anything besides art at the moment that can offer serious answers. Hence my sustained belief that there is great interest in contemporary works of art.
And how does it look in the art fair landscape at the moment?
We are seeing, on the one hand, some confusion with the large exhibition corporations, like the MCH Group from Basel that entered and then subsequently left Düsseldorf, or the Koelnmesse, which took over the ABC in Berlin and had to scale down with Art Cologne this year. But, on the other hand, more and more local art fairs are emerging that are completely successful. It is not a unified picture; that also applies to us: While we've suspended our Berlin-based fair not only last year but this year as well, our fairs in Cologne and Frankfurt have been growing.
Let's take a look at the future. How do you think the art fair landscape will change in the coming years?
A few months ago I would have assumed the fair market was developing into an oligopoly, but because of the current developments with the large players and the great number of locally successful, smaller fairs, I now have to assume that diversity will persist, which I welcome.
The personal encounter between art-lovers and art-producers is irreplaceable, but it is being flanked by the digital market. It will develop to the effect that the fair is the nucleus around which further activities and offers are grouped.
Are there any developments that concern you?
It remains to be seen what effect the clouding of conjecture predictions will have on our young, fresh discovery market. Generally, what concerns me are not the current developments in the art market. It's the state of the world I worry about – both physically and ethically. Resentments and ideologies long since defeated are experiencing a sinister renaissance. The church is being shattered by abuse scandals and our political, economic, and social role models aren't taking their own rules seriously and are safeguarding their assets in Panama or cheating with CumEx papers. That is very concerning. In times when cohesive global strategies against the challenges of climate change and diminishing resources would be necessary, many states are lapsing back into hegemonic aspirations and "the other" is being portrayed as the enemy as a way to draw attention away from one's own failures.
The international art world is much more advanced in this regard. We focus on exchange and cooperation. For us, the foreign is not hostile – rather it is inspiration and the chance to learn something that can stretch the limits of one's own cosmos.
The classical gallery model has defined the art market for a long time. Has that changed at all in the past years?
Yes, new ways of marketing are currently being tested. The classical gallery model still has its validity, but now it has company. That has to do, on the one hand, with technological developments and, on the other, with the changes in the art world. Social media has made it possible for nearly everyone to transmit themselves cost-effectively around the world. This has transformed the market: initially because of the expanded technological possibilities and now accompanied by near total market transparency. Studio addresses are easy to research, as are prices. This has already brought and will continue to bring changes to the market.
What has also changed: The self-image and self-confidence of the artist. With increased marketing know-how and new technological possibilities, many artists are taking their marketing into their own hands. In the field of tension between self-marketing and the classical gallery model, we are now finding highly diverse forms of organisation: pop-up galleries, temporary galleries, art communicators, art agents, etc.…
The classical galleries are working under enormous pressure: Not only was the VAT rate raised to 19 percent in 2014, but the price of property in inner-city areas has become increasingly unaffordable. Many galleries have had to give up their locations and relocate their activities to virtual spaces. But art fairs are gaining significance all the more, since, despite the new media, individual, interpersonal contact cannot be replaced. What's more, fairs offer the unique opportunity to present the respective gallery programs to a new and significantly wider audience.
When is an art fair successful in your opinion?
When it has generated the exhibitors enough of a profit and served as a positive catalyst on the art market. It's not just about reaching new target groups or the sales at the fair, but also about networking, exchange, information, initial business contacts, creating new possibilities and generating new ideas.
We're also striving for an element of social relevancy; which I feel we have reached when more than 20,000 people have visited both our current fairs in Germany. Besides factors such as visitor numbers, media interest, and profit – which can be immediately measured after the fair's end – other effects can only be perceived later, sometimes even a year after the fact: How have the aftersales been? What sorts of contacts where generated at the fair? What kind of sales, cooperation, or projects did these lead to? What impulses were sent into the political sphere through the fair? Did a visit to the fair lead to a lasting interest in contemporary art? To more studio and gallery visits? These are all important factors in the success of a fair. Unfortunately, many of the factors go beyond the scope of our knowledge, which is why we're very grateful to find out from our exhibitors and visitors afterwards what effects their participation in or visit to the fair have had on them.
Your Cologne art fair, Kölner Liste, is now called the Discovery Art Fair. How and why did the name change come about?
After I was asked yet again upon handing over my business card, "Liste – oh, that's interesting. Are you a new political party?" the decision was made: We need a new name! That's how the name "Discovery Art Fair" came about as an umbrella brand which unites the various venues. This also brought about a much simpler structure that has significantly simplified our daily communications work. Besides, everyone understands what a Discovery Art Fair is. And the contents match the label! We are very happy about our new appellation and are ourselves excited to see what other locations will come under the umbrella brand.
What makes the Discovery Art Fair different to other art fairs?
Unlike what is otherwise typical in the field, the management and the curators of the fair don't have their own galleries and so are not beholden to any other economic interests – besides those of the fair – when choosing exhibitors. We pave our own way, independent of the art market's paths, as a way to make new discoveries.
We officially present artists, project spaces, and galleries beside one another on equal footing. And most of all we are, as the name says, a discovery fair. Of course we also have returning exhibitors, but we also make sure that there is a large portion of new, fresh items at every fair. Here you won't find the same exhibitor with the same program at the same site year after year.
And, as a discovery fair, we don't carry any blue chips and no Classic Modernism. Only currently working contemporaries. This is a very clear and conscious positioning, and an important distinguishing feature.
What can an art fair like yours do to support gallerists and artists?
We see ourselves as partners to our exhibitors. This begins with the fact that we are offering a clear and fair deal. Our prices are transparent and there are no hidden costs. Only when we create a win-win situation for both sides can we can call it a successful business model.
We also offer a wide spectrum of know-how transfer and consultancy services: This starts with our telling exhibitors, for whom we can't predict any sales at our fair, that we advise against participation. There are also contract templates, legal advice, and consulting on prices or with hanging, all of which we offer for free. In addition, we offer any interested participants free coaching. The artist and psychologist Alina Gause and our curator Dr. Peter Funken shed light on the workings of the art market and help with becoming aware of one's own role within this system.
But the most important aspect of all: We offer a successful sales platform that contributes to the financial survival of the artists and gallerists.
In your public address you try, particularly for art newcomers, to break down the inhibition thresholds and reservations towards contemporary art. How do you manage to do this?
Our communication is clear, honest, and not elitist. Both our fair team and our exhibitors meet this requirement, especially at the fairs. Whether you're an art connoisseur or newcomer, we make ourselves available to anyone looking for a conversation. And the most honest ambassadors of art are the artists themselves: They provide genuine information about their work far away from empty marketing catchwords. This makes the art more tangible and definitely helps break down barriers.
For those looking to meet personally with our curators: All curators offer free tours through the fair in which they introduce exciting artistic items and answer questions. These recommendable fair tours are very personal and free from academic instruction.
Naturally we also reach new target groups by investing a large budget in communication and marketing and enjoying the great support of many PR partners. We send out signals with the right messages on the channels and media used by different people.
And – lest we forget – visits to the art fair are free on Friday for young art newcomers, since all school and university students receive free entry. It's always a pleasure to see people take advantage of this offer and how much interest there is in current art amongst the younger generation as well.
What excites you the most in your role as the fair director?
The many-sidedness of the job: clairvoyant, diplomat, pastor, strategist, truffle pig, team trainer, testifier, buffer, bean counter, bouncer, visionary, treasurer, faith healer, decorator, sculptor, suggestion box… these are included in my job.
And when it's finally time for the opening and all the international threads, all those international life journeys, are woven into an eclectic and wonderful picture at the fairgrounds for a few days, it is, despite all the stress surrounding it, the most beautiful moment for the director.
Can you reveal any highlights at this year's Discovery Art Fair Cologne, which begins in April alongside Art Cologne?
We just decided on a collaboration with the internationally celebrated rising star of the Slovakian art scene Viktor Frešo, whose large and humorous installation "Birth of the Niemand" will greet visitors in the entry hall of the fair. The works of Leipzig-based sculptor Rainer Jacob are likely to cause a stir. He refers to "three-dimensional street art" with regards to the works he places in public space, such as his gradually melting ice sculpture of a radiator that will wow the viewer.
As is part and parcel of a discovery fair, this year we will also be presenting numerous exhibitors who have never before been seen at an art fair in the Rhineland. These include the Bakerhouse Gallery with works from Austrian newcomer Tom Lohner, who has sold pieces to musical greats like Alice Cooper, Maroon5, and the Foo Fighters, Galerie Diede with its focus on German pop art, or Gallery Tableau from Seoul, which is presenting a program of many up-and-coming Korean artists – there is something there for all tastes and budgets.
And, as always, I can only advise to every art lover: visit our fair and make your own impression!