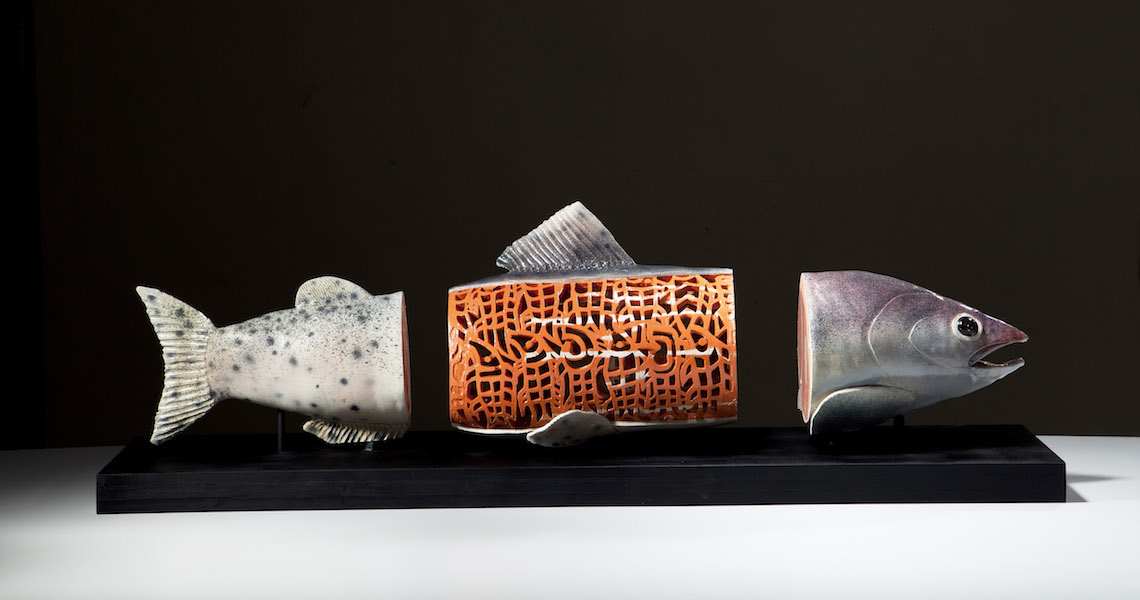 Berliner Liste 2017 has the pleasure to present Giant Year Gallery from Hong Kong. Focused on the promotion of contemporary ceramic art, this gallery provides a platform for emerging artists from around the world. For this edition of the Berlin's favorite art fair, Giant Year will be presenting three Asian artists: Tetsuya Ishiyama from Japan, Yu Cheng Chung from Taiwan, and Chris Lo, a Hong Kong native.
The ceramic body of work by these three artists provides a dynamic survey of diverse and innovative practices of ceramic making in the three Asian countries, featuring the exceptional ceramists profoundly inspired by the natural world. The gallery is going to showcase pieces of exquisite beauty, closely associated with the three historical backgrounds, reinterpreting the traditional methods in a modern context and poetically highlighting the spiritual link between ceramic making and nature.
Giant Year Gallery Ceramic Artists
Tetsuya Ishiyama is a famous Japanese artist, with exhibitions held in Japan and the USA. He started making ceramic art since he was 18, and it has become his medium of preference since. His signature work is characterized by mixing of glass and ceramic. He believes that both glass and clay are the same types of material, both deriving from nature and having very long lasting qualities. He wishes to make the impression that half of his pieces appear as if floating on the water.
Born in Hsinchu, Taiwan in 1960, Yu Cheng Chung pursued his passion for ceramic art with the encouragement from his wife, by taking a ceramics course in 1990. Subsequently, he developed a career as a ceramic artist and took part in numerous art exhibitions, winning a number of competitions and awards as well. Yu Cheng Chung focuses his attention on human existence and the relationship with nature. Instead of portraying human body or creatures in a realistic manner, he uses metaphors and symbols in his surreal expression, aiming to shock and provoke.
Chris Lo graduated with Bachelor's Degree in Fine Arts from the Chinese University of Hong
Kong. With his educational background being in painting, the artist shifted his energies to specialize in ceramic art in 1993. Consequently, he founded his own art studio which he heads to this day. Throughout his career, he participated in numerous art exhibitions in Hong Kong and China, as well as in Taiwan, Japan, the US and Europe. Chris Lo uses art as a form of meditation, reacting to negativity such as violence and manipulation, both in his life and in the world, with positive energy and a sense of peacefulness.
Giant Year Gallery at BERLINER LISTE 2017
In this time of all-too-frequent natural disasters happening around the globe, it may be the time for mankind to question anew the relationship with the planet. Giant Year Gallery presents a collection of works by three contemporary ceramists from different backgrounds, who produce a "ceramic response" to the present inspired by nature in order to rediscover the energy and beauty of the works originating from the earth while maintaining their distinctive, contemporary expressions.
Giant Year Gallery was established in 2012 by Solan Chiu, focusing on the development of contemporary ceramics arts. The gallery aims at promoting ceramic arts by building an
exhibition platform and discovering local ceramics artists, but also by representing ceramic artists from around the world, such as Japanese and Taiwanese creatives. The gallery strives to change the public perception of ceramics as craft and to present this versatile medium in a different light, as a fine art technique. Giant Year Gallery opened in New Street, Sheung Wan in August 2015, as the only gallery that showcases ceramic arts in Hong Kong to date.