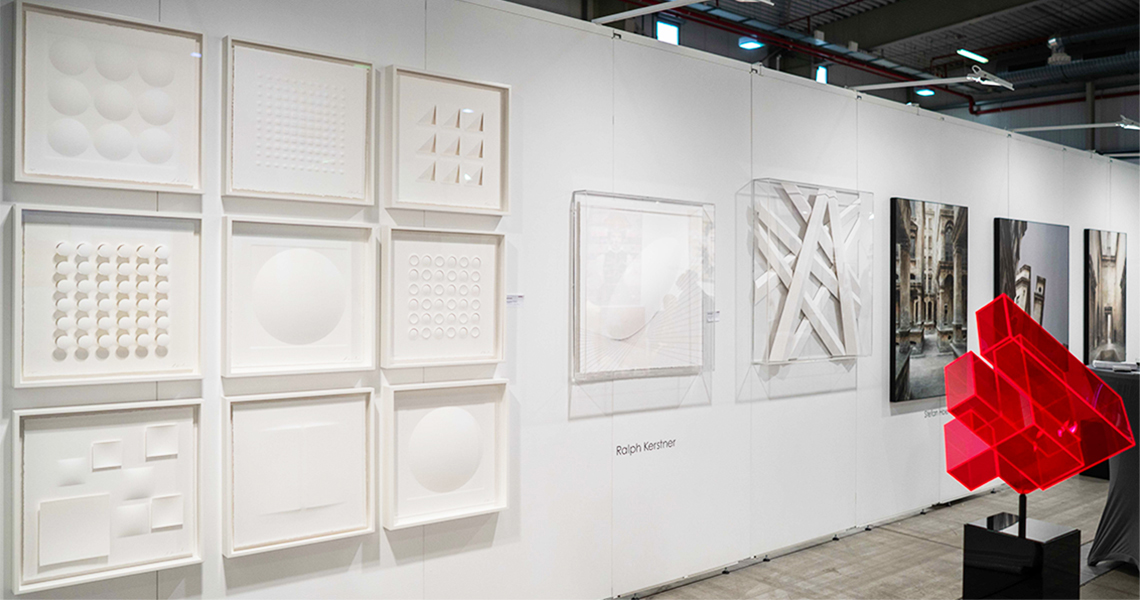 Galleries are important agents, they are creative places, they are laboratories for new developments, and they are home to fascinating works of art. There are many kinds of art galleries – they have diverse origin stories and different points of focus. It is the aim of the Discovery Art Fair to make visible this range and dynamic in our Gallery Section. Here, art lovers have the opportunity to gain insight into many exciting gallery programs and experience high-class art in all its variety within a short period of time. Join us in looking forward to…
Galerie Klinger & Me (Booth G11)
Opened in 2018 as a subsidiary of the Galerie Klinger Dresden, Galerie Klinger & Me from Karlsruhe will be showing the at once amusing and confusing ceramic sculptures by Kazakhstan-born artist Margarita Kopp, along with the large-format collages made out of industrial sponges – scouring pads and car sponges – by Baghdad-born multimedia artist Fahar Al-Salin. Playing with boundaries – between picture and sculpture, between political art and decoration – the artist is always finding interstitial spaces in which contradictions disintegrate and viewing art becomes an experience.
Galerie Rubrecht Severens Fine Arts (Booth G04)
The internationally active gallery Rubrecht Severens Fine Arts, with locations in Wiesbaden and Maastricht, will be presenting Lego works by Frankfurt artist EL EGO. The artist works with a material that has seldom been used in visual art till now, and uses it to create pieces that deal with the art of other artists or are else based off of them. One of his current pieces is dedicated to the famous shredder picture by street artist Banksy.
Galerie Lauth (Booth G19)
Located in Ludwigshafen in an exciting industrial area, the internationally acting Galerie Lauth concentrates on both established artists and the promotion of young, emerging artists. We are transported to the most beautiful sites in nature by both the atmospheric landscape pictures by Berlin painter Hermann Reimer, as well as the photorealistic ocean pictures by Rober Arató. Characteristic of the work by Marlis Albrecht is her experimental wax technique, in which beeswax is colored with pigment, spread out, partly scraped or carved into, or – like in her multi-layered "Fadenfrauen" – combined with other materials.
dieHO-Galerie (Booth G32)
The Magdeburg-based dieHO-Galerie will be presenting a young generation of talented artists like Sebastian Herzau and Dorothea Hertel. For Anna Herrgott, self-promotion is the buzz word of our time. The conceptual artist examines contemporary ideas of beauty and pursues the question of the "authentic" by reassembling photoshopped fragments of faces and bodies from glossy media.
Ateliers im Delta (Booth G35)
Established as a producers' gallery in Mannheim, the project Ateliers im Delta offers young artists a platform to gain their first experience in exhibiting after graduation. As part of the fair, they will be presenting, among others, works by young photographer Hannah Moser as well as experimental pinhole images by young photo artist Paul Pape.
Galerie Augarde (Booth G06)
Galerie Augarde will be traveling to Frankfurt from Daun in the Vulkaneifel district with current pictures by the much-noticed young German painters Lukas Frese and Tobias Stutz, whose work received much attention and praise at last year's discovery fair, as well as the unique, abstract picture compositions with sculptural-looking elements by the artist duo Oster+Koezle.
Galerie Wilmsen (Booth G09)
Alongside the modern, fluorescent Plexiglas objects by Tamar Klar, the Swiss Galerie Wilmsen will also be presenting embossed prints by Güther Uecker. The renowned artist captures anger and force in an artistic act. His works display a brittle, unique poetics. For him, it is always a matter of suffering, striving for peace, and a harmony which the artist offers in opposition the eternal failing of humanity.
Bakerhouse Gallery (Booth G18)
The focus of the Bakerhouse Gallery, located in Germany and Austria, are talented, young 21st-century artists like young Austrian star Tom Lohner. His pictures, full of energy and humor, are already being collected by musical giants like Alice Cooper, Maroon5, and the Foo Fighters, and his series of portraits of great rock stars has toured Hard Rock Cafés across Europe. Next to unconventional portraits by Carola Deutsch, the gallery will also be presenting collages by Dagmar Beyer, and pop art on paper by London-based artist Mr. Frivolous.
Galerie Knecht und Burster (Booth G21)
A focal point of Galerie Knecht und Burster from Karlsruhe is the collaboration between artists coming out of the renowned Karlsruhe Academy of Fine Arts, the State Academy of Fine Arts in Stuttgart, and the Düsseldorf Arts Academy. Included in the fair program are works by Axel Brandt, Simone Lucas and Wilhelm Neusser, among others.
Galerie Z22 (Booth G30)
The young Galerie Z22 from Berlin will be presenting monochrome, large-format picture landscapes by Andreas Kurus, which display echoes of Money and Cy Twombly and surprise with their special application technique, in which several layers of synthetic resin are reworked with acrylic and oil paints, watercolor chalks, crayons, and pencil, giving the pictures a 3D effect. Included in the program: Frank Massholder's series "Die Böden zur Kunst." Inspired by the constantly changing floors of artist studios, the artist captures unique moments that dissolve the boundaries between documentation and art.
Cover image: Galerie Kerstner, Discovery Art Fair Cologne 2019, Aufbau, Setting up. All images courtesy of listed galleries.