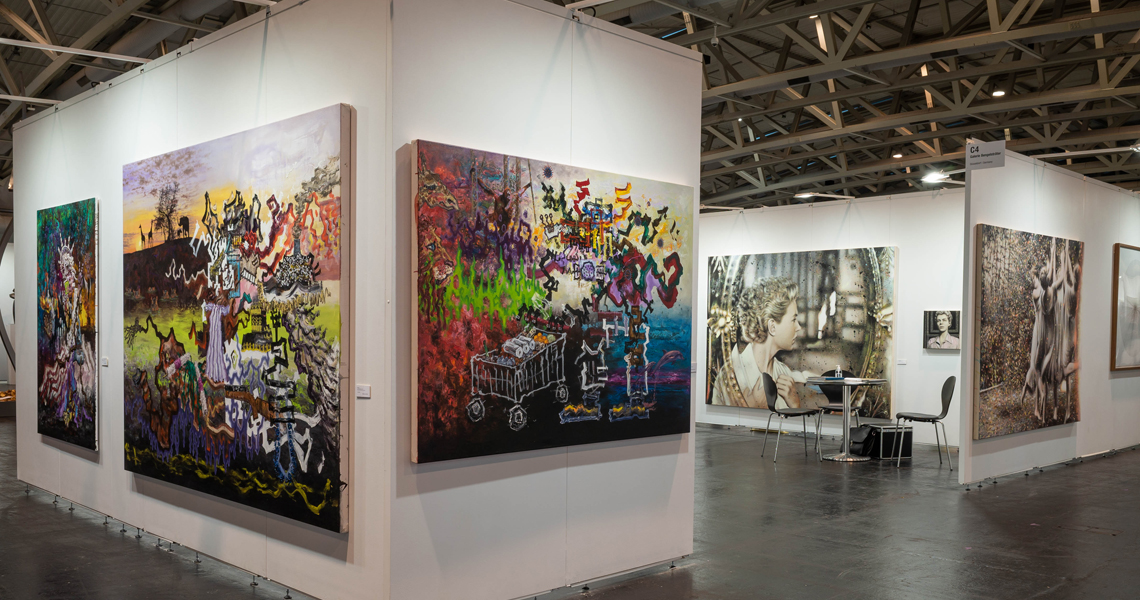 The Discovery Art Fair Frankfurt welcomes galleries from Germany and abroad for its fourth edition. Within their fair programs, they present a wide variety of art genres and focal points. The spectrum of artists shown ranges from well-known names to aspiring newcomers. Join us for a look at some of this year's positions. But be assured that this is only a small selection and many more exciting presentations await your visit at our art fair.
30 works (C1)
Gallery 30works (Cologne) will be represented at DAF for the first time. Specializing in relevant contemporary positions of a young generation of painters, the gallery spans the range from neo-naturalism and hyperrealism to surrealist and urban art.
Galleria Immaginaria (D3)
With works by internationally renowned artists, such as the Vienna action artist Hermann Nitsch, the important representative of the artist group "Zero" Bernard Aubertin, who works with burnt matchsticks and traces of fire, or the sculptor Lluís Cera, the Italian Galleria Immaginaria from Florence will present at DAF for the first time.
Galerie Thomas Hühsam (D1)
Works by top artists, such as Op-Art master Antonio Marra or the versatile Pop-Art artist Christof Kohlhöfer, are showcased by Galerie Thomas Hühsam. Their fair program is complemented by controversial visual worlds by Benjamin Burkard and Dominik Schmitt, who are among the shooting stars of the international art scene.
Singulart (B3)
Singulart is one of the leading international online galleries for contemporary art. "Pop your life" is the topic of their booth, where visitors can discover a wide spectrum of colorful pop art. Singulart brings together artists from Spain, Poland, France and Italy whose works all spread an aura of positivity and optimism.
Galerie Augarde (D2)
Galerie Augarde shows delicate and playful sculptures by Václav Pokorný. After studying art, the Czech artist worked for many years in Prague puppet and animation studios, where he also made his own films. One can sense the artistic influence of film in his slender wooden sculptures. They tell stories and take the viewer into fantastic, surreal worlds.
Forum Kunst contemporary (D4)
Representing diversity and staying away from the mainstream are trademarks of Forum Kunst contemporary from Austria. With Ha Haengun from Korea and the artist's collective three from Japan, their fair program looks towards Asia and presents two artists who are still as unknown as exciting over here. Both are close to the pulse of time and, in their thoughtful and playful way address not only but also a young audience.
Galerie Das Bilderhaus (B4)
A one-artist show by the artist Margarete Zahn awaits visitors at the booth of the Frankfurt Galerie Das Bilderhaus. The Städel student's artworks emerge from an early Christian topic – the cross. Margarete Zahn has repeatedly explored the possibilities of this shape in new ways. In the process, she develops an aesthetic that moves in the tension between painting and plastics. Wooden objects, often boxes, but also other wooden finds, experience a new harmonious composition trough dimensional painting and surprising connections.
Unique Contemporary (B8)
The Italian gallery Unique Contemporary from Turin presents the remarkable Belarusian object artist Maxim Wakultschik. Visitors can expect portraits that play with our perception, made of up to 16,000 precisely inserted wooden sticks.
InGallery (B6)
With Olga Tobreluts, Karen Shahverdyan and Dmitry Shorin, the Moscow InGallery is showing three artists whose works are already represented in renowned museums and collections nationally and internationally, although – or precisely because – their visual language, technique and composition often break new ground.
Galerie am Park (B7)
Enrique G. Saucedo, in the fair program of Frankfurt's Galerie am Park, is part of Mexico's emerging art scene, but his work has received recognition, prizes and awards far beyond the country's borders and South America. In dazzling costumes, masked and bizarre with surreal attributes, the figures in Saucedo's pictures face the viewer as if they wanted to put on a show. But the supposedly realistic is visibly transformed into a version of surrealism.
All images courtesy of respective galleries. Featured image: Discovery Art Fair Frankfurt am Main 2020