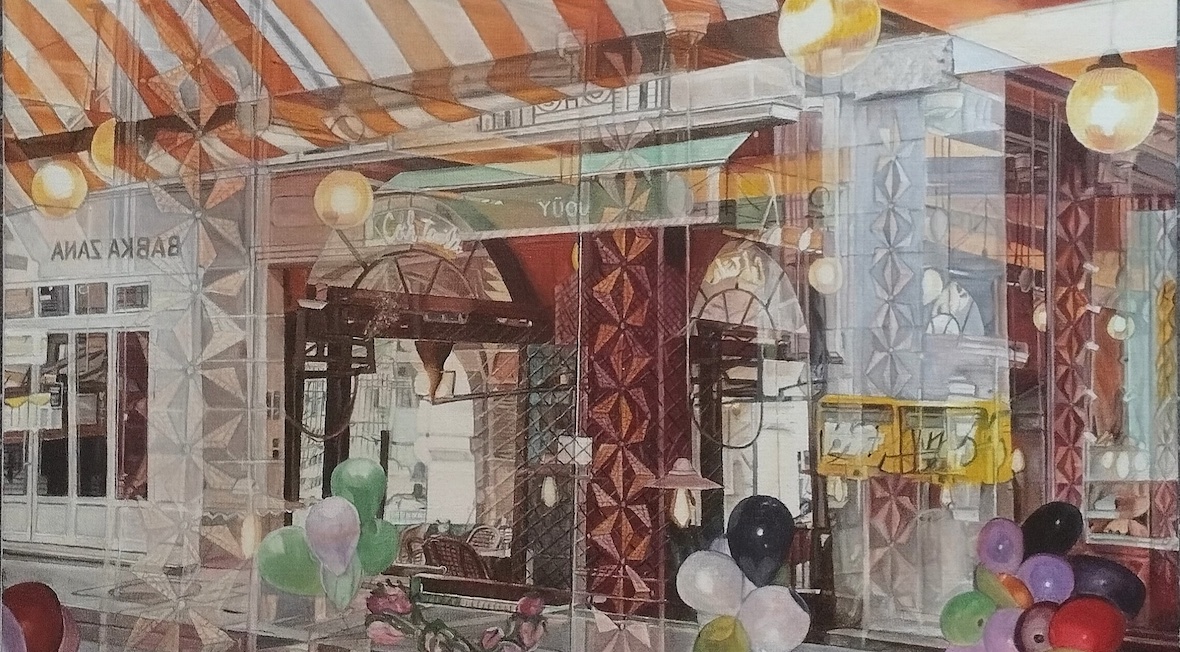 For three decades, Galerie Marie de Holmsky has been capturing the spirit of Paris, giving it back to the world through art. Guided by the talent of the artists as the supreme criterion, this small, charming space has been representing painters and sculptors of all genres, bestowing inspiration upon art lovers and collectors. Located at the historic heart of Paris at 80 rue Bonaparte, Galerie Marie de Holmsky is a modern landmark among ancient monuments. This November, the visitors of the Discovery Art Fair in Frankfurt will have the unique opportunity to enjoy the gallery's program and to take in bits of that Parisian atmosphere through the works of two artists – Bore Ivanoff and Fady Ferhi.
Joie de Vivre by Bore Ivanoff
Remember how Canaletto painter Vedutas of Venice, trendy paintings to be sold to 18th century tourists. Thanks to him, we know what Venice looked like three centuries ago and how it developed since. There is a clear reflection of Canaletto's practice in the work of Bore Ivanoff, primarily in the imaginative views of Paris he's been painting for over a decade.
But instead of commemorating exact vistas and corners we already know from myriad photographs, Ivanoff gives us something more — his works translate the hidden and unexpected atmosphere of Parisian nooks, lost gems, and transient moments that make the city what it is. It's not necessarily the Paris we see; it's the Paris we imagine, blinded by its centennial reputation and its glorious lights. In the manner of a collagist, Ivanoff composes a picture filled with mementos, symbols, recognizable places, and visceral objects to create a familiar image. Brimming with color, his paintings are metaphors of bustling street life and one traditional yet contemporary joie de vivre.
Based in Paris since 2001, Bore Ivanoff is a self-taught French painter of Eastern European origin. He is represented by the gallery "Marie de Holmsky" in Paris 6th and "Cygne Noir" in Tours. His international career includes solo and group exhibitions; his works are part of different public and private collections. In October 2023, just before our art fair, Ivanoff's paintings will be exhibited at the Museu Europeu d'Art Modern in Barcelona.
Humane Art of Fady Ferhi
In line with the practice of abstract expressionists adapted to a personal and contemporary context, Fady Ferhi has been using her art to cope with her feelings of loss. Prompted by a personal tragedy, she opened up an inner portal through which visions of stirring sky, innermost turmoils, both joyous and painful, come to light. Working with acrylic, Ferhi speaks with color, using different materials such as cellophane, pigments, stained glass, and ceramic parts to play with light and emphasize the visual impact of her works.
Ferhi's paintings are visceral and packed with emotion. She has been painting her way towards her lost loved one, finding a way to see him again. Therefore, we must not look at them solely with our eyes. We need to open our souls, experience them, take in what the artist has woven into them, interpret them as our own, and become inspired to paint ourselves.
Besides her artistic practice, Fady Ferhi is a dedicated art therapist. She helps young people find themselves and regain confidence through art, guiding them to balance and self-discovery. Her activism places the human condition concept at the center of her work, coming from a profoundly personal place or the need to help others.
Galerie Marie de Holmsky will present the works of Bore Ivanoff and Fady Ferhi at the upcoming Discovery Art Fair Frankfurt, 3 — 5 November 2023.
Featured image: Bore Ivanoff – Paris, une Fete sans Fin, 2023, detail. All images courtesy Galerie Marie de Holmsky