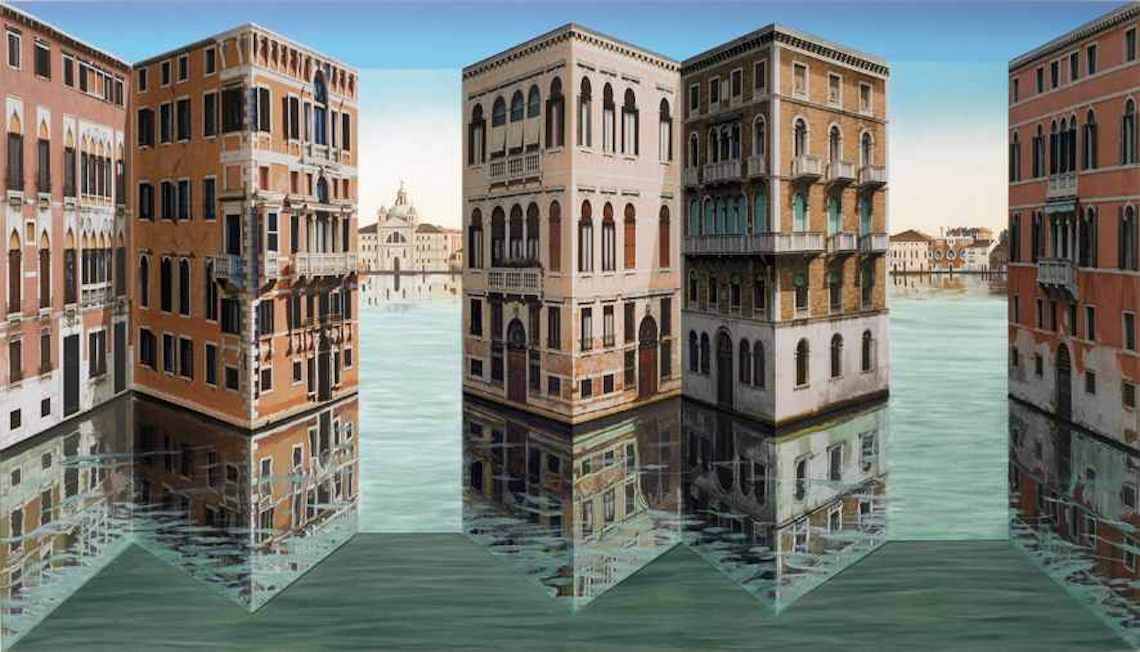 Opened in 2012 in the Vulkaneifel, a district in the northwest Rheinland, Galerie Augarde has been dedicated to contemporary art from the beginning. Although centered around established living and young artists, the gallery's program is exceptionally diverse in terms of media, showing painting, sculpture, prints, and photography. So far, Galerie Augarde has presented about 50 exhibitions, taking part in the Discovery Art Fair every year.
For the third participation at Discovery Art Fair in Frankfurt, Galerie Augarde has prepared a heterogeneous program of eight international artists, some belonging to a younger generation, and some well-established doyens in the art world. Its booth will welcome visitors showing the works by Melanie Tilkov, Katharina Fischborn, Kai Savelsberg, Tobias Stutz, Lukas Frese, Mario Reis, Jhemp Bastin, Stefan Noss, and the amazing Patrick Hughes.
Melanie Tilkov
The figurative practice of German artist Melanie Tilkov explodes with color and symbols. Her favorite subjects are female, often set in a chromatically rich environment, embellished with ornaments or flora, channeling her admiration for Dutch Golden Age painting and Flemish Baroque. However, her inspirations are rendered in a completely contemporary manner, whereas she uses multiple techniques to achieve a result, from acrylic to stencils and natural materials applying layer after layer of color. The result is glorious – her women become queens and goddesses, emerging from fairy-tale worlds, alluding to a myriad of stories we heard growing up. They are real and surreal, symbolic and carnal, archetypal, and concrete, while rendered in the best practice of contemporary painting.
Katharina Fischborn
Combining the techniques of woodcut printing and cut-out, German artist Katharina Fischborn creates geometric objects and spatial installations in paper. Her complex creative process starts with the printing of monochrome woodcut sheets she later uses as a base for her cut-outs. Juxtaposing layers and creating overlays, she toys with transparency and transformation of paper into a three-dimensional object giving her core material a new, unexpected value. Her innovative thinking is intertwined with classical artistic ideas, such as the natural mixing of colors in the observer's eye achieved by different optical effects.
Kai Savelsberg
German artist Kai Savelsberg's paintings utilize a monochromatic manner to depict his core idea. His series called "the Invisible" treats landscapes as double images, packing the canvas with heaps of emotional content in between the imagery. The second series bears the title "Gods and Demons", weaving multiple human aspects into one portrait, where many different personalities can exist at the same time. His pieces are profoundly poignant, engaging, and contemplative, emphasizing the conceptual aspect within.
Tobias Stutz
German artist Tobias Stutz explores urbanism in his painting. His canvases are filled with architectural works of Modernism, especially Bauhaus and the International Style. These architectural masterpieces have become staple-visuals in many European cities, remaining often unnoticed behind the urban turmoil. Stutz explores them as monuments, elevating their significance, while exploring their meaning s in today's world, often with a dose of humor. Using trompe l'oeil and cleaning out his images of excess elements, Stutz's paintings somewhat evoke the works of Edward Hopper, the master painter of modern solitude.
Lukas Frese
German artist Lukas Frese was discovered by Galerie Augarde in 2017, although his career started much earlier. His paintings are based on his experiences, delivering the atmosphere and the artist's insight through an easy-to-relate narrative. A realistic cityscape is often depicted through abstract expressive means, trying to catch the error in the view – a hidden, growing crack in a facade, face, or a landscape.
Mario Reis
The practice of German artist Mario Reis is environmental in a literal sense – he works with forces of nature, allowing them to paint themselves. Leaning on the concept of traditional landscape painting, he submerges canvases directly into a river, allowing water and sediments to create a lasting impact upon the canvas. The result is a river's self-portrait of sorts, whereas the artistic action, process, and thought are what make this creation so beautifully contemporary. His works from Texas, Germany, and Japan are widely acclaimed, drawing the attention of award committees and collectors alike.
At Discovery Art Fair Frankfurt, Galerie Augarde will present his latest series Hommage au Champagne from 2020, a group of ten abstract sheets where naturally-made champagne corks were used as a painting tool.
Jhemp Bastin
Sculptures of Jhemp Bastin, a Luxembourg-based sculptor, offer both a classic and a fresh approach in the treatment of wood and the man's position regarding the material. He plays with the full and empty, material contrasts and tensions as expressive tools while revealing the essence of wood, inspiring us to look within ourselves. The tactile qualities of his geometric sculptures are undeniable and carry a primal feeling, one that brings us back to the beginnings of humanity, to our core nature.
Stefan Noss
A dreadful car accident prompted German artist Stefan Noss to focus on a particular topic in 1988. "Head and Fragment" prompted the artist to start seeking visual relations between different visual elements, such as figuration abstraction, drawing, while employing mixed techniques of painting and collage. His works are inherently charged with emotion, characterized by a particular dynamic based on strain while portraying glimpses of humanity throughout endless variations of the main leitmotif.
Patrick Hughes
A creator of "reverspective", British artist Patrick Hughes, will be among the selection of Galerie Augarde for the Discovery Art Fair in Frankfurt this year. His unique invention of an optical illusion rendered on a threedimensional surface has granted him a special place in art history to come.
With a career spanning over fifty years, Patrick Hughes has created a significant artistic oeuvre filled with experimentation and visual innovation. His investigations of perception and illusion intensified in the 1970s, although his first "reverspective" work was shown already in 1964. Pictures such as those from the Venice series are three-dimensional, created with pyramidal shapes with their tops cut off, extending towards the viewer. The bases of the pyramids are physically the farthest away, but they portray the closest elements in the picture upon viewing. This finding of Hughes' has been an interest of scientific papers on the psychology of perception.
Featured image: Patrick Hughes – M Lagoon, 2018. All images courtesy of the gallery.