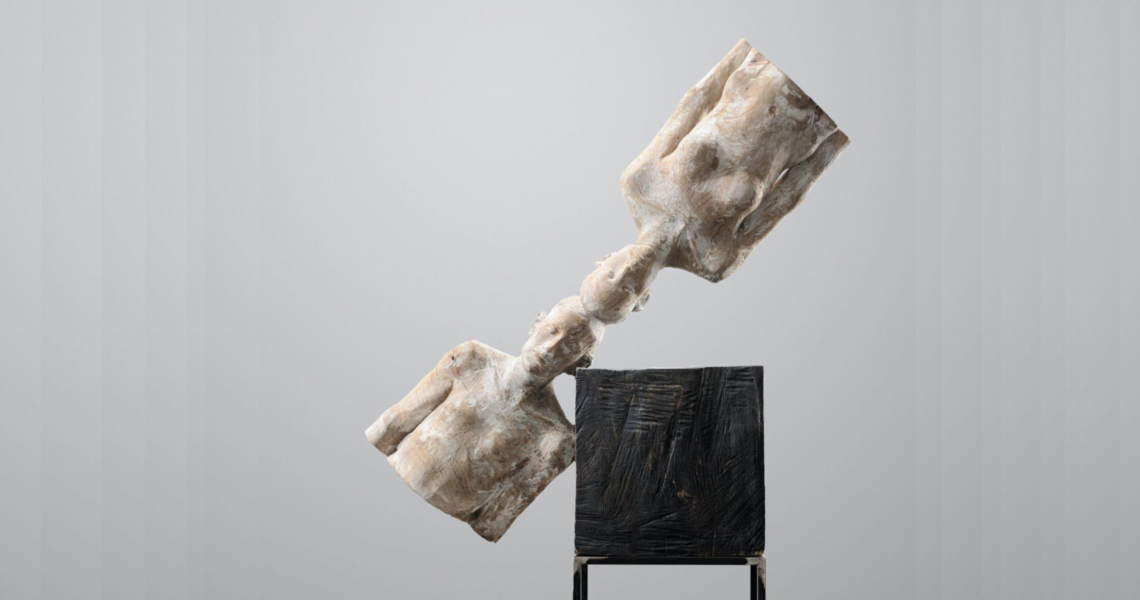 As always, many new, surprising, and innovative things will be on the program at the discovery fair. In anticipation of next week's fair, we've put together ten highlights that you absolutely shouldn't miss.
Leipzig-based sculptor Rainer Jacob presents his piece "BLIND I"
"BLIND I" is a sculpture hewn blindfolded from raw stone that no one will see. Even the artist Rainer Jacob has never seen it and never will. He will only ever transport it concealed and present it in rooms without light. You may touch it, but you may not look at or photograph it. If "BLIND I" were to be seen or photographed, then this unusual sculpture would be destroyed. It is a work of art that artistically questions our perception in a visually dominant world.
Studio floors are art, promises Frank Massholder's project "Floorways to Art"
The artist describes his unique artform as a "concrete coincidence" behind which deliberate photos of random creations are concealed: photographs of the floors of different artists' studios where there is a story hiding behind every section of floor. The floors of art are snapshots of an artist's inner landscape, they are collections of movements, colors, splashes, and bits of inspiration from every single work of art that inadvertently document that artist's oeuvre as a whole. The floors are canvases that provide us a rare look at the artist in his or her chaotic yet still complete form.
Art moves Europe e.V. reveals what artists want for Europe
The internationally active association Art moves Europe e.V. will be represented at the fair by the project "Landmarks of our society – Visions for Europe." Fifteen artists will be presenting 20 sculptures that reflect upon our European values and together compose an impressive 30-meter-long installation. Their art invites us to initiate an active dialogue about shaping Europe's future.
Oriol Texidor's installation invites us to become part of the artwork
The accessible sculpture IMMERSIÓ 227 by Spanish artist Oriol Texidor (presented by the gallery Rubrecht Severens Fine Arts) is designed for participation, inviting visitors on a search for the spiritual dimensions of matter. Visitors are welcome to draw and write on the artwork formed around the human silhouette in the middle, thereby becoming part of the artwork themselves.
Daniela Polz dwells on the visual arts "with skin and hair"
The artist, born in Flörsheim am Main, uses real head hair in her hair-work as expressions of individuality. Series like "Chloé collects words, Ruben loves music…" and "Maurice is very religious, Michi comes from a small village on the Lahn…" are attempts at disentangling our identities by examining the uniqueness and dissimilarity of people.
Gerd Paulicke exhibits art that questions experiences and perceptions of the environment
Gerd Paulicke will be presenting mixed media installations such as a white-laid table with a constantly moving vortex of white liquid in a soup bowl: art that leaves us speechless, raises questions, and triggers countless associations. Grappling with the artist's ideas and the mysteriousness of art holds up an artistic mirror to our reality, which is full of things that we don't or only rudimentarily understand.
Art that makes us grin: White Bread vs. Baguette
The baguette is selected as both topic and artistic medium. In their installations, the artists Volker Kiehn and Sebastian Herzau provide answers to questions never asked while simultaneously posing new ones. From the classic French white bread, art is constructed and immortalized on canvas – because no truly serious matter should ever be short-changed: the eternal battle, White Bread vs. Baguette. In his usual photorealistic style and ironic tenor, Sebastian Herzau contrasts his series of 48 baguettes with Gerhard Richter's well-known series 48 Portraits, thereby giving the same attention to the baguette as Richter does the portrait.
Art that makes us shine
The Frankfurt gallery Schlieder Contemporary will be presenting innovative light-art objects and light boxes by artist Hans Kotter. The artist's playful inquiring mind brings minimal art into the 21st century. Lines, dots, and spirals are extended ad infinitum with cool perfection and atmospheric color effect, defining their own spaces and enhancing the oscillation between two and three dimensions within the artist's work to an additional fourth dimension.
Art that pops and paints the cork
As part of their program this year, Galerie Augarde will be presenting work by artist Mario Reis at the fair. Particularly his newest series from 2020, "Hommage au Champagne," will make the hearts of champagne lovers leap for joy. The artist uses untreated champagne corks as a painting tool to create diverse imprints in various color combinations. A very particular dynamic develops in each of the abstract pieces and we are given the impression that bubbles containing a sparkling secret rise to the surface of the art as in a glass of champagne.
Digital painting – art with resources and technical tools of the 21st century
App artist Thomas von Klettenburg (presented by HLP Galerie) shows how art can look in the digital era. He paints hilarious heads, portraits and lads on light, more precisely on the iPhone or iPad, and presents the enlarged prints – all one-of-a-kind pieces. Not to be overlooked are elements from comic strips and echoes of Pop art, which speak to the sly humor of this Cologne-based artist and long-time television presenter and actor.
Featured image: Hubert Mussner – ENT-SPANNUNG – Cm 70×70-Nussholz und Akrylfarbe -2019- GALERIA CATER. All images courtesy of artists and galleries mentioned.