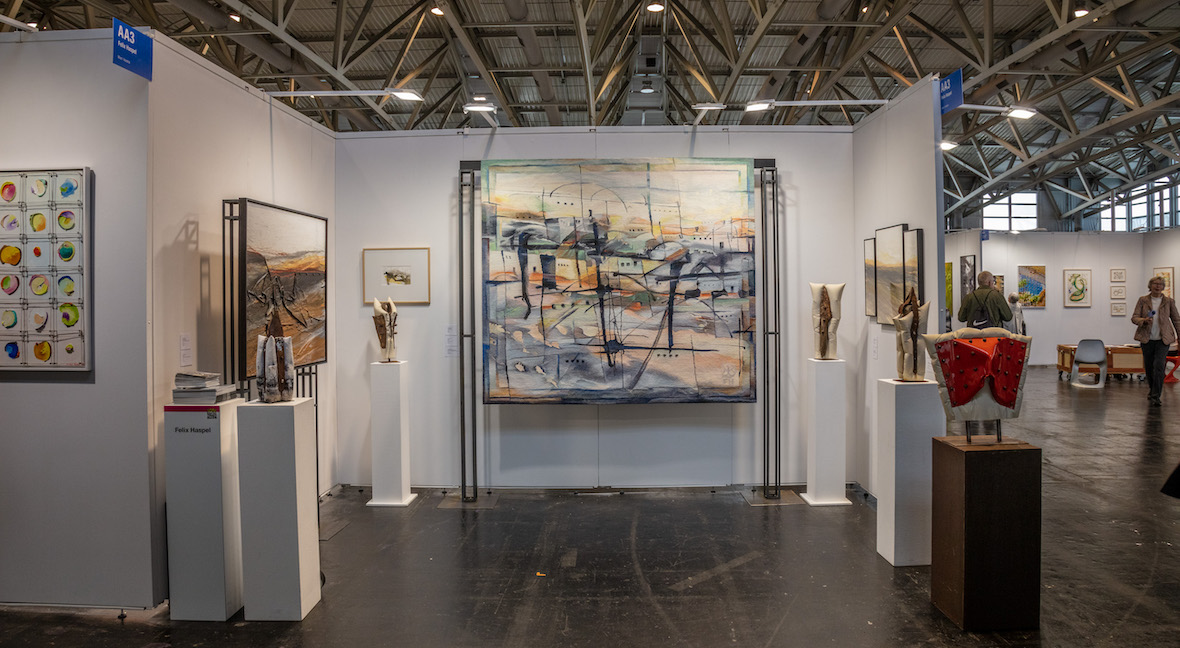 Last November in Frankfurt, my expectations were to see new art and have fun. Still, my first contact with the exhibition hall surpassed any vague ideas I might have had about what will be on display. And the very first piece I saw entering the hall was Felix Haspel's tapestry titled "Human Traces". I was captivated, spending time around it whenever I could, appreciating the unexpected and wonderful announcement it gave me of an excellent exhibition overall.
What kept this piece in my mind was not only the mastery with which it was made, but also the fact that there was an artist who sees textile, loves textile and uses textile both as a material and an inspiration.
Felix Haspel – Painter, Sculptor and Weaver
Austrian artist Felix Haspel is an acclaimed artist with a long career as a professor at the Academy of Fine Arts in Vienna, where he taught the art of tapestry. For over 30 years he is inspired by nature and the extreme landscapes of far destinations, many of which he found on his travels to North Africa, India, or Mongolia.
As a theme, landscape permeates all the facets of his work by reflecting the palette, form, or atmosphere of a distant, deserted scenery, even if the piece is human-centric in essence. Although tapestry can be viewed as the highlight of his work, Felix Haspel also creates paintings, sculptures, watercolors, and land art bringing together distant visions and familiar feelings to the viewer. At the upcoming Discovery Art Fair in Cologne, he will once again showcase a selection of his works, including paintings, sculptures and the entrancing "Human Traces" tapestry.
Haspel's Love for Textile
As one of the leading tapestry artists in Austria today, Felix Haspel developed a recognizable visual language in "painting with wool", which is how he sees weaving. Such a stance makes his creative process organic and visceral, placing him at the loom to fabricate his threaded vision on the spot, which makes the sketches redundant and the procedure impossible to delegate. His painterly approach to weaving is intertwined with his knowledge of old techniques and his fascination with wool, bringing a stunningly vibrant result in the end – a woven, vibrating canvas, layered with ideas, intentions, and experiences, both literally and allegorically. Haspel's tapestries are an ode to the wool, seeing it as a sort-of holy material with more qualities any viewer can imagine.
Human-centrism in Haspel's Sculptures
Along with the tapestry, the visitors will be able to enjoy a selection of Haspel's gallery-sized sculptures. In his three-dimensional works, the artist strives to give a new context to artifacts of human activity. Despite the hard materials, textile is present here, hidden in the creased and crinkled forms that make up the abstract pieces. Throughout his sculptural body of work, we can feel the tension the artist explores, juxtaposing the idea of external influences and internal forces that influence us. I remember a piece depicting a headache, a viscerally painful number, accurately describing exactly that one aspect of the universal human condition.
Felix Haspel at the Discovery Art Fair Cologne
This April, Felix Haspel will take part at the Discovery Art Fair once again, this time in Cologne, from 20 to 23 April 2023. Art lovers, explorers of new forms, and those who love texture will be able to enjoy a collection of his paintings, watercolors, sculptures, and of course, his amazing tapestry.
Featured image: Felix Haspel's booth at the Discovery Art Fair Frankfurt 2022. Courtesy DAF.