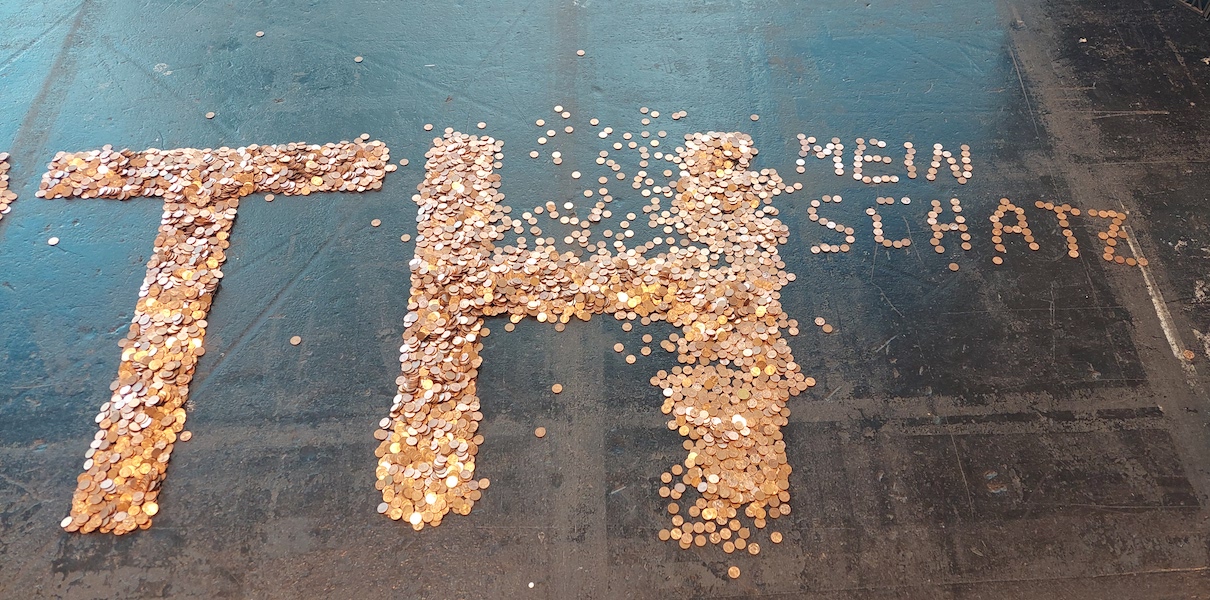 Looking back at history of the Discovery Art Fair, it's impossible not to notice the progress and the development of the event. From an unpretentious affordable art fair, it grew into one of the most popular and visited art events in Germany, continuously improving its concept, exhibitor selection and consequently – art. Growing as an art fair, gaining shape as a seminal event and becoming attractive to more and more people, DAF evolved into a must-see happening in both of its key locations – Frankfurt and Cologne.
Hinted in Cologne with a large number of interested exhibitors, the November 2022 edition of the Discovery Art Fair Frankfurt demonstrated an impressive setup, with an inspirational special show and art that speaks to people in the moment. We were exposed to various mediums, singular expressions and a curation that testified to the initial premise proving the fair matured properly without giving up its core idea – that art is for everyone.
From Hug to Mind
Strolling through the hall, the first piece that captured the attention was the one by Jenny Brockmann, offering a hug to the visitors. This is where the tone of the entire exhibition is set up, expanding beyond the special show. The call for immersion, interaction, emotional recapitulation and contemplation was omnipresent throughout the fair, sliding from sculpture into video, from installation to drawing. Allowing myself to become immersed in the art show, a single insight surfaced, that the art prevailing here touches the very matter of what makes us human. The art viewing experience then turned into an emotional rollercoaster, taking me throughout the spectrum of feelings, from loneliness and depression, to childlike curiosity and happiness. It would be just to assume art does just that, but such cathartic moments are rare to witness in an art fair, where each booth speaks for itself.
After the Disaster, Art is Blooming Again
Delighted with the amount of fantastic pieces at the fair, I was surprised. Normally, I take pride in having a critical eye and being rather strict when it comes to art. However, this fair edition struck me as one with more good art than I anticipated and I figured that there might be an explanation for this phenomenon. In the wake of the coronavirus pandemic, this year has shown some of the most severe consequences of the crisis-related isolation, but it also allowed creative ideas and projects to bloom. Fortunately, art has always been known as one of the best ways to channel emotions and experiences, and the surplus of those inevitably influenced the amount of art produced, but especially – its quality.
Ergo, my deliberate self-exposure to the vast amounts of art at DAF Frankfurt this year allowed my mind to differentiate between visual topics, all of which share a the same trait – humancentrism.
There is a soft emotiveness in Karina Laru Nau's drawings, a depth of layers in Katerina Belkina's photographs, something alluring in the texture of Serhiy Hai's paintings, and a familiar urban loneliness in Susanna Storch's works. There were paintings by Anton Petz or Cveta Markova featuring childhood nostalgia, alongside childlike playfulness presented in objects by Konrad Wallmeier. I found amazement and joy in celebratory, tactile pieces by Cheryl McIntosh and Negar Rashidi, while Juliane Hundertmark's paintings made me question the darkest corners of myself. And as Ramona Czygan's works captivated me with their melancholy, I found comfort in works by young painter Thomas A. Hollbach and assemblages by Anna Mars, inspired by love. There were many more artworks that inspired me to think, feel or touch, reminding me of what is important within me and around me.
Humancentric Pieces and All Aspects of Human Life
Fragile, intimate drawings, big-scale poignant portraits, evocative imagery, celebration of personal histories or escapist visions all serve the same purpose – to either honor people or offer a way out, placing the observer in a different reality filled with possibilities, where pathos doesn't give way to suffering, but compassion. We are invited to feel again, to connect again, to return to ourselves and to each other, to nurture our communities and imaginations for the common good. Without sliding into tackiness, the DAF art experience exuded an overall sense of positivity, something we all seem to be craving in the postcovid era.
As the exhibition came to a close, I felt connected to my own humanity again. Elated by the visual and sensory experiences, and excited for the next edition of Discovery Art Fair, it was my goal and wish to describe my journey, hoping to inspire others to travel through art as well.
Featured image: Ralf Kopp – Truth, detail with an intervention by a visitor.