We're deep in 2023, and many things have changed since last year. Even though we're at the same location, still immersed in the art world, we cannot but absorb some of the atmosphere of the global society and all of its facets. Life is complex, living is tough, and humans have never been more fragile than now. Without wanting to dismiss the seriousness of the outside world, but with a desire to preserve the humane and the tiny precious optimism we might have within ourselves, we turn inward to the new edition of the Discovery Art Fair in Frankfurt — one of the most democratic creative stages of German contemporary art scene.
Allowing myself to live and breathe art for four days, I entered the Festhalle before the press tour to find most booths ready for visitors and some finishing their last preparations. It's a different setup this year. Less glamorous, more intimate. Excited to take the first look at the art I was about to consume, I noticed familiar galleries, new artists, stunning photography, and an installation that drew my attention.
To paint the picture of what to expect at this year's DAF Frankfurt, I give you my first impressions.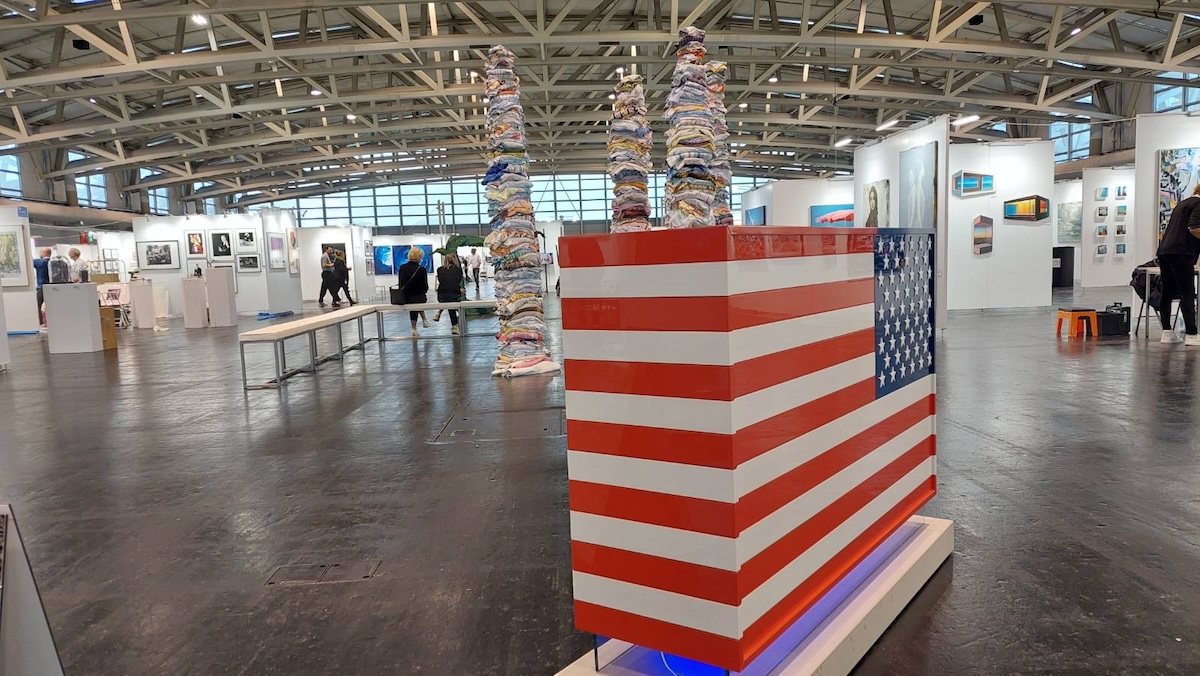 A Reflection of Zeitgeist
An artist's work never stops, and neither does the fair's — show must go on — but despite an abundant display, a lack of glitter and joy is apparent. There is little happiness in the world, and we are invited to reflect upon the times and ourselves. Works by Leszek Skurski, Leo Leonhard, and Jerre Hakse are examples of isolation, withdrawal, and grim meditations.
Another reflection of our times we can find in escapism reflected in depictions and photographs of nature. For collectors who like to retreat from civilization, works by painters Gabriele Willberg, Eva Leitschuh, and photographer Mia Segaert provide a beautiful, imaginative chance to do so.
Art Meets Education Gives Hope
Finally, we are not left without hope, though, and are invited to connect with the real world through the action of Art Meets Education. This organization supports children's education by selling photographs made by those children. This is a perfect opportunity for a new collector to buy a photograph — you'd be helping the creative kids in need, getting a lovely photograph, and contributing a little bit to the good in the world.
New Intimism
Private spaces, both physical and emotional, have returned to focus. Reality bullies us all into our personal bubbles, glimpses of which we see in the art of Angelina Seibert, Karina Laru-Nau, Kerstin Dzewior, Carola Dewor, Brudloff, and Ramona Czygan. If intimate spaces resonate with your character, find small visions of living rooms, bathing nudes, or familiar, often female, concepts.
Contemporary Curiosities
Lovers of curiosities will have a great time at this year's edition of the fair because there are little precious creations all around. Look for Matthias Garff's animals at Galerie am Dom, Käpten Nobbi at Galerie ART42, Eri Hahn, and the special ceramic show across the mid-section.
Glimpses of Laughter
My first observation of the art fair set a bleak tone but did end with a chuckle. Art, as a beautiful channel to work through every conceivable feeling, allows humor even in the darkest times. And suppose your collecting nature has a proclivity for more positive visuals. In that case, you will find them in the funny smurfs by Feromontana, in the cheeky works of the legendary Bananasprayer, or among the fantastic creatures Corjan Nodelijk conjured.
Welcome to the 2023 edition of the Discovery Art Fair in Frankfurt, where you can open your mind, leave the predictable outside, and just — enjoy collecting.