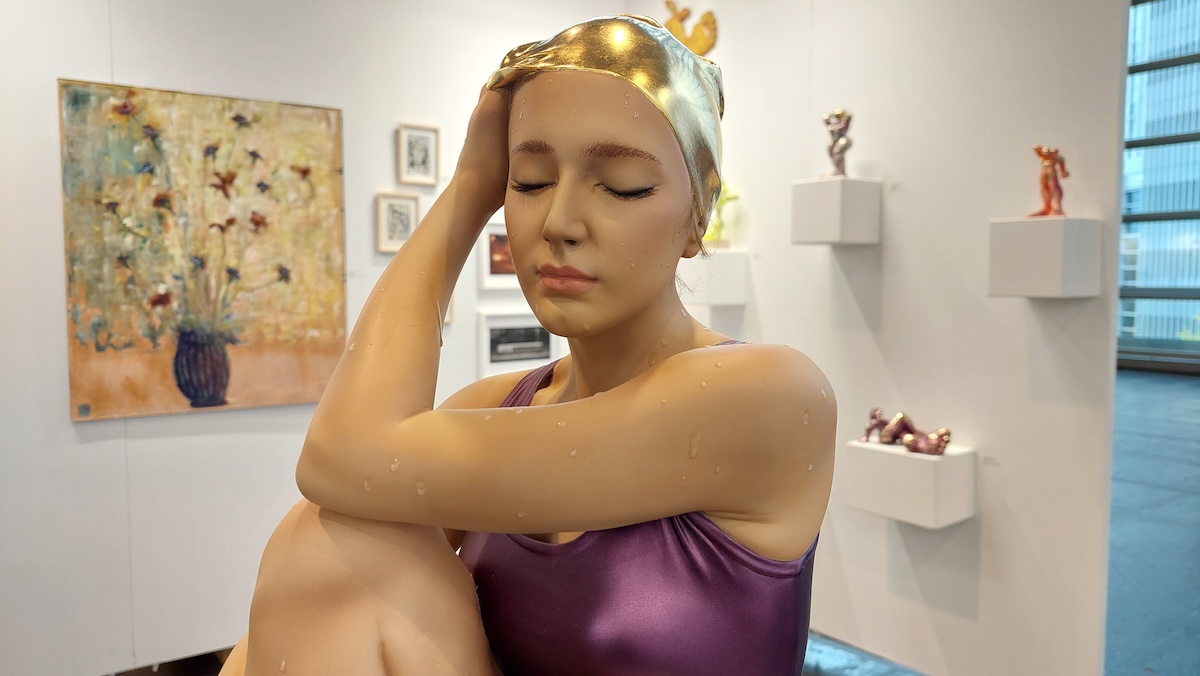 As an event that welcomes galleries and artists alike, Discovery Art Fair is the place where many works enter the art market for the first time. However, it belongs to the secondary market as equally, since many exhibitors bring well-established names to the fairground. This goes in line with the proclamation "Buy Art!," a motto that has been driving the fair forward as the place where every art lover, collector or novice can find something for their existing or soon-to-be collection. And those treating art as an investment can find notable names from the world of painting, sculpture or photography in several gallery booths.
Let us present you with our selection of the highly collectible pieces from the 2023 edition of DAF Frankfurt.
If You Collect Painting
Connisseurs of German art will know the name of Christof Kohlhoefer, a luminary born in Frankfurt, whose artistic career stretches to across the Atlantic and back. You can find his mid-sized canvases at Galerie Thomas Huehsam, booth D4, listed at 7000 EUR each.
Collectors who like historical pieces and have a soft spot for Weimar Republic will revel in the works by Lotte Laserstein, figurative painter from the first half of the 20th century. Dr. North Kunsthandel + Galerie presented a good selection of portraits and animals, drawings of flowers and portrait sketches by Laserstein, at prices revolving around 13000 EUR and up.
Finally, works by the famous German artist and designer Olaf Hajek are available at Galerie am Dom, at different prices (the one we are showing here is at 13500 EUR). If you love painting, colors, design and art investment, you should find Hajek's work delightful.
Do You Like Sculpture?
If you do, we give you a unique chance to acquire a piece by Stephan Balkenhol, famed German sculptor. Offered by Galerie am Dom at booth A3, Balkehhol's piece represents a man riding a seahorse, in the best absurdist tradition of the artist, scaled down to fit a private collection. Those interested in this work from 2019 can contact the gallery for more information.
Urban art enthusiasts can supplement their collections with small-scale statuettes by KAWS and Invader, both offered by Bakerhouse Gallery at booth C4. These highly coveted and collectable pieces are priced at 1200 EUR for KAWS and 1350 for Invader.
Serious collectors can find a true gem at Galerie Klose, booth A5 in one of the most expensive works at the fair created by Carole Feuerman. Famous for her hyperrealistic works in sculpture, Feuerman established herself as one of the leading artists in the style. You can find one of her swimmers, gallery-sized at the Discovery Art Fair, listed at 46500 EUR.
Start Your Collection With A Print
If you like prints, head down to the Bakerhouse Gallery booth and chekc out Shepard Fairey's couple of pieces on the back wall. Fairey is a famous American street artist, known for his OBEY brand and politically charged posters. He excells in the art of print, has a recognizable style and creates limited editions only. If you're a new collector, owning a Fairey is a great place to start, especially since each piece is listed well below 1000 EUR.
Collect Photography Like a Pro
Photography collectors can once again visit the LOFT 11 gallery booth and take their pick — an expert and photographer himself, Axel Rockfish, always curates an exciting selection. This time, we would recommend pieces by famous Eliott Erwitt, one of the most famous names in 20th century photography who just recently turned 95! His photographs go around 3000 EUR each, depending on the motif and equipment.
Finally, Gallery Z22 brought two recent works by Katerina Belkina, contemporary photographer from Berlin, whose immaculate style is a great way to either start a collection or just treat yourself with an amazing visual experience. The prices of her mid-sized photographs are around 4000 EUR a piece.
Whether you are a new or a seasoned collector, Discovery Art Fair is the place to get inspiration, give chance to new artists, but also invest in what will become a timeless piece of art. Join the experience and — buy art!