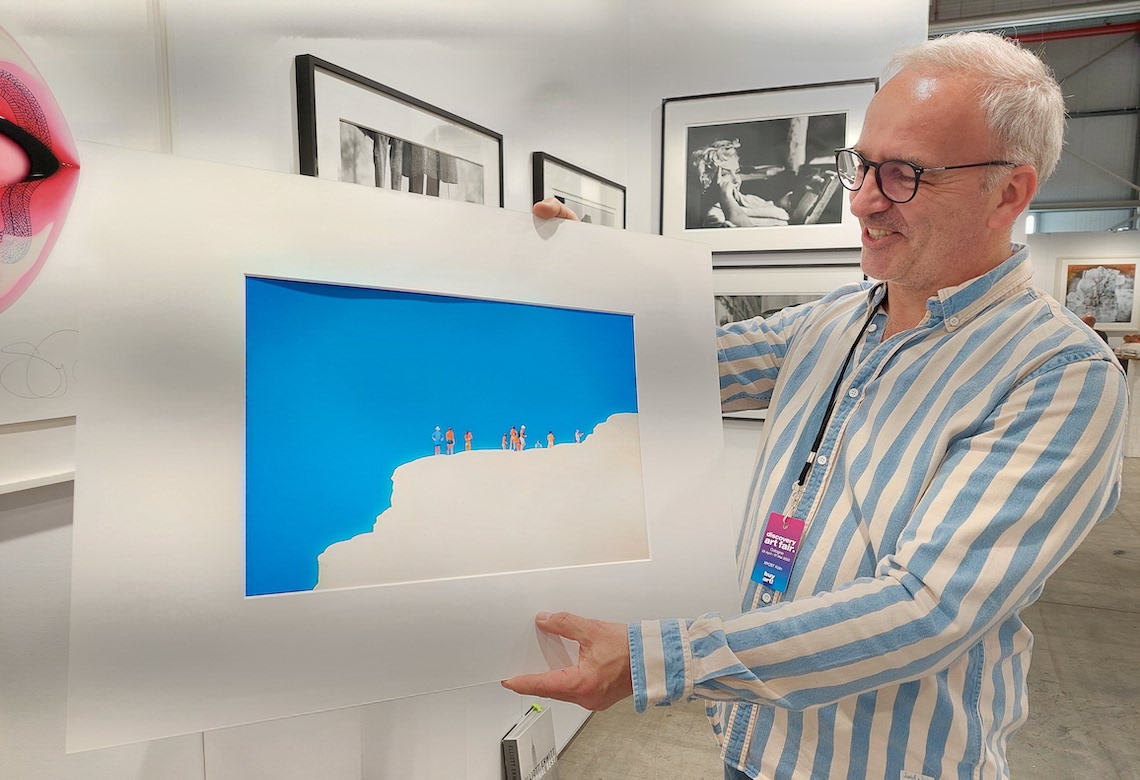 Together with the focus on the middle art market and emerging artists, Discovery Art Fair has always had a strong focus centered around fine art photography. Since the fair's beginning, many established photographers took part and young photo artists started building their careers at our fair, later becoming internationally renowned. Even though the photography segment is integrated into the fair curation process, galleries dedicated to the art of the lens shine offering a wide range of pieces from some of the best-known names in the history of photography. Alongside luminaries, emerging photographers have the chance to present their work in single or curated booths.
Walking around the fair with photography in focus, a collector can get a good overview of the stylistic and technical evolution of the camera-based art form, as well as grow their collection with fresh, high-quality limited edition pieces. Also, as they discover the range and the impact of photographic art, new collectors are inspired to start acquiring pieces, especially by emerging authors. Browsing for the most interesting photographs is not an easy task, but we've made an effort to walk you through the fair and introduce you to the opportunity of becoming a photography collector.
Katja Richter and Wilfried Gohsens in the A Hall
Starting with independent exhibitors, in the adjacent A hall of the fair you can find the stand where Katja Richter and Wilfried Gohsens have exhibited their works.
Titled "Kraftwerke", Katja Richter is showing composite landscapes of seemingly deserted German power plants created with the use of traditional techniques. Opposing the color of her works, photographs of Wilfried Gohsens explore the abstract potential of photography, offering a different poetic standpoint. These two artists have very different expressions, but both use conventional photographic methods to create their work. Inspiring and well-made, any one of their pieces is a good start for a photographic collection.
An Independent Stand by Simple T
Another independent stand we find in the main hall among the artists' booths is a space belonging to a fine art photographer known as Simple T. A dainty, colorful booth is a festival of photographic extravaganza, populated by odd images characteristic of the artist. An eerie aesthetic of horror, twisted realities and undesired self-reflection, all drenched in a candy-like palette is an excellent choice for collectors with a more peculiar taste.
Avivson Gallery – A Glimpse of Americana
Speaking about aesthetics, a piece on an Avivson Gallery wall gives off a completely different feel. Robert Dowling's "Red Corvette" represents a glimpse of Americana sitting among a variety of styles and expressions, almost like a portal to a different world.
Katerina Belkina at Galerie Z22
A renowned Berlin-based photographer with a distinct visual language, Katerina Belkina is represented at the Galerie Z22 stand. We can find the visual base of her work in classical painting of Northern Renaissance, but also her personal Soviet heritage, whereas the woman is always a central subject. Through her immaculate, highly aestheticized work, we can revisit and rethink the traditional and contemporary female role at home and in society. Providing different formats, this is a unique opportunity to acquire a large-scale piece by this amazing artist.
LOFT 11 – A Comprehensive Selection of Photo Art
Photography collectors seeking for established photographers or rare pieces should not omit the booth of LOFT 11 Gallery. Abounding with beautiful limited edition shots by superstar photographers with just as famous subjects, the booth offers a selection of art in different mediums. Among the photo pieces, a work by Axel Roechfish, a photographer and the gallery owner, stands out. An analog shot, a play in abstraction, it's printed on matte paper and comes in two different formats, framed or not. An addition to a hand-selected collection or simply a splash of color on a prominent wall – this photograph is a delightful piece of art.
Noir blanche and Big Names in Photography
Serious collectors with serious budgets should head directly toward the Noir blanche gallery booth. Filled with pieces by famous photographers, historic prints, and widely recognizable subjects, a roster of Noir blanche artists and artworks speaks a museal language. We love seeing a Joseph Boys close-up or contemplating 20th-century cinema with F.C. Gundlach, as well as reveling in that 70s color sheen of Hans Lux's imagery.
Ateliers im Delta – Support the Arists
An non-profit from Mannheim, Ateliers im Delta, specializes in assisting artists in printingand curating editions of their works, as well as creation of high-quality hand-bound art books. This time they presented a beautiful selection of contemporary photographic editions, with architectural, abstract or narrative topics, a selection of art books and collectible art book boxes, all signed and numbered. For collectors wanting to support a conscious project or young artistic practices, Ateliers im Delta is the booth to go to.
Extract Art – A Range of Photographic Expressions
A wide range of differently positioned and formatted pieces, especially photographs can be found on the right hand aisle of the main hall at the Extract Art stand. A highlight of the booth, Lena Engel's series of urban landscapes offers a trip to retro-futurist environments, desolate areas of once hopeful futures, a fun of what once was. A bit further, Tim van den Oudenhoven's nocturnal miniatures offer a different atmosphere, a perspective of solitude set in a highly aestheticized shots. Either of these two artists makes a wonderful addition to a photography collection, catering to similar, yet different artistic taste.
CasaGalleria – A Graceful Nocturno
A dedication to purity and grace inspired by the nature can be found at the CasaGalleria stand in the work of Yuri Catania. Nocturnal photographs of single flower specimens feature minute details, bright color and a soft tactility of their forms, all emerging from a black background. Coming in limited editions of five, these beautiful pieces are highly collectible, but could also make a thoughtful gift.
Follow Photography at DAF
Finally, the 2022 edition of Discovery Art Fair Cologne extends the opportunity to purchase a historic photograph "No Mercy #1" by David James Young in two formats at the Lions-Edition booth in the main hall.
Looking forward to our next art fair edition, Discovery Art Fair intends to continue promoting photography and to inspire photography collectors to continue enriching and expanding their collections, thus supporting the enchanting art of the camera stills.