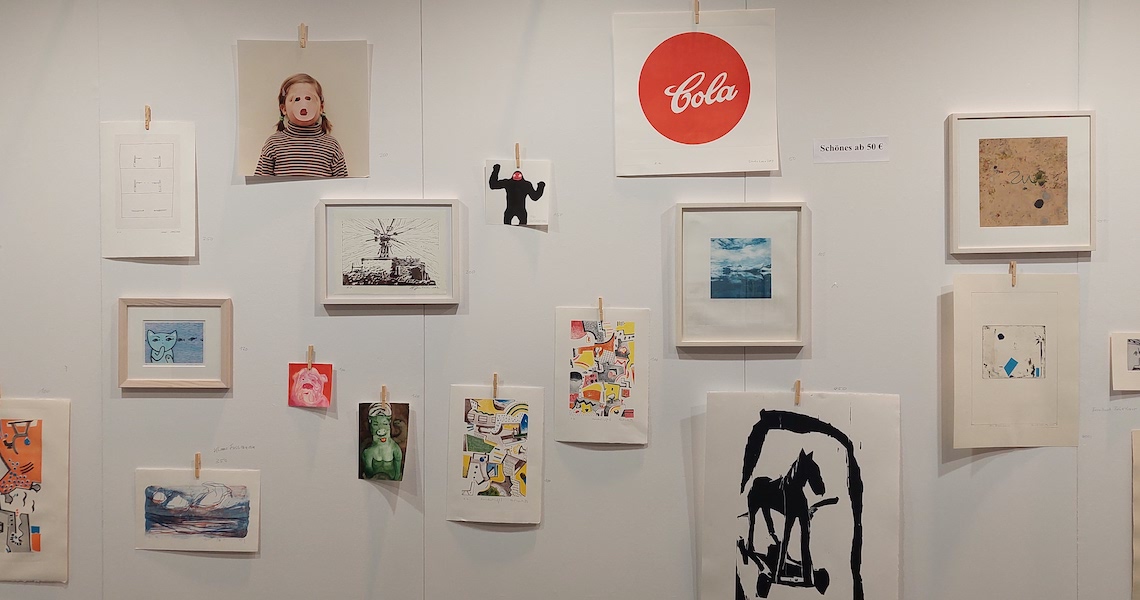 Conceptualized as an affordable art exhibition, Discovery Art Fair assumed the shape of an eclectic spectacle. Over the years, we could find the widest variety of artistic expressions and pieces, some appealing to collectors and some not. As the fair developed since its inception, the selection of art refined and this year at the Frankfurt edition, we are happy to welcome perhaps the best Discovery Art Fair yet in terms of art presented.
Developing its own identity over the years, our DAF has become the ideal place in Germany to start collecting art due to its increased appeal for exhibiting artists, who are still allowed to rent a fair booth for themselves, without gallery representation. This, of course, affected the prices, although there are many galleries that proudly present a low-priced assortment as a part of their offer.
Even though we tend to believe that art looks better on a large canvas, this time we'll turn to the pieces that exude charm and quality, despite their format. So, here is our selection of small- and medium-sized works, all priced under 1000 EUR, perfect for young collectors just starting their collecting journey.
A Selection of Artworks Under 1000 Euro
A renowned gallery from Berlin, Wolfram Voelker Fine Art, which on one side presents pieces by the likes of Gerhard Richter or George Grosz, has a section of its booth dedicated exclusively to low-priced pieces. They are mostly fine art prints with prices ranging from 50 euros and up, varied in style and expression. For those unsure of whether the art they like is of good quality, starting here would be the smartest move, as all the pieces have been selected by the experienced gallerist and his team.
Another booth presenting a wide selection of low-priced artworks is the one belonging to Eugen Kunkel and Linda Lauber. The two painters of very different styles – one hyper-realistic, and the latter abstract geometric, offer a lovely assortment of small-sized hand-painted works, all within the budget.
Pop Art for Less
Novice collectors who enjoy figurative painting and pop art can find a lot of low-priced works at the booths of MunichArt Gallery, 30works Gallery, Art Limited Shop, Loft11 Gallery, and OpenArtExchange. Well made, well framed, and charming, the works belong to artists coming from a similar sphere of visual interest, one of them being the well-known Thomas Baumgärtel a.k.a. Bananensprayer.
Love for Paper at a Moderate Price
Paper as a material has always had a particular appeal, its purity and texture invoke an intimacy between the piece and the viewer a canvas cannot achieve. Those who love art on paper can find wonderful works for less than 1000 euros at the stands of Sandra van der Meulen, Atelier Rousin (Sabine Steimer) and Ultraneon Galerie (Sebastian Harwardt), whether they're mixed-media, drawings or prints.
Start Your Collection with Photography
Good advice for young collectors is to start with photography. Photographic images are easy to grasp, they can vary in expression and they usually cost less than hand-made artwork. Fine photographic works within the price range, printed in good formats are available at booths belonging to Katja Gehrung, Jully Acuna Suarez, and Achim Katzberg.
Curiosities and Abstractions for Your Secret Corners
Finally, for those with more peculiar tastes and little budgets, there is also an excellent selection of fresh and wondrously talented artists represented at the fair. We recommend taking a look at assemblages by Anna Mars at Galerie Flox, corroded abstractions by Kristian Askelund, small-size oddities by Juliane Hundertmark or eerie embodiments by Kwang Sung Park at Galerie Klose.
Featured image: Wolfram Voelker Gallery wall. All images taken by the writer.