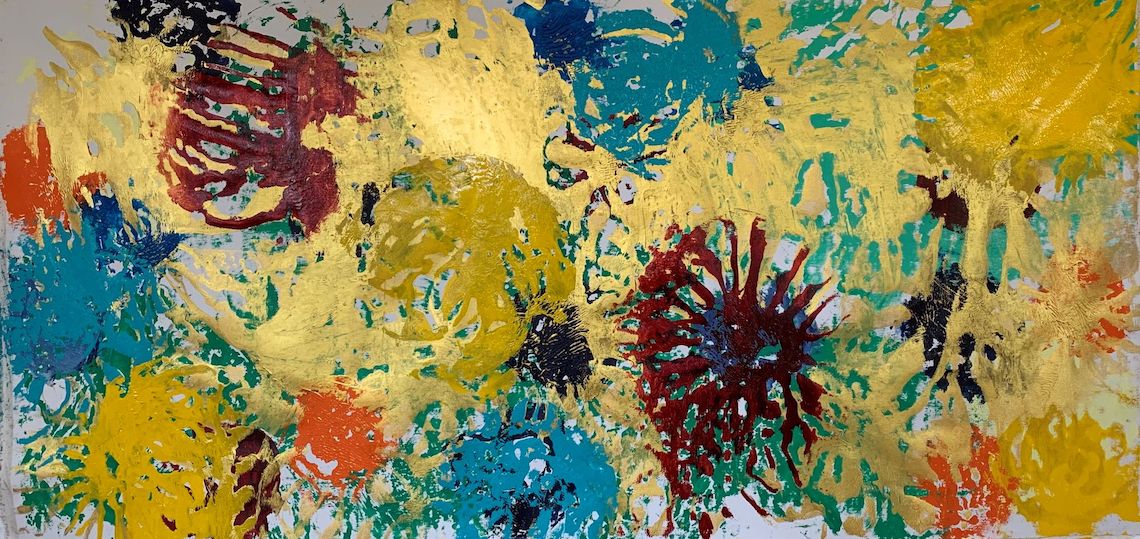 What hides behind an artist's abstract work? Is it just contemplation, or emotions? Or is there more to the story? In the case of Brigitte Witzer, we find an inspiring tale of life-long soul-searching and self-discovery filled with poetry and art.
Businesswoman Turned Artist
Brigitte Witzer is an artist. That's how she describes herself today, but her history discloses a very unusual path leading to this realization. She began her professional life in 1985 working as a manager. Success drew her forward, but the feeling of being in the wrong picture always followed. Not even her career as a professor in Leipzig helped her reach that fulfillment she always yearned for, even though she found teaching meaningful and gratifying. An innovator, she engaged in a novel way of working. She tied together her managerial and scholarly experiences and jump-started a career as an executive coach. In 1998, when she started, this was still a new title and a way of working, but her network grew as did her business.
Finding Her Path
Successful during the day, but feeling the emptiness at night, Brigitte Witzer embarked on a daring journey – she allowed herself to have an "experimental year" doing many different artistic things to find the one that fulfilled her the most. At the end of this turbulent self searching voyage, there was always painting. But it wasn't until the artist discovered the same secret need for expression in her father, a house painter and lemur who never dared to draw, having to provide for the family. This breakthrough came at the right time in Brigitte Witzer's life and she slowly turned to art.
The road to art wasn't a clear one for Brigitte Witzer, but she found it. At present, she spends most of her time immersed in her paintings – abstract rhapsodies that spread from within. Based on visceral exploration of color, her creative process is not planned. She engages in painting as action, adding layers of paint with a palette knife until the harmonious explosion of hues and shapes is achieved.
The Power of Visual Poetry
Seeing her paintings as poems of sorts, Brigitte Witzer draws a parallel between verbal and pictorial poetics, attempting to paint the emotion gotten from verses. However, her poetic is different. It's abstract, formally and symbolically, it's associative, but it captures the observer on a primal level, speaking to the inner self, leaving a trace in the gut. It's about how we feel when we look at her canvases filled with captivating color, not what we recognize. These intense aesthetic experiments portray the power the artist holds within, one grown from the misguided decades of creative urge, exploded at the right time and in the most vital, necessary manner.
"In my work it is essential that painting replaces the act of thinking," says the artist, implying that she only follows her inner voice when she works. Knowing she is a painter on a "cellular level", Brigitte Witzer paints to stay alive, happy and human. At the same time, her work marks an era in contemplative abstract painting born out of a complex situation defined by contemporary survival career choices, proving, once again, that a creator cannot be silenced. "But there is no way back," adds the artist, continuing to wield her powerful poetry through the art of painting.
Brigitte Witzer will show a selection of her latest paintings at the upcoming Discovery Art Fair in Frankfurt, October 29 – November 1.
Featured image: Brigitte Witzer – Augenweide Gold, Acryl auf Leinwand (Keilrahmen), Monotypie 8/2019. All images courtesy of the artist.