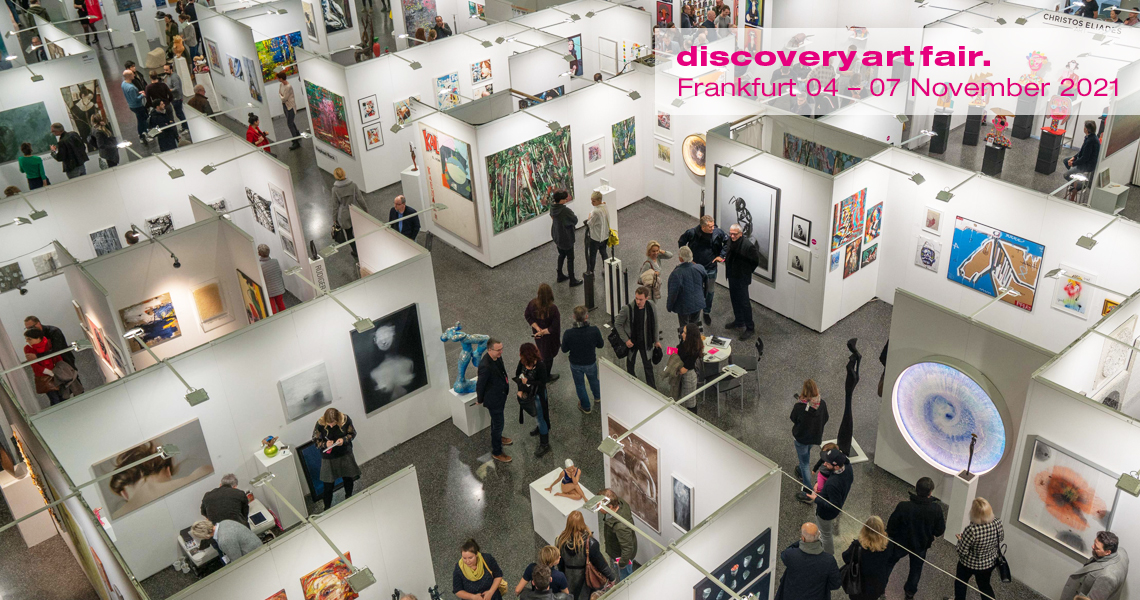 The artist section of the Discovery Art Fair offers a special opportunity to meet artists in person and learn more about their paintings and techniques. As diverse as their art are their artistic personalities, whose solo shows visitors can experience at our fair.
Konstantin Totibadze (D12)
In his one-artist show, Georgian artist Konstantin Totibadze presents large-scale, sensually composed oil canvases that are already represented in important collections such as the Moscow Museum of Modern Art. The master of still life impresses with huge vase paintings, sometimes two meters tall, or richly set tables full of personal references.
Volker W. Hamann (C21)
Since it was natural for wood sculptor Volker W. Hamann to handle chainsaws, he had the idea of cutting his sketches onto a thick Plexiglas panel with them. Viewed from the other side of the panel, these cuts would then face forward in three dimensions. Afterwards he paints these works with colors he has created himself, colors he had experimented with on wood for many years before. The pigments have the characteristic that, depending on the viewing angle, location and light, the colorfulness changes, sometimes extremely. This results in a remarkable plasticity and color effect.
Yo Franklin (B17)
Whether on canvases or framed beverage cartons, Yo Franklin applies layer after layer of paint with great pleasure, conjures up color gradients, glazes, sprays, composes and experiments. In her exciting, colorful paintings, one senses the artist's inspiring and downright catching joie de vivre.
Georg Brandner (D18)
The Austrian artist Georg Brandner combines abstract, expressive painting with collages. Fragments, found objects, scraps brought back from worldwide travels provide the foundation for his strongly haptic works. Delicate fabrics and rough-looking materials enter into a symbiosis together with layers of color and create an unmistakable, artistic signature that is waiting to be discovered.
Jean-Pierre Kunkel (E17)
Viewers can literally immerse into the photorealistic paintings of Jean-Pierre Kunkel, who is one of Germany's most popular advertising illustrators. Extreme exaggeration, idealization and aesthetics are his artistic goals, which are excellently realized in his pool and wave paintings, but also in his new series Advertising PopArt and Icons.
Susanne Worschech (A3)
Inspired by classical Japanese garden aesthetics of the Kokedara moss garden and the cultivation of mosses in the form of SaikaiObjects for indoor and outdoor use, artist Susanne Worschech creates living sculptures from burnt clay that allow mosses and lichens to grow and radiate the spirit of ZEN.
Isabel Ritter (F6)
The banana peels that sculptor Isabel Ritter presents at her booth look deceptively real. Real fresh peels served as models for these small-scale art objects, which were poured over with silicone, filled with gypsum and further processed.
Agata Schubert-Hauck (E12)
Agata Schubert-Hauck's female bodies seem both close enough to touch and at the same time unapproachable. The artistic staging of nudity in the works of the artist, who was born in Krakow is bold and sometimes provocative. The body as center of our burdens and pleasures, our wishes and fears, and the place of an infinite circulation of desire, in her art it undoubtedly proves to be the beginning and end of all our experience.
Gerry Buxton (B24)
London-based Gerry Buxton belongs to a young generation of graphic artists who combine modern digital illustrations with the traditional discipline of screen printing. His depictions describe today's urban life with both humor and a keen eye for detail.
All images courtesy of respective artists.