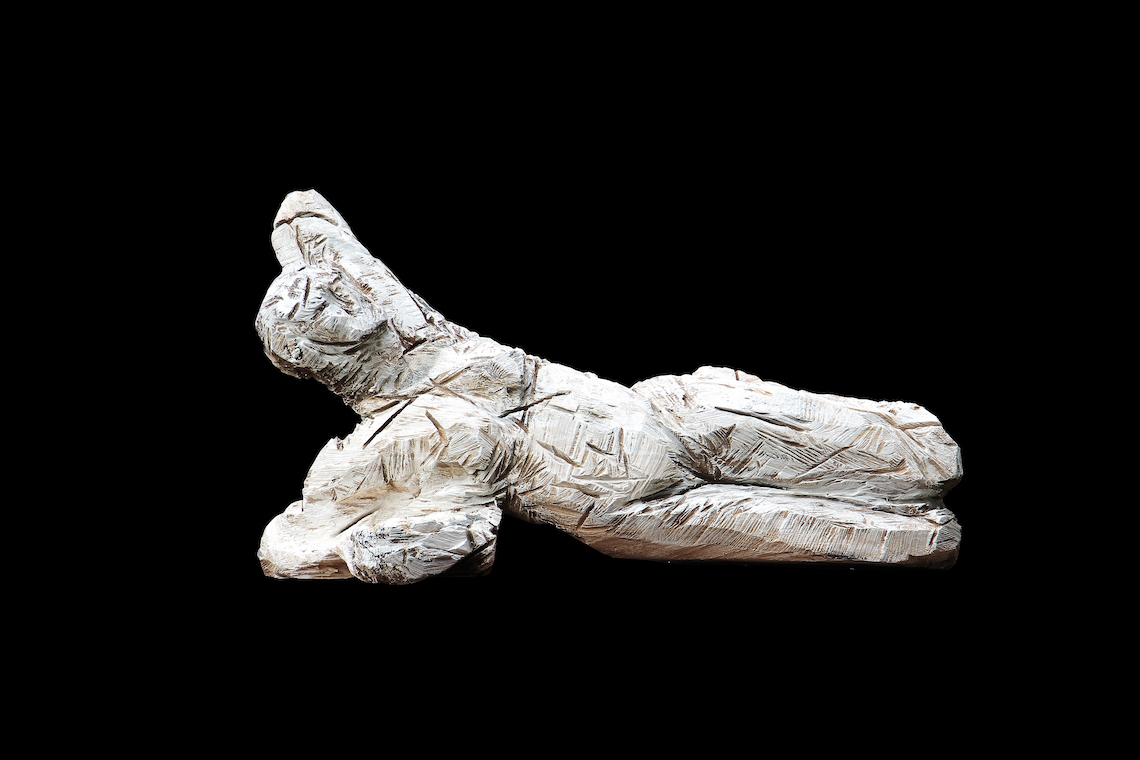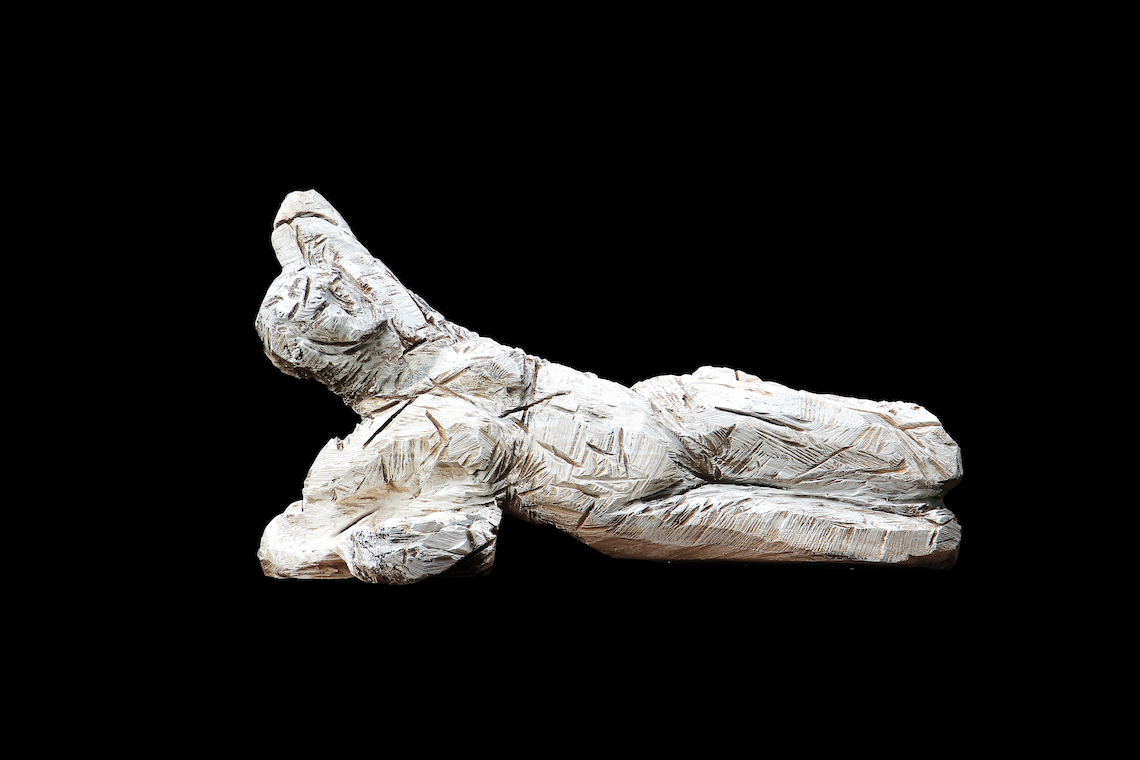 Moving from one medium to the other, artist and activist Achim Ripperger established a prolific creative practice philosophically reflecting on various aspects of the human condition. His art is deeply contemplative, while his approach continues to expand through new forms honing his already recognizable visual language in painting as well in sculpture.
At the upcoming Discovery Art Fair in Frankfurt, Achim Ripperger will focus on sculptures. He will present us with his representative wooden sculptures as well as with a selection of smaller pieces in bronze.
Mission Mensch
In his sculptural work entitled "Mission Mensch" (Mission Human), Achim Ripperger examines the intrinsic physicality of human experience. As he attacks oak beams or logs using a chainsaw, it's clear that the final result will remain connected to the material, to the origin.
Thus he completes every sculpture with a translucent painting that shows a visible original part of the tree trunk or a wooden beam used for the piece, representing its material base. Translated to the incorporeal realm, such a presentation, in fact, marks the separation of the sculptural creation from its source, while the figure emerges from what was encasing it taking on a new life.
Exploring Human Identity and Individuality
Symbolically, Ripperger refers to the greater idea of the human condition, while focusing on the uniqueness of the individual experience. He draws a parallel between gaining consciousness and incarnation, two inseparable, and universal aspects of existence.
In his exploration of individuality, Achim Ripperger states that "we become human throughout our lifetime", placing an emphasis on the experiential. It's not what's given, it's what we absorb on the journey, developing and discovering ourselves along the way. This spiritual understanding of human nature leans on the artist's wish to explain the origin of life, one he is dedicated to completely through his artistic research. His sculptures are therefore calmly poised, stoic, and fearless. They are ready to detach themselves from their root taking on a singular identity, just like an artwork that leaves an artist's studio to live a life of its own.
Art and Activism of Achim Ripperger
Born in 1968 in Frankfurt am Main, Achim Ripperger graduated From the AVA Academy of Visual Arts. As a student, he worked in advertising, but after a mental crisis, he concentrated solely on his work as an artist. He ran his own gallery-studio "Neue Frankfurter Art" for five years, where his notable series "Frankfurtensien" and "AFFM" were created.
Since 2007, his focus shifted towards sculpture. His works stand in numerous public places internationally. He designed the "Nine Values Cup", an award of the International Children's Social Program Football for Friendship, received by FC Barcelona, Bayern Munich, Real Madrid and Liverpool FC.
Ripperger founded a humanitarian art project "Das neue Haus" (The New House) directed towards migrant artists, as well as the Art moves Europe e.V. non-profit that engages sculptors in the "European Sculpture Path". He supports a number of international humanitarian and socially-engaged art associations.
Achim Ripperger lives and works in Frakfurt am Main, creating versatile work including sculptures, works on canvas and paper, and new media installations.
Featured image: Achim Ripperger Liegende, 2020, Holzskulptur ©Ripperger. All images courtesy of the artist.