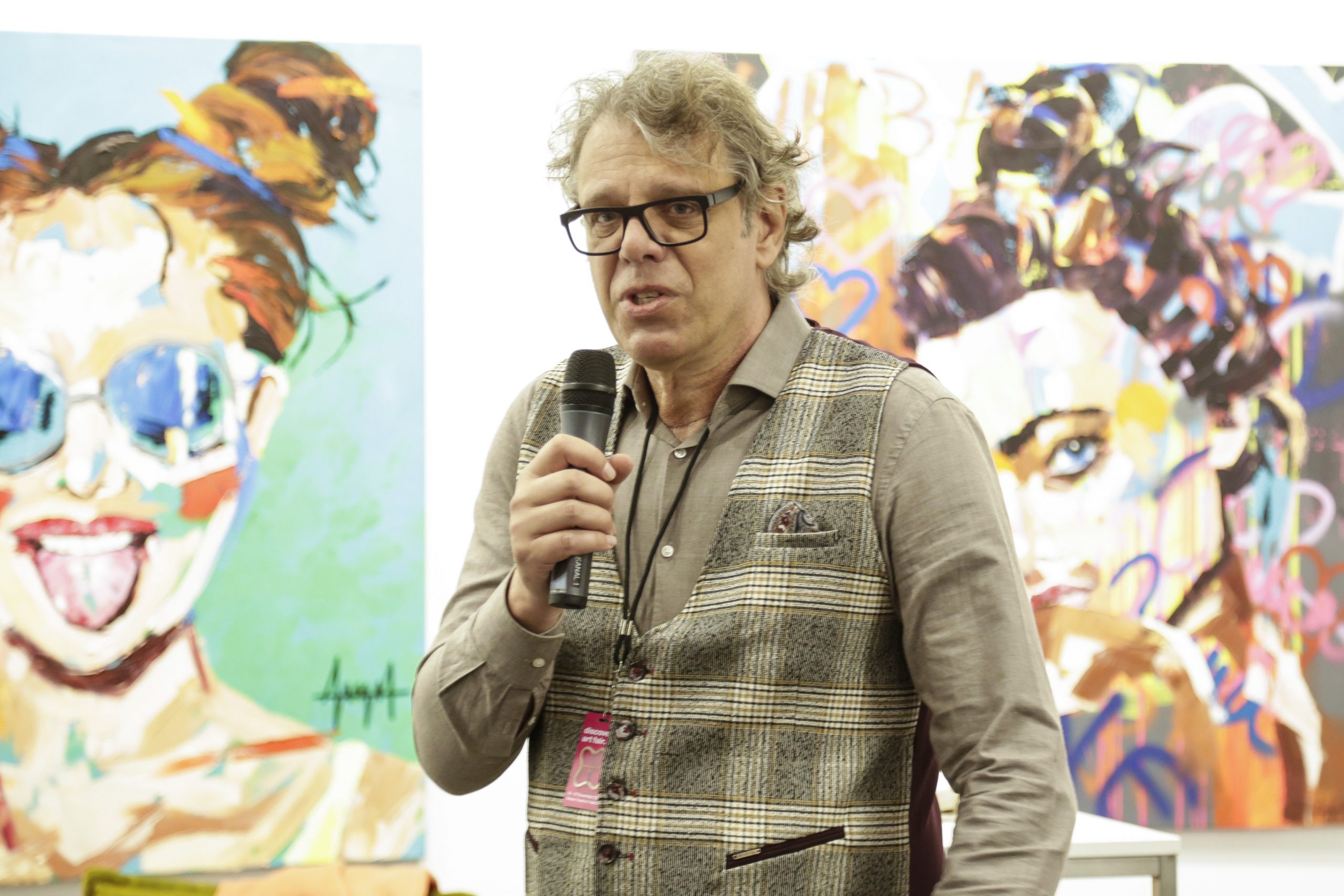 Relevant contemporary positions are an important part of the Discovery Art Fair. They can be definitely found at the stand of the Cologne gallery 30works, is dedicated to current developments in contemporary art in its outstanding exhibition program and is, therefore, a welcome guest at our art fair.
As a regular participant in the Discovery Art Fair, gallery owner Gérard Margaritis was happy to share his experiences with our readers. In this interview, he talks about the beginnings of the gallery, the selection of artists, and his view of art fairs.
This year, 30works will be represented at the Discovery Art Fair in Frankfurt with a specially selected artist portfolio, so be sure to visit stand GA3 right at the entrance to the hall.
How did the idea and concept of the 30works Gallery come about? Could you have imagined back then that the gallery project would develop this way?
As collectors of urban art and young, contemporary positions, we had the idea as well as the desire back in the early 2000s to open up a gallery in our home city, which is the art-sophisticated, art-historically rich, and incredibly vibrant Cologne. At the beginning of 2009, we inaugurated the 30works Gallery with strong positions from Urban Art and New Pop. In the early days, the concept of commercial success at the gallery didn't really play a major role at all. For us, the positive feedback from artists, the art scene, art lovers, and collectors was much more important and served as enormous motivation.
After around 20 initial exhibitions we came to realize we didn't just have strong artistic success but also commercial success with the 30works concept – and it became clear that the 30works success story could continue that way – which it still does.
How do you choose the artists for your gallery program?
The demand we make on our artists is relatively simple: the artistic position and artistic statement should be unique and should convey relevance. This leads to a high level of attention, which can occasionally have a polarising impact. We also greatly appreciate it if the artists are good at their craft.
Most of the artists we represent found their way to the 30works Gallery through artist friends, collectors, and friends of the gallery, which, in fact, is our network.
As an experienced participant at art fairs, how do you manage to strike up a connection with a collector, and what are the reactions to your exhibits?
An open, spacious exhibition stand, a light, but not too museum-like hanging and devoted gallery owners – that's basically the whole secret. People sense this openness and they then like to approach the stand. In this relaxed atmosphere, the visitors are also happy to tell us which of the exhibited works they like particularly and which ones they could imagine for their homes.
GIs there such a thing as a typical stand visitor? What are the questions asked most frequently
No, there's no typical visitor to the stand. Each visitor is a unique specimen and the questions they ask, much to our delight, are often of a personal nature, indicating a keen and joyful interest in the artist and the art.
You're presenting seven artists at the Discovery Art Fair in Frankfurt – what highlights can we look forward to in your fair display?
Johanna Jakowlev and Daniel Odermatt are two new, exciting artists the 30works Gallery is presenting for the first time. We're also showing brand new paintings from the studios of Salva Ginard, Petra Rös-Nickel, Dirk Schmitt and Anna Schellberg, specially created for DAF 2022, and Jens Lorenzen will also be presenting two large-scale works for the first time at DAF 2022. That's seven artists with seven highlights!
As is well known, young galleries also show at the Discovery Art Fair alongside renowned and established galleries. What advice would you give to these ambitious young fair participants?
Up-and-coming young galleries are happy to represent equally young, exciting and up-and-coming artists, and we really esteem the courage and enthusiasm of these young colleagues. My message is stay brave and stay resolute – you are the future!
Gérard Margaritis, Director of the 30works gallery. All photos courtesy of 30works